September 19th 2019, Taipei Taiwan - Following our initial launch of 17 new AMD EPYC 7002 Series "Rome" based server platforms simultaneously with AMD's official launch of their new generation data center processor last month, GIGABYTE is now proud to announce the addition of another six systems to our AMD EPYC server family. All new models created especially for the 2nd Generation AMD EPYC 7002 Series processor, these systems provide unique configurations and features to give our customers solutions to support their diverse and compute intensive workloads in the data center or at the edge.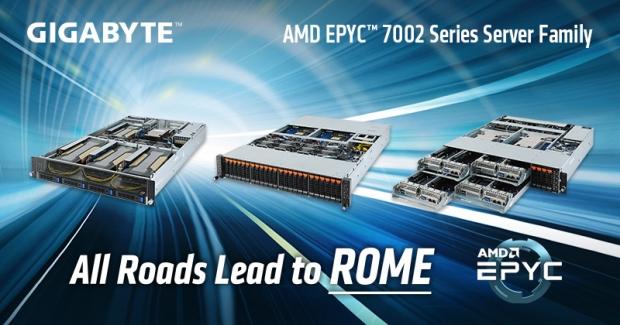 GIGABYTE: The Best Choice for 2nd Generation AMD EPYC
As Dr. Lisa Su has emphasized, GIGABYTE has been a strategic partner of AMD and leading systems vendor of their EPYC 7000 Series platforms since the release of the first generation "Naples" processor in 2017, and this status has recently been reaffirmed by news that GIGABYTE's new single and dual socket systems using the AMD EPYC 7742 processor have smashed 11 world records in enterprise computing and HPC benchmarks from SPEC, not only achieved against results from alternative processor based systems but even against competing vendor solutions using the same EPYC 7742 processor - illustrating that GIGABYTE's system design and engineering is perfectly optimized to deliver the maximum performance possible from the 2nd Generation AMD EPYC.
These six new systems form part of the 28 EPYC 7002 Series systems in total (including rack mount servers, GPU servers and high density multi-node servers) planned to be available before the end of 2019 - and firmly establishing GIGABYTE's position as the system vendor with the most complete and diverse AMD EPYC 7002 Series "Rome" system lineups on the market.
"No Compromise" Single Socket Solutions
These new systems are also built on AMD's premise of a "no compromise single socket server" - a single EPYC 7002 Series processor can offer excellent two-socket performance without any arbitrary limitations to I/O or memory bandwidth traditionally encountered in a one socket system, while allowing customers to benefit from lower capital expenditure and lower power consumption. Single socket systems also help customers to cut their "per-socket software" licensing costs - such as needing only one VMware license for up to 64 cores. They are ideal to be used with AMD's "P" version EPYC SKUs designed especially for one-socket systems which offer excellent value for money, such as the 7702P.
R162-Z10 / Z11: 1U 3 x NVIDIA T4 Server
The R162 Series features both excellent high performance storage and expansion capacity in a compact 1U chassis. Despite only being a single socket server, the 128 PCIe lanes of I/O provided by the EPYC 7002 Series allow the R162-Z10 to support up to ten 2.5" hot swap flash drives at the front of the system. As NVMe flash storage prices approach parity with SATA / SAS, all flash storage servers such as the R162-Z10 (or the H252-Z10 featured below) are rapidly becoming more and more compelling for mainstream enterprise adoption. In addition, the R162 Series features three low profile PCIe 3.0 x16 expansion slots in the rear, which can be used to support three NVIDIA T4 GPU cards, making the R162 ideal for diverse CPU / GPU computing workloads in VDI, inferencing or deep learning.
G242-Z10: 2U 4 x GPU System
The G242-Z10 is a 2U system built for GPU computing workloads, making full use of the EPYC's 128 PCIe lanes of I/O to feature four PCIe Gen 3.0 x16 expansion slot bays for GPUs (with each GPU connected directly to the processor via PCIe root) as well as excellent storage availability with four 3.5" hot swap SATA / SAS drives in the front, two 2.5" hot-swap flash drives in the rear, and two onboard M.2 slots. Since each GPU bay has an ample height of 1.5U and exceptional airflow characteristics, this system is extremely flexible to be used with a diverse range of active or passive cooled GPU cards.
H252-Z10: 2U Single Socket Multi-Node Server
Following the success of our H262 Series dual socket 2U 4 node servers which proven extremely popular for HPC, GIGABYTE is also releasing a single socket version aimed for enterprise workloads. The H252-Z10 features four hot-plug single socket node trays accessed from the rear, and twenty-four 2.5" hot plug NVMe drive bays at the front (with six assigned to each node). As NVMe flash storage prices approach parity with SATA / SAS, all flash storage is rapidly becoming more and more compelling for mainstream enterprise adoption.
Each single socket node also features three PCIe Gen 4.0 & Gen 3.0 expansion slots, allowing customers to utilize an excellent balance of cost efficient processor power (using AMD EPYC's "P" Series SKUs), memory, high speed storage and LAN connectivity for cloud / web hosting workloads or for banking and financial applications, and also includes many useful features common with our H262 Series such as a CMC module and CMC LAN port for improved ease of management and reduction of cabling.
H242-Z10 / Z11: World's First Multi-Node AMD EPYC Edge Server
In today's era of 5G connectivity and cloud services where more data needs be transmitted, processed and delivered back to the user in an extremely short amount of time (such as for autonomous driving, cloud AR / VR gaming, intelligent video analytics and other applications), delivering better computing power at the edge of the network to reduce latency and response times, such as for a MEC (Mobile Edge Computing) server is becoming more important than ever.
Introducing the world's first AMD EPYC multi-node system designed for edge computing. The H242 Series packs dense compute capabilities into a half-depth chassis designed for restricted space deployments such as a telecommunications cabinet. Each 2U chassis features four half depth, hot pluggable node trays, featuring a single socket AMD EPYC processor as well as ample memory, expansion and high speed flash storage capacity, and is available in two different configurations: H242-Z10 with rear access sliding node trays, and H242-Z11 with front access sliding node trays. This system is ideal for organizations who wish to distribute their computing capabilities across the world, not only relying on a centralized data center but also installations in server rooms or cabinets in their regional or local offices to reduce latency and improve quality of their online services.
Conclusion
These six new single socket systems bring the disruptive technology of the AMD EPYC 7002 Series Processors to the market in a unique range of form factors and configurations, designed to be on point to meet our customer's needs in enterprise, cloud or edge computing.
Last updated: Jul 27, 2022 at 03:39 am CDT