London, 2nd August 2019, German multinational audio brand, Thonet & Vander, renowned for its state of the art, quality audio, today announces the availability of its Kurbis Bluetooth Bookshelf Studio Monitors in Europe. The Kurbis is available on Amazon and Amazon UK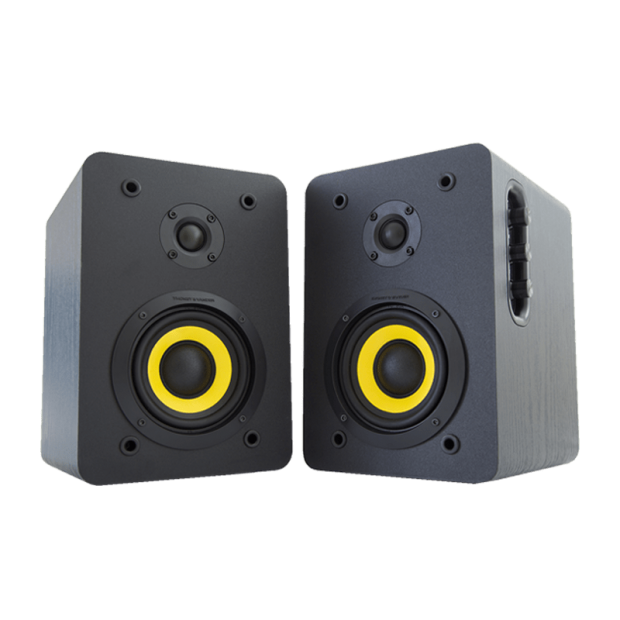 Originally founded in 1949 in Berlin by Hannes Josef Einrich following his experience in telecommunications during the Second World War, Thonet and Vander is a long established audio expert which was reformed in the early 90's by a team of German engineers to mass manufacture quality and artistic speakers.
With an integrated amp, the Kurbis excels at delivering exquisitely balanced frequencies from extreme bass lows to crystal clear treble tones. Feel the power of 340 WATTS with no distortion with deep bass even at 100% volume. Hammer Bass technology magnifies the impact of bass frequencies, while the Drone FX enhances the detail in the entire frequency range, working together to create a fantastic listening experience.
The studio monitors are constructed from HDAA wood which is a natural polymer of high density, generating a rigid and dense material. These properties prevent vibration and leakage of sound, enabling a more accurate, efficient and sustainable performance. Mesh protection is also provided to ensure drivers are guarded from any external damage.
Inside, the Kurbis boasts a built in 5.25 inch WOOFER made entirely of aramid fibre to enhance bass, as well as one inch silk tweeters for ultra-pure high tones. The upper suspension ring is made of highly elastic rubber, allowing larger displacement sensitivity and resistance to the beats of sound. The Bass Reflex resonance system works to increase the bass response of the controller and optimises the efficiency and performance of low frequencies.
Equipped with advanced Bluetooth 4.0 wireless technology, the Kurbis Studio Monitors can stream music directly from smartphones, tablets or laptops, and works with Amazon Echo and Google Home, connecting seamlessly and providing full voice control.
The ergonomic controls are made of state-of-the-art materials, allowing users to optimise the range of selection by regulating the volume and bass in a precise and detailed way. The RCA input allows the speakers to be connected to a TV, DJ Mixer or gaming system for amazing sound clarity and power.
The Thonet & Vander Kurbis Bluetooth Bookshelf Studio Monitors are available on Amazon and Amazon UK
High resolution images available here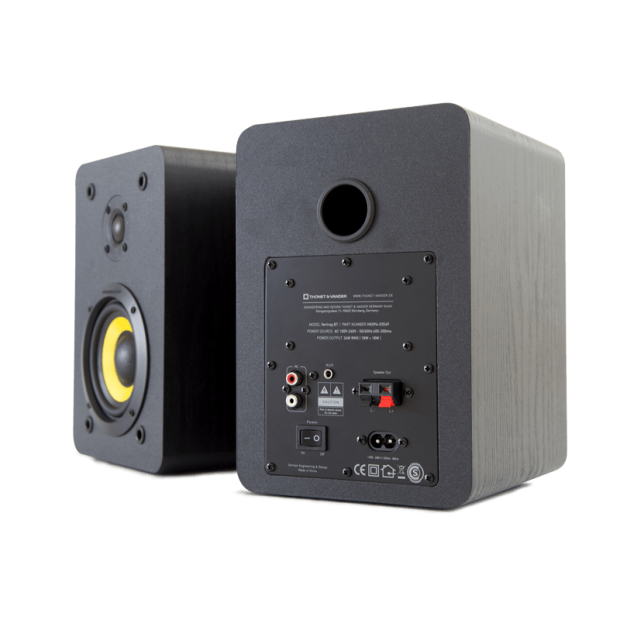 Product specifications
WEIGHT 19.65 lbs
TRANSMISSION DISTANCE Extended 65ft - 100ft
DIMENSIONS 20.35- 10.74- 13.38 in
ADAPTOR MV
PEAK POWER 340
TWEETER SIZE 1"
RMS WATTS 68
TWEETER MATERIAL Silk
WATTS DETAIL 34 + 34
TWEETER IMPEDANCE / POWER 4 Ohms 20W
FREQUENCY RESPONSE 55Hz - 20 kHz
SUBWOOFER SIZE 5.25"
DISTORTION 0.1% - 1W
SUBWOOFER MATERIAL Glass - Aramid Fibre
S/N 65dB, +4dBu
ACOUSTIC BOX MATERIAL HDAA Wooden box
SEPARATION -40dB
ACOUSTIC BOX DIMENSIONS 10.9 x 7.2 x 8.7 in
BLUETOOTH 4.0
COLOUR Black