25.07.2019 - Warsaw, Poland - The European cooling brand SilentiumPC, presents its newest line-up of enthusiast-level all-in-one CPU liquid cooling solutions with major improvements and addressable RGB illumination! The Navis EVO ARGB series distinguishes itself from the Navis RGB series by providing an all new ceramic bearing, sleeved tubes and superb lighting effects thanks to addressable RGB LEDs. In addition to these premium upgrades, the Navis EVO ARGB comes with an extended 3 years warranty to further underline the quality of the series. Enthusiasts are going to love the Navis EVO ARGB even more, as the models with 240, 280 and 360 radiators offer socket TR4 support for AMD Threadripper Processors out of the box.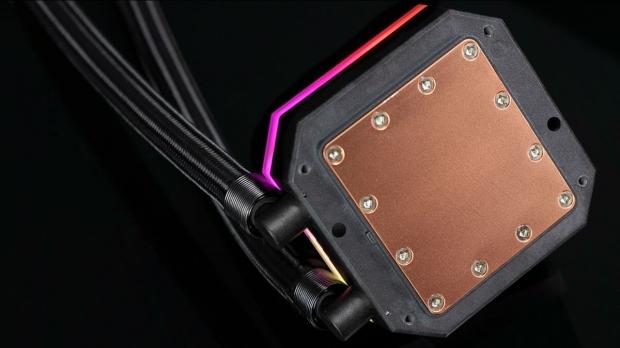 Refinement for even better results
With the ambitious goal to make the much acclaimed Navis RGB AIO even better for enthusiasts, SilentiumPC combined all the enhancements in the new Navis EVO ARGB series. Improvements have been made to the water block, which is now based on a 9-pole motor pump with professional-grade ceramic bearing and offers amazing color gradients thanks to addressable RGB LEDs. The long and flexible tubes have been wrapped in high-quality sleeves for better esthetics. Users have now even more options, when choosing the right AIO for their system, since the Navis EVO ARGB series is available with radiator sizes 120, 240, 280 and 360. The combination of the very efficient water block with copper-baseplate and the all-aluminum radiators with densely packed fin-matrix, allows for superb cooling efficiency with high overclocking potential. Yet another advantage of the Navis EVO ARGB 240, 280 and 360 models is the out-of-the-box support for AMD Threadripper Processors.
The ultimate ARGB Experience
SilentiumPC assures optimum heat dissipation thanks to the equipped Stella HP ARGB fans. The specially shaped blades are able to deliver high static pressure, while the durable hydraulic bearing guarantees smooth and silent operation. Stella HP ARGB fans support PWM control, allowing convenient and automated control of fan speed, depending on the temperature of the CPU. Stunning visual effects and color gradients are realized by the nine addressable RGB LEDs, which are embedded in the in rotor of the fans.
Choosing both colors as well as effects is managed by using the included Nano-Reset ARGB controller or by connecting the fans and the pump to a standardized 3-pin ARGB connector of compatible motherboards. Among the compatible ARGB systems are ASUS Aura, ASRock Polychrome Sync, MSI Mystic Light and GIGABYTE RGB Fusion.
All the Navis EVO ARGB units come pre-assembled, filled with liquid and ready for simple installation, without the need for further maintenance. The package includes the Pactum PT-2 (5.0W/m.K) thermal compound and the mounting clips for the Intel sockets LGA 2066, LGA 2011, LGA 1150, LGA 1151, LGA 1155, LGA 1156 as well as AMD sockets AM4, AM3(+), AM2(+) and TR4 (except 120 version).