May 16, 2019 - Transcend Information Inc., a leading manufacturer of storage and multimedia products, proudly announces the release of the StoreJet 25M3C, the latest USB Type-C portable hard drive to join Transcend's expanding family of USB Type-C portable storage devices.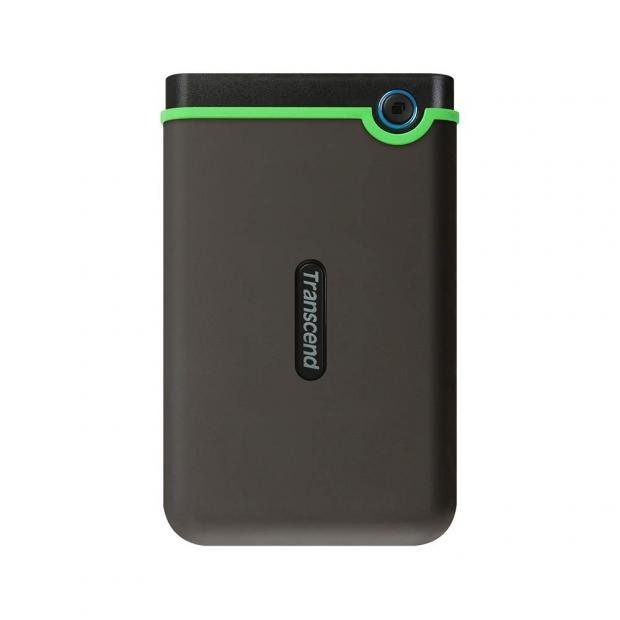 Transcend offers a comprehensive range of USB Type-C products featuring the Type-C port or connector, including external hard drives, portable solid state drives, USB flash drives, and card readers. These devices allow for easy and efficient file transfers between desktops, laptops, and Mac computers featuring the USB Type-C or USB 3.1 interface, or mobile devices supporting the OTG (On-The-Go) function.
External Hard Drives: StoreJet 25M3C and StoreJet 25C3S
Transcend's newly released StoreJet 25M3C hard drive features a native USB Type-C port, a USB 3.1 Gen 1 interface that allows users to store and back up their files at amazing speeds, and a ruggedized three-stage shock protection system that meets US military drop-test standards. Housed in an aluminum alloy, Transcend's slim-and-sleek StoreJet 25C3S comes with a Type-C port and includes a USB Type-C cable and a USB Type-C to Type-A cable to connect to desktops and laptops featuring the USB Type-C or USB 3.1 interface.
The StoreJet 25M3C is offered in the 2 TB size, while the StoreJet 25C3S
comes in 1 TB and 2 TB capacities.
Portable Solid-State Drives: ESD Portable SSD Series
Transcend's Portable SSDs come in a variety of speed ranges, housings and capabilities to suit the needs of different users. The Type-C Portable SSD series includes the ESD350C, which features a navy blue silicone rubber case that's compact, ruggedized, and shock-resistant. This model transfers files at an impressive 1,050 MB/s. The ESD250C and ESD240C come in a lightweight metallic casing and feature excellent shock resistance and a maximum transfer speed of 520 MB/s. The credit-card-sized ESD230C fits snugly in a wallet or purse, providing portability as well as transfer rates of up to 520 MB/s. All models include a USB Type-C cable as well as a USB Type-C to Type-A cable to work with desktops and laptops featuring the USB Type-C or USB 3.1 interface, or with OTG devices and gaming consoles.
Transcend's ESD230C and ESD350C portable SSDs come in 240 GB, 480 GB,
and 960 GB capacities, while the ESD250C is offered in the 960 GB capacity;
the ESD240C comes in 120 GB, 240 GB, and 480 GB capacities.
USB Flash Drive: JetFlash 850 and JetFlash 890
Equipped with the USB 3.1 Gen 1 interface, a Type-C connector, and USB OTG technology, Transcend's JetFlash 850 flash drive delivers transfer speeds of up to 130 MB/s. The JetFlash 850 also features an ergonomic curved grip and a lightweight design thanks to its use of Chip-on-Board technology, and its metallic casing technology provides great dust and splash resistance. The JetFlash 890 flash drive features both a USB Type-C connector and a regular USB 3.1 one. The dual connector design allows for easy file transfer between the latest USB Type-C port equipped devices and USB 3.1 Gen 1 port equipped desktops and laptops.
Both the Transcend JetFlash 850 and JetFlash 890 come in 16 GB, 32 GB,
and 64 GB capacities.
Card Readers: RDC8 Card Reader and RDC2 OTG Smart Reader
Transcend's 3-slot RDC8 card reader supports a wide variety of flash cards, including SD cards, microSD cards, and CompactFlash cards. Equipped with a USB 3.1 Gen 1 interface, the RDC8 is an ideal choice for fast and efficient data transfer from a flash card to a laptop or computer with a USB Type-C port. Transcend's RDC2 smart reader, meanwhile, is an OTG card reader specifically designed for USB Type-C equipped Android smartphones and tablets. In addition to an SD card slot and a microSD card slot, the RDC2 has a standard USB Type-A port that allows users to connect accessories such as USB flash drives, keyboards, or mice to their Android devices.
Exclusive Transcend Elite software
Transcend Elite is a proprietary software package compatible with macOS, Windows OS, and Android systems that helps users manage data. Available as desktop and mobile apps, it can be downloaded for free from Transcend's official website and from Google Play Store. Transcend Elite features backup and restore, data encryption, file synchronization, and cloud backup functions.
Note: Mac and macOS are trademarks of Apple Inc.
Last updated: Sep 25, 2019 at 05:39 pm CDT