Fosmon Announces Quad Pro Charging Station for Xbox One Controllers 132 Hours of Play
May 13, 2019 6:32 PM CDT
WOODBURY, MN. MAY 13, 2019 - Fosmon today announced its new, patent-pending upgraded Xbox One controller charger featuring two docks for controllers and two additional battery slots. The dual dock, dual slot charging station comes with four 1000mAh NiMH rechargeable battery packs that give users up to a total of 132 hours of playtime without the hassle of having to buy replacement AA batteries. The station's green LED indicator blinks while charging and remains lit when charging is complete, making it easy to ascertain the battery packs' power status.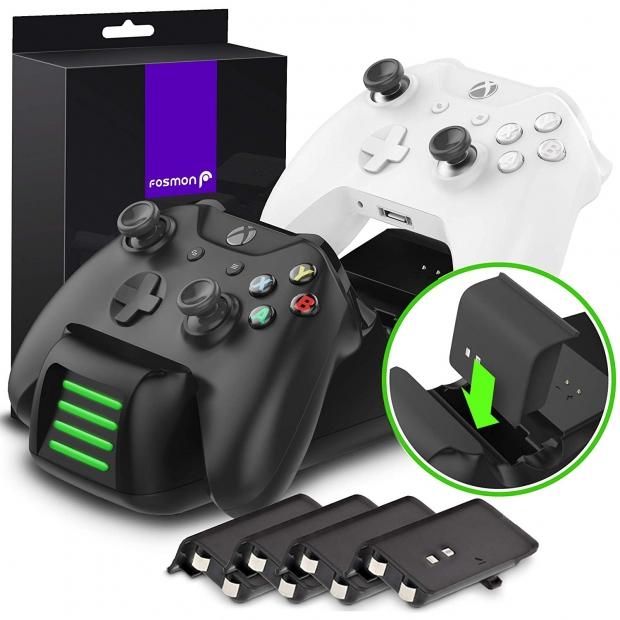 The product also comes with a limited lifetime warranty that makes the $49.99 Amazon price tag a real steal. But it's the product's ability to charge four batteries simultaneously - i.e., two controllers with batteries and two batteries - by simply placing the controller on the docking station without the need for plugging in that makes Fosmon's charger truly unique from those of its competitors.
Fosmon's upgrade is a welcome addition to its product line for any gaming fan who has ever experienced the misery of having a low battery warning a few plays from victory. The experience not only costs gamers in terms of wins but also in terms of money spent on batteries that they can never depend on to see them through to the end of the game. With Fosmon's new charging station, gamers can focus exclusively on the game at hand instead of on their rapidly depleting batteries.
"We saw an unmet need with the Xbox's battery life and wanted to fix it," said Fosmon's CEO, Simon Loh. "Our new product's charging capabilities have already made it a popular choice with gamers who are willing to invest in quality devices."
When gamers are choosing a charger for their gaming needs, they often consider a variety of factors, including overall quality, charging time and battery life. According to a May 2019 product review on BestReviews.com, Fosmon's previous version of the charging station is "Best of the Best," beating out its competitors in terms of overall value. While the biggest difference between Xbox One controller charging stations, according to BestReviews, is the quality of the battery life, there are some additional features that make Fosmon's product unique. These include the ability to charge multiple controllers simultaneously and to continue playing while the batteries are charging, a green LED indicator light that clearly indicates when batteries are fully charged, and a battery pack for each controller slot.
Fosmon's previous model is the #1 Best Seller on Amazon.com at the time of this writing and has garnered almost 2000 reviews. One verified purchaser called the product a "necessity for any gamer," remarking:
"I bought this product because I was tired of having to change out the batteries on my Xbox remote all of the time. I even had rechargeable AA batteries, but they would always die mid-game, and I would have to run and go change them quickly before I died. I really wanted a way that I could just set down my controller and it would charge when I am not playing, and that is exactly what the Fosmon charger does. I can game for multiple hours with no problem and then put it on the charger until the next time I play. If you are on the fence about getting this, just do it. You will thank me later."
Tech reviewers and gaming experts also gave the product a nod of approval on Businesses Insider and Windows Central for its affordable price tag and innovative design.
About Fosmon:
Founded in 2007 in Minnesota, USA, Fosmon has been the leading supplier of electronic accessories including gaming, audio/video, smartphone, and home automation products. We are committed to helping make everyday life easier by providing solutions for every electronic and household need, from the yard to the kitchen, to every corner of the house. We have served millions of satisfied customers over the years. At Fosmon, customer satisfaction is guaranteed and backed by our experienced USA-based customer support and lifetime warranties. Fosmon: Every day. Every need.
Related Tags