Bugs Must Die Debuts at 'G-fusion 2019' in Beijing
May 13, 2019 7:01 AM CDT
For immediate release: The indie bullet hell shooter "Bugs Must Die" debuted at "G-fusion 2019" in Beijing last weekend. In this two days event, over 250 gamers visited the stand of Dragonglass Games Workshop.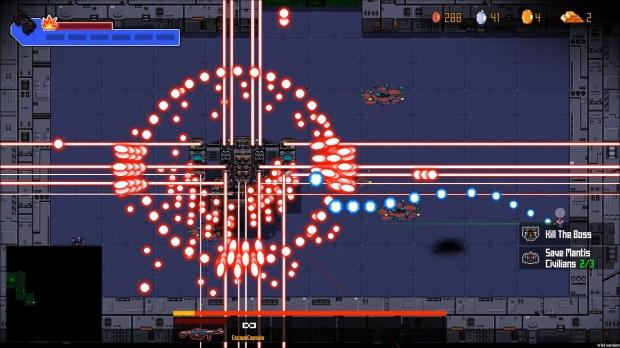 Dragonglass Games Workshop also announced "Weeklong deal" on steam. The discount price of Bugs Must Die is $8.39 (30% off) from May 13th 10:00 AM to May 20th 10:00 AM.
"We are so excited to see gamers love our game. It is the best part of making a game! Every gamer, yes every gamer who tried our game and told us the gameplay experience of Bugs Must Die was better than the Binding of Isaac." Brian Zhu said: "Bugs Must Die is probably the best indie bullet hell shooter on Steam in 2019. We hope more and more gamers could notice it and play it."
About Bugs Must Die:
As an elite from the Galactic Pests Control Company, gamers are sent to the planet M-79 to prevent Mantis Beings from invading Earth. On the terrestrial planet, gamers not only have to destroy the cruel Mantis soldiers but also battle with the various Bosses cloned from Earth pop culture.
In Bugs Must Die, gamers can control a heavy armored vehicle equipped with multiple weapons to gallop on the battlefield. They can also use Mantis Agents who have completely different fixed-weapon systems shooting to dodge their way through the Bullet-hell. There are RPG elements as well; Gamers are able to upgrade their character, vehicles, and/or weapons to take down the bugs with ease.
For more information on Bugs Must Die, please visit: https://www.indiedb.com/games/bugs-must-die/presskit
About DragonGlass Games Workshop:
Located in Shanghai, China, Dragonglass Games Workshop (DG Games Workshop) is an independent game company established in March 2016. The goal of Dragonglass Games Workshop is to create "Fun, Challenging and Beatable" indie games for gamers.
Website: https://dggamesworkshop.com/
Steam Store: https://store.steampowered.com/app/816720/Bugs_Must_Die/
Twitter: https://twitter.com/dgGamesWorkshop
Related Tags