Kingdom Heartbeats Electronic Album Hits Vinyl and CD
May 13, 2019 1:18 AM CDT
SEATTLE - May 10, 2019 - Materia Collective is thrilled to release KINGDOM HEARTBEATS, a pumping electronic album by producer RoboRob paying tribute to the KINGDOM HEARTS franchise. It features several key themes from the series re-imagined in unique and pleasantly surprising ways, including a track from the most recent addition to the series, KINGDOM HEARTS III. KINGDOM HEARTBEATS is available digitally with limited edition CD and sleek clear vinyl versions to follow. KINGDOM HEARTBEATS is licensed and available now: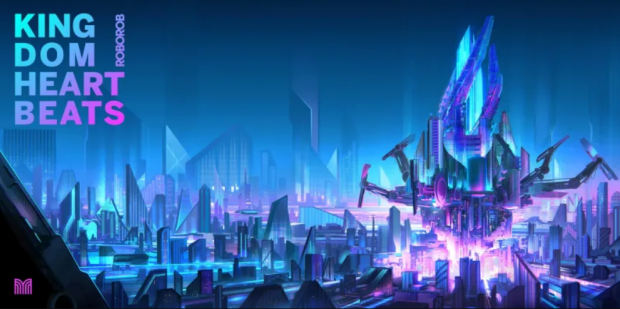 KINGDOM HEARBEATS on All Stores
The track list for KINGDOM HEARTBEATS is as follows:
01. Simple and Clean (KINGDOM HEARTS)

02. Tension Rising (KINGDOM HEARTS II)

03. The 13th Struggle (KINGDOM HEARTS II)

04. Sora's Theme (KINGDOM HEARTS II)

05. Passion (KINGDOM HEARTS II)

06. Dearly Beloved (KINGDOM HEARTS)

07. Face my Fears (KINGDOM HEARTS III)

08. Traverse Town (KINGDOM HEARTS)

09. Sinister Sundown (KINGDOM HEARTS II)

10. This is Halloween (KINGDOM HEARTS)
"I've always loved the fluid and soulful nature of the music from KINGDOM HEARTS," notes producer RoboRob. "My main focus when diving into this project was to capture nostalgia while subverting expectations. Electronic dance music has so many sub-genres. With the help of several talented vocalists and producers, we tackled multiple styles while adding a personal degree of grit and attitude to these classic songs that I think fans of the game's original score and electronic music fans alike will enjoy."
About RoboRob:
RoboRob is a multi-genre producer/DJ currently based out of Tampa, Florida. He's successfully remixed music from videogames such as Sonic Mania, Overwatch, Undertale, Chrono Trigger, and more. RoboRob loves to collaborate with other artists and release tracks that highlight his production style.
He has toured the nation, played multiple music and anime conventions and raves, most recently to include South by Southwest (SXSW), Dallas Anime Expo, OniCon, MAGWest, and MAGFest. RoboRob has shared stage with artists such as: Tiesto, Benny Benassi, Excision, Global Deejays, Hyper Potions, Varien, Hieroglyphics, Mega Ran, and more.
Find his music on Spotify, iTunes, Bandcamp, and Soundcloud.
Follow RoboRob on Twitter, Facebook, and Soundcloud
About Materia Collective:
Materia Collective is a Seattle-based videogame music publisher and label, representing an international array of renowned video game musicians, composers, and songwriters. The collective supports its members with the financial, legal, logistical, and creative aspects of bringing videogame music into the forefront. The company has become known within the industry as a representation of highly innovative game music endeavors that move and inspire.
Related Tags