QubeTown Launches Wedding Festival with the Latest Update
May 9, 2019 8:01 AM CDT
Seoul, Korea - 9th May 2019 - WEBZEN, a global developer and publisher of PC and mobile games, released the latest content update of its mobile farming simulation game QubeTown.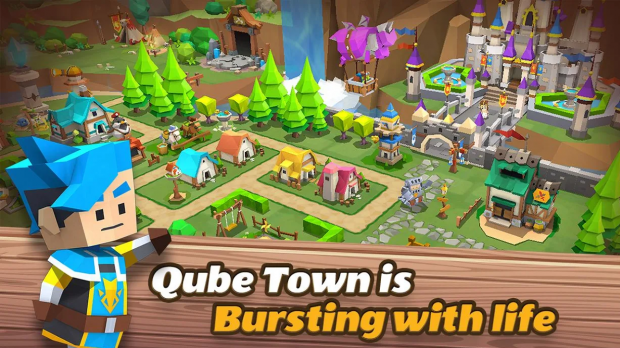 QubeTown is a feature-packed town building game available on mobile that offers tons of farming fun and plenty of fun missions to undertake with a cute aesthetic.
The latest update to QubeTown brings wedding-themed content along with a new in-game event called 'Wedding Festival'. The primary goal of Wedding Festival is to help out Bryde, a new event character who is struggling to organize her perfect wedding.
To make her special day the best it can be, players will be tasked with gathering a floral crown, a flower macaroon, and a wedding cake to decorate her wedding.
In order to gather the required items, users should send their citizens out on expeditions to gather the necessary Bouquets. Once their citizens return from their expeditions, they will be able to use the bouquets to begin creating the special event items. Player will need to visit the Weaver's Mill to craft the Floral Crown, the Bakery to make the Flower Macaroon, and the Cake Shop to get the Wedding Cake.
After bringing the three event items that were created at the production buildings to Bryde, players will be rewarded with a bunch of rubies, a new costume, and the wedding-themed landscape items. Wedding Festival will be running for a week from May 9th to May 15, 2019.
New players will first need to reach at least level 14 in order to participate. QubeTown is now available for free download on both the App Store and Google Play.
Meanwhile, Webzen also invites casual gamers from all over the world to come and join the QubeTown Live Stream to discover more about the new farming mobile game QubeTown. Interested users can play and explore, share amusing stories and game tips, make new friends and get free promo codes by watching this fun live stream on the official Twitch and YouTube channels as well as on Facebook.
To learn more about QubeTown, players can visit the official QubeTown website: http://qubetown.webzen.com/. Casual game enthusiasts are also invited to discuss the game and participate in the latest events or giveaways on the official Facebook page: https://www.Facebook.com/QubeTown.
About QubeTown:
QubeTown is a mobile town simulation social network game that essentially challenge users to manage their own town by constructing buildings, producing crops, trading goods and protecting their citizens from nasty trolls. QubeTown is available for free download on the App Store and Google Play. Further information on QubeTown can be found at: http://qubetown.webzen.com/
About Webzen:
Webzen Inc. is a global developer and publisher of a variety of PC and mobile games such as MU Legend, MU Origin, MU Online, Rappelz, Flyff, the Metin series and an array of exciting game titles listed for release in the global game market. Webzen has expanded its publishing services to Europe, North and South America and other countries by operating its global game portal 'Webzen.com', hosting 60 million players from all over the world. Webzen is currently working on the upcoming releases of MU Origin 2 amongst other game titles. Further information on Webzen and their games can be found at: http://www.webzen.com/
Last updated: Sep 25, 2019 at 05:39 pm CDT
Related Tags