Asmodee Digital Reveals The First Four Characters From Gloomhaven
May 9, 2019 12:11 AM CDT
PARIS - May 8, 2019 - Asmodee Digital, a leader in digital board game entertainment, today unveiled the beginnings of Gloomhaven's character roster. The PC version of the wildly successful board game, Gloomhaven shares a world and lore with its analog predecessor but takes on a new life as a challenging turn-based tactical RPG. Gloomhaven will launch in Early Access on PC this summer.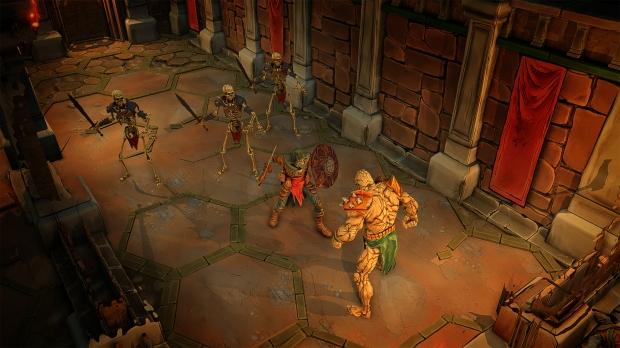 The Gloomhaven board game raised $4.4 million on Kickstarter thanks to more than 45,000 backers. Acclaimed by both players and critics, the Gloomhaven board game has the highest rating on BoardGameGeek, and won six Golden Geek awards, including "Board Game of the Year" in 2017. In the digital adaptation of Isaac Childres' ultimate strategic board game, developed by Flaming Fowl Studios, you play as a squad of 2-4 mercenaries in a world of darkness and trials. Gloomhaven is a balanced mix between tactical, RPG and dungeon-crawling. Its legendary unforgiving difficulty rewards only the best strategic-thinking players.
The first characters in Gloomhaven include:
The versatile Savvas Cragheart

The powerful but fragile Orchid Spellweaver

The tank-like Inox Brute

The stealthy Human Scoundrel
Seasoned adventurers will have to wisely weigh all their decisions, as every choice in Gloomhaven has consequences. The turn-based, tactical, dark fantasy game rewards strategic planning and thinking, not luck. Players will master 17 playable characters, featuring more than 1,000 unique abilities. Different sets of abilities allow unique build paths for each character leading to multiple team synergies in order to face more than 50 different enemies. From gloom, only greed and death emerge!
At the beginning of Early Access, players will be able to experience adventure mode, featuring rogue-like mechanics unique to the PC platform. During Early Access, content will be added on a regular basis, expanding enemies and character rosters, environments and adventures. Later, players will be able to dive into story mode, featuring 95 missions from the board game campaign that can also be played with other players via online Cooperative play.
The character reveals can be found at https://www.dropbox.com/s/i455zpp18c86i7k/Gloomhaven%20Character%20Reveals.docx?dl=0.
Additional screen shots, game information and more are available at: https://asmodee.box.com/s/myg78jpam235sqgrlwipyu7pquqdmf6v.
For more information about the game, feel free to visit:
discord.gg/Gloomhavenhttps://store.steampowered.com/app/780290/Gloomhaven/
More information about Asmodee Digital on: Web, Twitch, YouTube, Twitter, Instagram and Facebook.
About Asmodee Digital
Asmodee Digital, a fully owned subsidiary of the Asmodee Group, is an international publisher and distributor of digital board games with operations located in Europe, North America, and China. Asmodee Digital manages the creation, design, development, publishing, and marketing of board and card games on leading digital platforms - spanning mobile, PC, Mac, virtuality reality and consoles - for Asmodee studios as well as for third-party publishers.
The current Asmodee Digital catalog includes best-selling digital games such as Catan VR, Carcassonne, Ticket to Ride, Splendor, Agricola, Mille Bornes, Pandemic, Small World 2, Mr. Jack London, Colt Express, Mysterium, Potion Explosion, Onirim, Jaipur, Spot It! Duel, Abalone, Ticket to Ride First Journey, Catan Stories, Talisman, Fighting Fantasy Legends, Smash Up and digital versions of many other well-known board games. http://www.asmodee-digital.com/en/
About Flaming Fowl Studios:
Flaming Fowl Studios is an independent game studio, rising from the ashes of the renowned Lionhead Studios and have previously worked on titles such as the original Fable trilogy and The Movies. Our company goal is to build deep and interesting strategic experiences with fascinating twists and a healthy dose of humor. We also aim to include our fans and customers in the development process and by working together we hope to create something special.
Related Tags