'Mace and Grace' Smashes Onto Steam This May
May 9, 2019 12:03 AM CDT
Moscow, Russia - May 8, 2019 - PlatformaVR have announced that their upcoming comical medieval themed VR game Mace and Grace will be hitting Steam on May 15. Mace and Grace is all about smashing oncoming enemy knights to send them flying in spectacular fashion.
With a blend of comedy and brutality, players in Mace and Grace will take aim to, smack the heck out of the oncoming boxer clad enemy knights who are coming to steal your Grace for the jealous neighboring prince. It won't all be for the sake of clobbering, however, as players will also have to dodge oncoming bombs.
Players will be able to wreak havoc with more than a dozen options in Mace and Grace including clubs, maces, crossbows, bare fists, ripping limbs, and even fire breath. The further players are able to send enemy knights flying the more points they'll rack up. Smashing two knights in one blow will activate the game's special rage mode. Players will be able to knock knights away in satisfyingly bloody fashion across multiple levels, game modes and compete for the top spot on the global leaderboard.
Mace and Grace will be available on Steam on May 15th for HTC Vive, Oculus Rift, and Windows Mixed Reality VR for $9.99. To celebrate the game's release, PlatformaVR will be offering players a 20% discount during the game's launch week. For more information on Mace and Grace visit the official site here.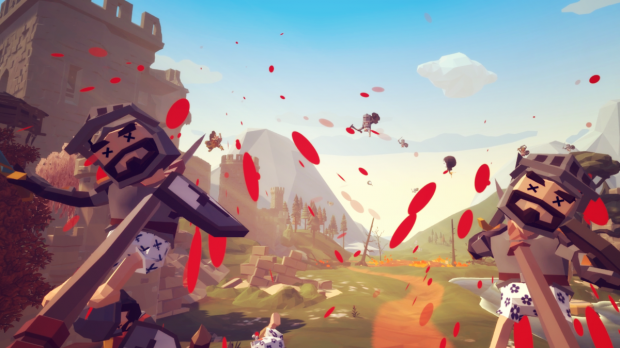 A list of features includes:
Three game modes: Rage, Survival, Gore

Fight off enemy knights with a variety of weapons at launch including maces, spears, axes, clubs, crossbows, bare hands, and fire breath

Send knights flying with the hardest hits possible to earn more points

Smash two knights in one blow to activate rage mode

Dodge oncoming bombs with evasive maneuvering

Take advantage of slo-mo bonuses

Challenge friends and compete for bragging rights on the global leaderboard
Last updated: Sep 25, 2019 at 05:39 pm CDT
Related Tags