LAS VEGAS - NAB Show - Promise Technology Inc., a leading storage solutions provider for the M&E market, today announces its Pegasus32 Series, the first dual-compatible connection solution offered to the market that allows the same USB-C port to connect at maximum allowed speeds via Thunderbolt 3 or USB 3.2 Gen 2. The Pegasus32 Series will include the R4, R6 and R8, and a bus-powered portable solution for OEMs.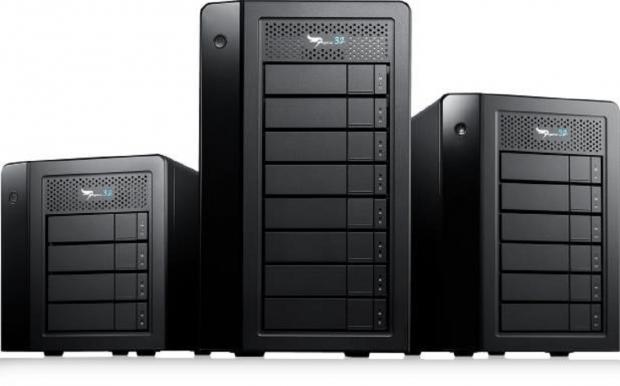 The Promise Pegasus32 Series has the same great features and performance as the Pegasus3 product lines that customers are used to and depend on, but now enables connectivity and versatility with the ability to connect at maximum allowed bus speeds via the same port to either Thunderbolt 3 enabled hosts at upto 40Gbps or USB 3.2 Gen 2 enabled hosts at 10Gbps.
"Promise listens to our end-users and delivers solutions that address key needs while also remaining at the forefront of industry innovation and advancement," said Vijay Char, president, Promise Technology USA. "With today's launch of the Pegasus32 Series, with a first-of-its-kind dual-compatible host connection, we let users use their Pegasus RAID storage with a wider range of hosts."
The Pegasus32 Series, using Intel's latest TitanRidge Thunderbolt 3 chip, works on 8K monitors via the full size 4-lane DP1.4 port, powers your hosts up to 85W with Thunderbolt 3 and USB 3.2 Gen 2 port and has up to 112TB of raw capacity with the R8. Additionally, the line features rock-solid HW RAID5+ protection, hot-swap 7200 rpm HDDs, and dual Thunderbolt 3 ports to daisy chain.
In addition to the announcement of the Pegasus32 Series, Promise will be showcasing its recently announced VTrak D5000 which has been optimized for the Rich Media market, supporting large file data ingesting, streaming, or processing between the D5000 NAS storage and its clients. Data can also be directly transferred between the D5000 appliance and clients over the SAN via iSCSI/Fibre Channel network. This means higher bandwidth performance and lower latency data transfers, perfect for rich media applications and other video-centric environments.
The VTrak D5000 Series optimizes performance and enables media professionals to increase productivity by allowing efficient processing of compressed video, delivering best-in-class performance and reliability for AdobeÃ,Ã,® Creative CloudÃ,Ã,® applications. Creative professionals can have peace of mind knowing that VTrak D5000 has been tested with Creative Cloud applications. Adobe Premiere Pro power users can now take advantage of the steady throughput needed for ingest/edit while at the same time leveraging Adobe After Effects to get the job done. In addition, the D5000 supports Open Directory and Active Directory environments making it easy to fully integrate into existing networking environments.
"The demand for video content has exploded over the last few years, so naturally our customers want to create more content as fast as possible," said Sue Skidmore, Head of Partner Relations at Adobe. "The growth in the video content industry has led us to innovate like never before and to collaborate with companies such as Promise so creatives can push their creative boundaries without technology getting in their way."
Promise will host demonstrations of the Pegasus32 series, VTrak D5000, as well as other products in-development at its NAB Show (booth# SL9024). For more information, please visit promise.com and follow Promise Technology on LinkedIn, Facebook or Twitter.