Stuttgart - 29.03.2019, German indie developer Chasing Carrots and their partners at PainDevs are excited to announce a release date for Pressure Overdrive, for the Nintendo Switch. This steampunk-shooter on wheels will be available for download from the Nintendo eShop from 4th April. Players can purchase this twin-stick shooter spectacle for 12,99$, 10.99 EURO and 12.99 EURO.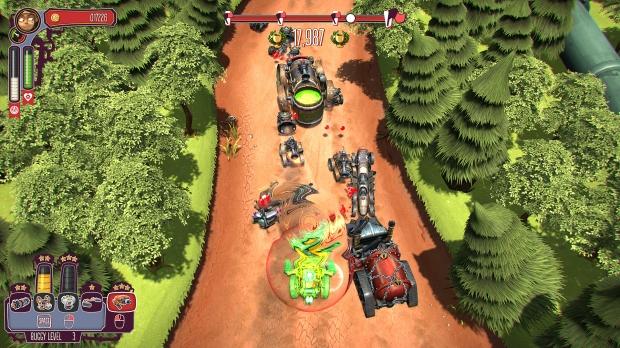 Pressure Overdrive creates a unique action-arcade vibe with its colourful world, various enemy types, and dynamic physics effects. The game includes different game modes, customizable player buggies, and a local coop mode so you can invite your family and friends to join you for sessions on the Nintendo Switch to challenge the nasty Count Soap and his minions, and earn their online high score ranks among the best.
'Pressure Overdrive will be the perfect Switch experience', says Dominik Schneider, CEO at Chasing Carrots. 'We are looking forward to players being glued to their couches, frantically putting their thumbs to a test in order to master pure arcade action'
'I always wanted to realize a twin-stick shooter, that is also fun using a controller with only one stick', says Richard Wepner, lead programmer at PainDevs. 'Switch players can control their buggy with a single JoyCon and hand over the other JoyCon to a friend to join them'.
All game modes can be played cooperatively by two players on the same screen, with shared results being recorded in a coop high score. The Campaign Mode offers over 30 levels, including boss battles, in three different worlds. In Freeplay Mode, previously unlocked levels can be mastered again under new conditions, the Endless Mode challenges through fast-paced action and continuously increasing difficulty. Never fear as you can upgrade your buggy with over 35 weapons and gadgets to take up the fight for 'La Resistance'.
More details: www.chasing-carrots.com/pressure-overdrive/
Press kit:
Pressure Overdrive Switch - Launch Trailer ESRB (YouTube):
Pressure Overdrive Switch - Launch Trailer PEGI (YouTube):
About Chasing Carrots
In 2011 Dominik Schneider and Patrick Wachowiak founded their Stuttgart-based indie developer studio Chasing Carrots. The 8-person team develops classic and challenging concepts delivered through easily accessible and colourful games. Their titles include Pressure Overdrive, Cosmonautica, and Good Company.
More details: www.chasing-carrots.com
Social Media: Facebook Twitter
About PainDevs
Since 2013 the PainDevs have been active as a team of programmers and developers specialized in technical implementation and porting of games. They support projects as technical service providers and help creative teams to adapt their products to different technologies and platforms.
More details: www.paindevs.com
Last updated: Sep 25, 2019 at 05:39 pm CDT