Ghostlight's dark rituals and strange experiments have proved successful and OMG Zombies! will be coming to Nintendo Switch on Tuesday 26th March 2019. With pre-purchase opening on Tuesday 19th of March and a 75% early bird discount, we're giving early participants in the zombie apocalypse the chance to pick the game up for an incredible $1.24, providing they buy the game before the 2nd April 2019.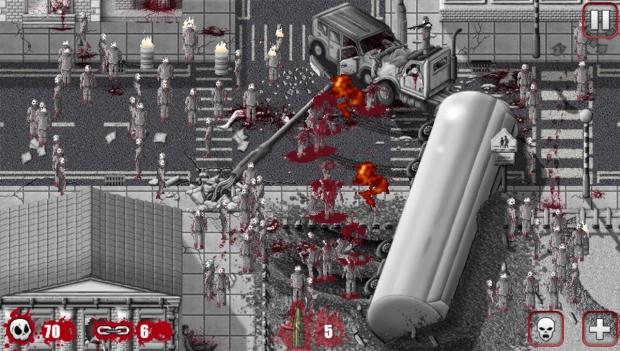 OMG Zombies! is an awesome reimagining of a genuine classic: the critically acclaimed OMG-Z, a top-ten all-time Metacritic rated PSP game and ranked as Metacritic's best action title ever released on PSP!
The City of Redfield has been hit by an outbreak of exploding zombies! For cool and unimportant reasons these suckers literally explode when shot, showering their zombie brethren with gore and causing chain reactions of showering zombie gibs with just a single bullet!
As a lone cop armed only with bare wit, a large-calibre sniper rifle and bullets coated in a zombie-exploding pathogen, you are the last man standing at the epicentre of a zombie outbreak. Your mission? To succeed where the police and army failed by clearing the streets of 8 different strains of bloodthirsty zombies and stop Armageddon in its tracks!
Use your sharpshooting skills to vanquish 100 branching levels of zombie hell across 40 unique environments in this hugely addictive chain reaction shooter. Earn 400 shiny medals and cold hard cash to buy 100 different upgrades, all designed to MAKE THOSE ZOMBIES EXPLODE!
So, make sure you take this chance to see what made this gore-fueled chain reaction shooter into the game you just can't put down!
Not only does the Switch version include all the new upgrades from the PC and PS Vita versions of the game, but Ghostlight have made plenty of awesome tweaks further improving the experience, which they have revealed in a recent post on their blog.
OMG-Z, the original PSP version of OMG Zombies! received some stunning reviews:
Gaming Nexus gave it 9.5/10 saying "OMG-Z is a simple masterpiece, the kind of game that sticks with you long after the ending cinema. Part action game and part puzzler, OMG-Z is one of the best games I've played this year!"
Eurogamer awarded it 9/10 and said: "A monstrously addictive quick-fire affair that utterly nails what on-the-go handheld gaming should be about."
PlayStation Official Magazine UK awarded gave it 80% calling it: "more addictive than shelling pistachios."
PocketGamer awarded it 4 Stars and said: "Laughing Jackal's latest offers challenge and depth in its mechanics, bottling the chaos of a zombie outbreak in a smartly designed puzzler."
Meanwhile, Critical Indie Gamer looked at the PC version of OMG Zombies and said: "OMG-Zombies! is a bloody orgy of viscera and strategy that engages and rewards your tasty, tasty brain. If you only get bitten by one zombie game this year, this one comes highly recommended."
Established in 2004, Ghostlight specialise in bringing the best in Japanese gaming to the PAL region. Ghostlight have released numerous JRPGs such as the Agarest series, Legend of Heroes: Trails in the Sky and multiple entries in the Shin Megami Tensei series, including Devil Survivor Overclocked and Persona 3 Portable. Ghostlight have recently released Lost Dimension, Sorcery Saga; Curse Of The Curry God and Mary Skelter: Nightmares on PC and Fairy Fencer F: Advent Dark Force on Ninendo Switch as well as titles from Acquire's respected Way of the Samurai series. http://www.ghostlight.uk.com/