14 March, 2019 - Indie publisher Digerati is pleased to confirm the acclaimed action-strategy card-game hybrid, Golem Gates, is coming to Xbox One (and as a full 4K gaming experience on Xbox One X), PlayStation 4, and Nintendo Switch in April - exact release date is still TBC.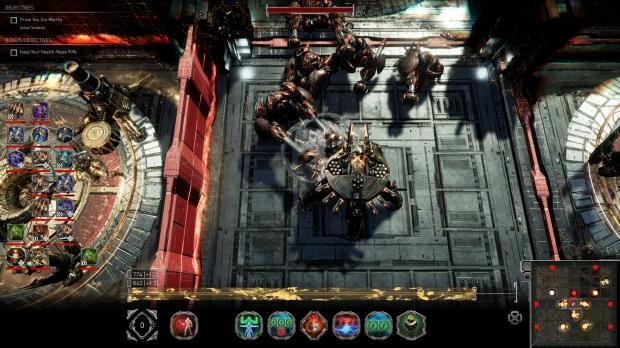 Developed by Laser Guided Games, Golem Gates is a post-apocalyptic sci-fi blend of action-strategy and card battler, pitting your conjured armies against otherworldly forces. An ancient threat surges from the Golem Gates, and only the Harbinger stands guard. Wielding the nanite-infused power of The Ash, you must protect a world ravaged by ancient wars. Choose from 100 cards (known as Glyphs) and unleash diverse units, buildings, buffs, and more in tactical combat across single player, co-op, and online multiplayer.
Randomized drawing and quick unit placement means you'll have to adapt on-the-fly as you formulate your strategy. Add more forces to a battle to turn the tide, transform a scouting party into an army, place emergency defenses to respond to the enemy, or hide an outpost in a direction the enemy doesn't expect. The choices are yours, but beware: the enemy will do the same and with the right Glyph your forces can be destroyed as fast as they were created.
Key Features:
Choose your Glyphs: Customize your deck from dozens of units, buildings, traps, buffs, debuffs, and techs

Streamlined tactics: Play cards/Glyphs directly into active combat and adapt at a moment's notice to defend, flank, and fortify

Hours of unique content: Single player campaign, challenge scenarios, solo/co-op survival, local and online multiplayer, and more

Full 4K gaming on Xbox One X: Enjoy the gorgeous spectacle of science-fantasy warfare and screen-filling magical mayhem
"We know strategy games have historically been thought of as more of a PC thing, but we think console players will be delighted by the changes Golem Gates has made to the formula that make it feel right at home played on a couch with a gamepad, or on the go on Switch." said Digerati Director Nick Alfieri.
"Having worked on it for the past four years, Golem Gates has been a labor of love," said the game's creator, Matt Oelfke. "Golem Gates has been a blast on Steam and we're thrilled console players will also have the chance to experience this unique strategy game."
What critics are saying: "The demonic strategy game I love playing before bed." - Kotaku
"Golem Gates is an innovative CCG/RTS mash-up that includes several game modes and benefits from great graphics and sound design." - GameSkinny
"It totally works and yields unique results" - GameCrate