HELSINKI, FINLAND (MARCH 12, 2019) - Independent game studio Second Order - founded by former Ubisoft - RedLynx Studio veterans - is thrilled to announce that their colorful clay-manipulating physics-based puzzle adventure Claybook is now available on Nintendo Switch! Players can carve, shape, and balance their way through challenging puzzles and create and share mind-boggling moldable landscapes online across PC, Xbox One, and PlayStation 4.
"The excitement surrounding Claybook's arrival on Switch has been truly moving," said Sami Saarinen, CEO, and Co-Founder of Second Order. "We're very happy to be able to finally share it with the world and eager to challenge Nintendo fans' puzzle abilities. We can't wait to see what wondrous creations Switch players will come up with."
A universe of wonder awaits the minds of those curious enough to delve into the pages of the Claybook - a stage for all manner of clay creations brought to life by an imaginative child (the player's in-game alter ego). Balance over tricky obstacles and pathways, take control of the surrounding objects, carve out paths, or add more clay to shape the landscape in the many wonderful chapters available to explore. Custom "Clayfield" technology creates true-to-life volumetric clay visuals and physics, giving the fantastically themed settings in the fully dynamic and transformable environment a sense of reality.
Claybook invites players to stretch their creative muscles and form their own pliable playgrounds for sharing with others across multiple platforms! The Claybook editor gives players all the tools they need to bring their clayscape directly from their imagination to the screen! Players can choose from over 50 available in-game shapes and give their custom clay stages some oomph with gameplay mechanics that spawn possessable shapes and new objectives. The world can be filled with solid clay or fluid-filled obstacles while cause-and-effect triggers amp up the challenge in their limitless claygrounds. Whether players choose to mold puzzles that will stump even the most skilled puzzle masters, or simply want to let their imagination run wild in sandbox mode, the possibilities are endless!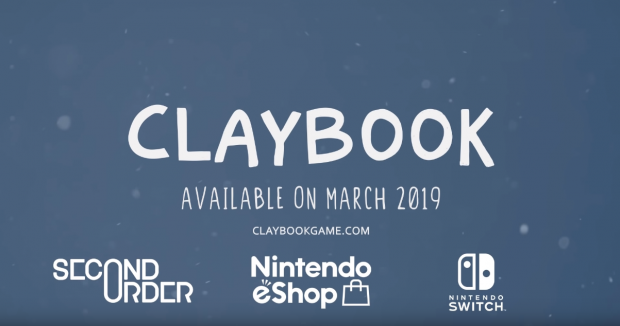 Claybook is available on Nintendo Switch through the Nintendo eShop in North America, Europe, Russia, South Africa, Australia, and New Zealand. The game is also available for Windows PC via Steam, PlayStation 4, and Xbox One and features full cross-platform access to community-generated content.
Want to see more? Check out the Claybook launch trailer:
[Download]: https://uberstrategist.link/Claybook_Launch_Trailer_DL
Key Features:
It's all Made of Clay: Every object in on the Claybook playing field looks, feels, acts, reacts, and changes exactly like clay - from structures to gooey clay blobs, to the ground itself.
Stuck? Rewind and Try Again: With the rewind function, getting stuck doesn't mean the end of the road: instead, a host of solutions open up to players as they find new and innovative ways to complete their objectives.
Share Your Imagination With The World: Let your creativity flow in Sandbox Mode as you utilize the fully customizable in-game assets and physics effects. Take snapshots and share your levels with the player community across multiple platforms.
Aim for the Top: Test your puzzle-solving skills against the community as you strive for the top of the leaderboards, for each chapter and each book, making multiple playthroughs a must.
A press kit with screenshots, trailers, art, and logos for Claybook on Nintendo Switch is available here: https://uberstrategist.link/Claybook_Press_Kit.
ABOUT SECOND ORDER:
Second Order is an independent game studio based in Helsinki, Finland. Founded in October 2015 by two veteran game developers behind the Ubisoft - RedLynx Studio's Trials game series (Trials HD, Trials Evolution and Trials Fusion), this exciting development team aims to bring fresh and unique gameplay experiences to mass audiences across a wide range of platforms with clever mixed of innovative technology and unique game design. Claybook is the first game developed and self-published by Second Order.