Seoul, South Korea - March 13, 2019 - Inspired by White Day and the Adventurers who continuously show their love for the Black Desert world and reap rewards with their guilds, new events will be available in Black Desert SEA from March 13 to 27 to continue celebrating the spirit of love and teamwork.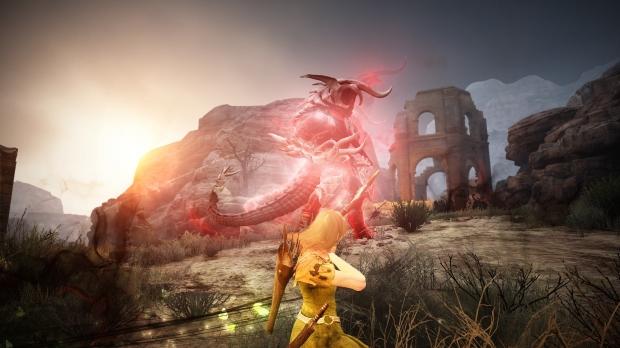 White Day, a follow-up to Valentine's Day in some Asian countries, is a special day that celebrates all kinds of love and friendships. This year, White Day is for everyone in the Black Desert world - regardless of relationship statuses. During the next two weeks, Adventurers will find that Sky Blue Lollipops have been left lying about in all regions of the world, which they can collect to claim Cron Stones as a reward.
By defeating monsters, gathering, or fishing, these candies can be obtained and exchanged for Cron Stone Boxes from Food Vendors in certain towns and cities. While all of these boxes will yield a random number of stones, Adventurers can trade more lollipops for a higher-grade Cron Stone Box to guarantee a higher yield of Cron Stones.
Alongside growing lollipop and Cron Stone collections, a new event will be available in Black Desert SEA to encourage guilds to find the picture-perfect moment together. Until March 27, verified guilds that take a picture with five or more members in-game and offline and post their pictures on the community forum will have a chance to win up to USD 200. Ten guilds will be randomly selected as winners, and all those that participate will receive two participation rewards. Guilds and Adventurers encouraged to read the guidelines of this event, then have a great, epic, and unforgettable gathering!
In addition, a new notice board specially designed for in-game viewing has also been implemented this week. Adventurers will be able to access GM and patch notes, updates, notices, and other news pertaining to Black Desert SEA without exiting the game. Now, with the latest information right at their fingertips, Adventurers can have more immersive, informed journeys as they traverse the world of Black Desert.
Find more information about all the events and content updates here.
About Black Desert:
Black Desert is an open world action MMORPG with cutting-edge visuals and skill-based combat that redefines the way we see the genre. Black Desert has the most fully developed character customization system of any game that is currently on the market. This feature allows users to break out of the norm and make unique characters that truly represent each and every player.
Its intuitive controls, beautifully designed world and extensive lore will excite both newcomers and veterans of MMO games and action RPGs in general. The game has been successfully launched in over 150 countries, is available in 12 languages and has over 10 million registered users. The mobile and console versions are scheduled to launch globally in 2018 and beyond.