Eurocom is proud to announce the launch of the EUROCOM Sky X9E3 Supercomputer laptop. This new platform has support for NVIDIA GeForce GTX 1080 Pascal SLI graphics, powerful Kaby Lake Intel Core i7-7700K Desktop Processor, up to 64GB of DDR4 3000MHz memory and up to 14 TB of RAID storage via five drives, including three NVMe based M.2 SSDs.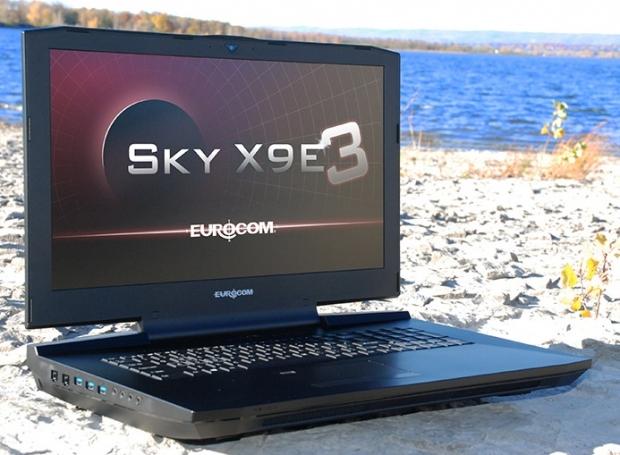 The Sky X9E3 is an SLI Ready and VR capable super high-performance supercomputer laptop. With an upgradeable desktop CPU and two upgradeable desktop GPUs cooled with high-quality copper heat sinks and IC Diamond thermal paste, and controlled by an unlocked system BIOS for the ultimate in overclocking capability.
Using durable ABS plastics and top quality manufacturing technology, the X9E3 weighs just 5.6kg (12.4lbs) and is less than 50mm (1.9 inches) thick when closed, an astonishing feat of engineering considering the level of power under the hood. Its strong chassis can withstand unintentional abuse on-the-go while being used for heavy-duty computing by engineers, professionals, or hardcore gamers.
The EUROCOM X9E3 is fully tested and ready to support Virtual Reality (VR) headsets such as Oculus Rift and HTC Vive. If you're a VR developer and need the mobility only a laptop computer can give, the EUROCOM Sky X9E3 should definitely be on your watch list.
Graphics
The EUROCOM Sky X9E3 is equipped with modular graphics technology. Dual MXM 3.0b slots are able to support 190W graphics card per slot and are ready to hold two NVIDIA GeForce GTX 1080 cards for the ultimate in graphics processing and VR capability.
NVIDIA GeForce GTX 1080 8GB GDDR5X w/ 2560 CUDA cores at 1582MHz/10010MHz; up to 190W per card

NVIDIA GeForce GTX 1070 8GB GDDR5 w/ 2048 CUDA cores at 1442MHz/8008MHz; up to 150W per card
Processor
The EUROCOM Sky X9E3 has an Intel Z270 chipset and LGA 1151 desktop socket allowing it to support Intel Core i7 desktop processors, including the following:
4.2GHz (up to 4.5GHz) Intel Core i7-7700K; 4C/8T; 8MB L3; 14nm; Kaby Lake; LGA1151; 91W

3.6GHz (up to 4.2GHz) Intel Core i7-7700; 4C/8T; 8MB L3; Kaby Lake; 14nm; LGA1151; 65W

3.8GHz (up to 4.2GHz) Intel Core i5-7600K; 4C/4T; 6MB L3; Kaby lake; 14nm; LGA1151; 91W
When ordering, customers can select IC Diamond thermal paste or Coollaboratory Liquid Ultra for the best thermal capability.
Memory
The Sky X9E3 has four 260pin SO-DIMM 1.2V memory slots and supports up to 64GB DDR4 3000MHz. With such massive amounts of RAM available, the Sky X9E3 becomes a flexible tool for virtualization and high-performance computing.
Storage
Up to 14TB of storage is supported via 5 drives; 2x HDD/SSD (SATA3) + 3x M.2 PCIe Gen3 x4/SATA3. RAID 0/1/5 is supported for the ultimate in performance and redundancy. NVMe SSDs are supported for insanely fast storage speed.
Intel Optane memory is a revolutionary new memory technology, supported in the EUROCOM Sky X9E3, which affordably accelerates the system, delivering high speed and responsiveness without compromising system storage capacity.
Security
The Sky X9E3 carries a range of security and anti-theft features, including:
Infineon SLB9665TT encryption module

Biometric fingerprint scanner

Kensington lock slot
The TPM module provides both users and network admins with a secure hardware verification method. The biometric fingerprint scanner can replace insecure passwords, meaning only assigned users can access the system. The Kensington slot is present to enable the Sky X9E3 to be locked down and tethered in a public place, to prevent theft.
Display Technology
The EUROCOM Sky X9E3 supports up to 4 external monitors via two Display Port 1.3, one HDMI 2 port, and one HDMI 2 or USB 3.1 C (Display Port 1.2). Four 17.3" internal display options are offered, including:
17.3-inch (43.9cm); FHD 1920x1080; 60Hz; Matte; IPS; 300nts; 700:1; 72% NTSC; eDP 30pin; LP173WF4 SPD1

17.3-inch (43.9cm) QHD 2560x1440; 120Hz; Matte; TN; 5ms; 700:1; 400nts; NTSC 72%; eDP; AUO B173QTN01.0

17.3-inch (43.9cm); FHD 1920x1080; 120Hz; Matte; IPS; 700:1; 300nts; eDP; AUO B173HAN01.2; Non G-Sync

17.3-inch (43.9cm); 4K Ultra HD 3840x2160; 60Hz; Matte; IPS; eDP; 1000:1; Adobe RBG 100%; 400nts; AUO B173ZAN01.0
NVIDIA Surround View is supported so users can combine multiple displays for a more immersive graphical environment.
Power and Battery
All features in the EUROCOM Sky X9E3 are powered by a choice of three AC adapters. A 330W AC Adapter, two 330W AC Adapters connected with a converter box, and a single 780W AC adapter. An 8 Cell 89Wh Lithium Ion battery is standard.
AC Adapter Options:
330W AC Adapter; Auto-switching; 100-240V; 50-60Hz; DC 19.5V @ 16.9A

660W (2x 330W) AC Adapter; Auto-switching;100-240V w/Converter Box

780W AC Adapter; 110V-250V Auto Switching; 325x110x40mm; 3lbs/1.3kg; w/DC cable
Networking
The Sky X9E3 is ready for both wired and wireless communications. With three built-in long range antennas for maximum wireless capability. EUROCOM Sky X9E3 comes with two physical RJ-45 LAN ports powered by two Killer E2400 10/100/1000 Ethernet controllers on-board. With its support of Killer DoubleShot X3 Pro, your networking will never be faster.
IO Ports
The EUROCOM Sky X9E3 has a variety of ports to integrate this powerful system into any environment, including:
2 x USB 3.1 Type-C / Thunderbolt 3 / DP 1.3 / HDMI 2.0

5 x USB 3.0 (1x powered USB port, AC/DC)

2 x mini DisplayPort 1.3

1 x HDMI 2.0 output

1 x Headphone/SPDIF (ESS Sabre HiFi)

1 x Microphone-in

1 x Line-out

1 x Line in

2 x RJ-45 LAN

1 x DC-in
Last updated: Sep 1, 2017 at 12:58 am CDT