Synology Inc. today announced the official release of Surveillance Station 8.0, delivering a new and efficient desktop client, smart multiple streaming technology, and painless failover setup, providing better management experience.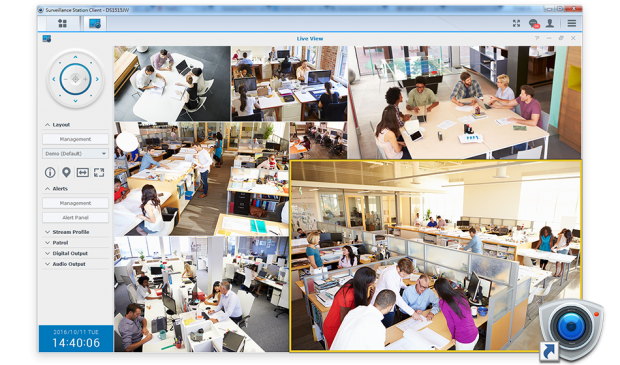 Optimized performance and smart multiple streaming technology
"Surveillance Station 8.0 is a smart surveillance system, offering flexible deployment and smoother live view experience," said Jonathan Wang, Product Manager at Synology Inc., "the new face of Surveillance Station will show how easy it can be to gain a higher sense of security."
Surveillance Station 8.0 includes the following new features:
Surveillance Station Client: In addition to checking live views and managing channels within browsers, users can now install Surveillance Station Client to enjoy significantly improved performance and efficiency, and be free from browser limitations.
Multiple streaming: Supports automatic and manual resolution adjustment based on the size of the monitoring window or event, saves bandwidth consumption1 when prospecting multiple channels. Choose to automatically switch to higher resolution recording only when important events occur, maximizing storage utilization1 during continuous recording.
Advanced action rule: More advanced action rules and events are supported to further automate the surveillance system. By flexibly utilizing the logical operators and multiple events, actions can be triggered when one or all of the pre-defined criteria is met.
Automatic failover: Users can enable flexible failover on CMS to enjoy an intact surveillance structure with minimized downtime, more flexible server requirements, and lower threshold on cost and management.

New codecs: Supports the new H.265 codec, enabling more supported cameras for users to choose from while reducing bandwidth consumption up to 25%2, providing faster streaming experience during both live view and recording. Optimized H.264+ by Hikvision and Smart Stream by Vivotek and ZAVIO are also supported.

VS360HD firmware upgrade: The upgrade allows users to easily connect VS360HD to the NAS, and manage almost every feature of Surveillance Station on VS360HD. QuickConnect ID and HTTPS connections are also supported to let users access Surveillance Station from anywhere in the world.
To learn more about Surveillance Station 8.0, please visit the Synology website.
Availability
Surveillance Station 8.0 can be found through DiskStation Manager's Package Center on all Synology DiskStation and RackStation running DSM 6.0 and above as well as on NVR216.
Compatibility
Supported models include:
17-series: FS3017, RS3617xs+, RS3617xs, RS3617RPxs, DS3617xs, RS217
16-series: RS18016xs+, RS2416RP+, RS2416+, DS416j, DS416slim, DS416, DS716+, DS216se, DS216play, DS216j, DS216+, DS216, NVR216, DS216se, DS216j, DS216, DS116
15-series: RC18015xs+, DS3615xs, DS2415+, DS2015xs, DS1815+, DS1515+, DS1515, RS815RP+, RS815+, RS815, DS415play, DS415+, DS715, DS215j, DS215+, DS115j, DS115
14-series: RS3614xs+, RS3614xs, RS3614RPxs, RS2414RP+, RS2414+, RS814RP+, RS814+, RS814, DS414slim, DS414j, DS414, RS214, DS214se, DS214play, DS214+, DS214, DS114
13-series: DS2413+, RS10613xs+, RS3413xs+, DS1813+, DS1513+, DS413j, DS413, DS713+, DS213j, DS213air, DS213+, DS213
12-series: DS3612xs, RS3412xs, RS3412RPxs, RS2212RP+, RS2212+, DS1812+, DS1512+, RS812RP+, RS812+, RS812, DS412+, DS712+, RS212, DS212j, DS212+, DS212, DS112j, DS112+, DS112
11-series: DS3611xs, DS2411+, RS3411xs, RS3411RPxs, RS2211RP+, RS2211+, DS1511+, RS411, DS411slim, DS411j, DS411+II, DS411+, DS411, DS211j, DS211+, DS211, DS111
Can save up to 85% of bandwidth and storage by scaling 1080p streams down to 480p. Tested under H.264 10FPS environment.
Performance might vary depending on the testing environment. More details on H.265 official website.
Synology at a Glance
Synology creates network attached storage, IP surveillance solutions, and network equipment that transform the way users manage data, conduct surveillance, and manage network in the cloud era. By taking full advantage of the latest technologies, Synology aims to help users centralize data storage and backup, share files on-the-go, implement professional surveillance solutions, and manage network in reliable and affordable ways. Synology is committed to delivering products with forward-thinking features and the best in class customer services.
Last updated: Sep 1, 2017 at 12:58 am CDT