Eurocom launches the fully upgradeable, high performance 15.6" Tornado F5 with NVIDIA GeForce GTX 1080 graphics, Intel Core i7 7700K processor, 64 GB DDR4 memory via four slots, dual M.2 SSD slots and a 4K 15.6" display.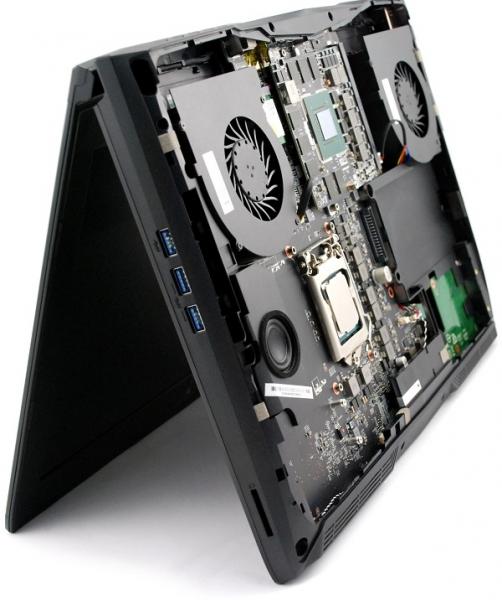 EUROCOM Tornado F5 users who own an Intel Core i7-6700K SKU can upgrade to the i7-7700K since the two processors share the same LGA 1151 socket. The EUROCOM Tornado F5 is one of the few laptops with a Z170 chipset, LGA 1151 CPU socket and MXM 3.0 graphics slot for a wide range of customization options. Two M.2 SSD PCIe x2/x4 or SATA SSD and one 9.5mm SATA3 6Gb/s storage drive is also supported to offer a great combination of capacity and speed. Four memory slots are available to support up to 64 GB of DDR4 SO-DIMM. Customers have a 15.6" FHD matte display and a 4K matte display to choose from as well.
The internal components of the EUROCOM Tornado F5 are easily accessible to allow users the ability to upgrade chosen components to increase performance, capacity and lifespan.
"Eurocom is pleased to be able to offer our customers a potent combination of NVIDIA GeForce GTX 1080 graphics and Intel Core i7 7700K processing performance in a 15.6" laptop," said Mark Bialic, Eurocom President.
Impressive benchmarks of the EUROCOM Tornado F5 can be found here: http://www.eurocom.com/ec/benchmarks
New Processor options:
4.2GHz (up to 4.5GHz) Intel Core i7-7700K; 4C/8T; 8MB L3; 14nm; Kaby Lake; LGA1151; 91W

3.6GHz (up to 4.2GHz) Intel Core i7-7700; 4C/8T; 8MB L3; Kaby Lake; 14nm; LGA1151; 65W

3.8GHz (up to 4.2GHz) Intel Core i5-7600K; 4C/4T; 6MB L3; Kaby Lake; 14nm; LGA1151; 91W
Graphics Options:
8GB GDDR5; NVIDIA GeForce GTX 1070 (desktop); 2048 CUDA; N17E-G2; MXM 3.0

8GB GDDR5X; NVIDIA GeForce GTX 1080 (desktop); 2560 CUDA; N17E-G3; MXM 3.0

6GB GDDR5; NVIDIA GeForce GTX 1060 (desktop); 1280 CUDA; N17E-G1; MXM 3.0

6GB GDDR5; NVIDIA GTX 970M (N16E-GT); 1280 CUDA; MXM 3.0b

8GB GDDR5; NVIDIA GTX 980M (N16E-GX); 1536 CUDA; MXM 3.0b
The EUROCOM Tornado F5 is equipped to take full advantage of the overclock-ability of the new kaby lake processors due to their high-quality copper heat sinks, high-speed fans and use of Innovation Cooling Diamond 24 carat diamond thermal compound to manage the temperature of the desktop processor. All Eurocom Mobile Supercomputers come with an Unlocked BIOS granting access to overclocking capabilities and other hidden settings only available to power users. Achieve unsurpassed performance by gaining control over the finest details of the CPU, memory, and GPU (Unlocked BIOS and VBIOS).
Eurocom Mobile Supercomputers are fully upgradeable and customizable allowing customers to build the laptop of their dreams. Choosing the processor, graphics card, memory, storage, display and wireless card allows users to build a system that is perfect for their requirements without the need to purchase unwanted components.
EUROCOM Tornado F5 Specifications
Display: 15.6-inch FHD 1920-by-1080 pixels or 4K Ultra HD 3840-by-2160 pixels; eDP

Chassis: Aluminum Alloy (Back Cover and Top Case) and German manufactured resins (Front Cover and Bottom Case)

Chipset: High Performance Intel Z170 Express Chipset

Processor: Socket based; LGA1151; up to 91W TDP; choice of Core i7, i5, i3 up to 6700K/7700K.

VGA Technology: upgradeable MXM 3.0; NVIDIA GeForce: GTX 1080, 1070, 1060, 980M, 970M or 965M; up to 150W TDP; discrete GPU only (no Optimus)

Memory: Four 260-pin SO-DIMM sockets; DDR4-2133/2400/3000/3200; up to 64GB

Storage: up to 3 physical drives: 2x M.2 2280 PCIe x2/x4 or SATA SSD and 1x HDD/SSD (9.5mm) SATA3 6Gb/s; RAID 0/1 with 2x NVMe SSDs.

Card Reader: 6-in-1: UHS-II interface; MMC/RSMMC/SD/mini SD/SDHC/SDXC; Push-Push

Keyboard and Touchpad: Anti-ghosting backlit multi-colour 7-colour keyboard with seperate numeric keypad; TouchPad with multi-gesture and scrolling; W/A/S/D Gaming key

Ports: 3x USB 3.0; 1x USB 3.1 Type-C (Thunderbolt 3); 1x DP 1.2; 1x HDMI 2.0; 1x Headphone; 1x Microphone-in; 1x S/PDIF (digital); 1x Line-in; 1x RJ-45 LAN; 1x DC-in

Audio: High Definition Audio; S/PDIF Digital Output; Built in microphone; Built in two 2W speakers; Sound Blaster X-FI MB3; External 7.1CH output (headphone, mic, line-in and S/PDIF).

Display Support: Supports up to 4 active displays including internal LCD; up to 3840x2160 @ 60Hz

Battery: 8cells; 14.4V 5225mAh/75.24Wh Li-Ion; up to 130 minutes

Weight: 2.92kg / 6.45 lbs w/ battery

Dimensions: 390x266x39.8mm / 15.6x10.64x1.59-inch
About Eurocom:
Eurocom is the leading developer of long lifespan, fully upgradable notebooks, as well as, high-performance mobile workstations and servers since 1989. Eurocom prides itself as an Industry leader in providing ground-breaking technology and continues to engineer innovative solutions that inspire individuals and companies to new growth and development. For more information on Eurocom please visit us at www.eurocom.com.
Online Resources:
Online Article: http://www.eurocom.com/ec/release(357)ec
EUROCOM Tornado F5 benchmarks: http://www.eurocom.com/ec/benchmarks(384)ec
EUROCOM Tornado F5: http://www.eurocom.com/ec/configure(2,384,0)ec
Last updated: Apr 7, 2020 at 12:11 pm CDT