Logitech (SIX:LOGN) (NASDAQ:LOGI) today introduced the Logitech G533 Wireless Gaming Headset. With professional grade wireless technology, U.S. patent- pending Pro-G audio drivers and DTS Headphone:X 7.1 surround sound, the headset delivers advanced audio performance and wireless convenience. The Logitech G533 also features a long battery life and purist design, giving you maximum comfort during marathon gaming sessions.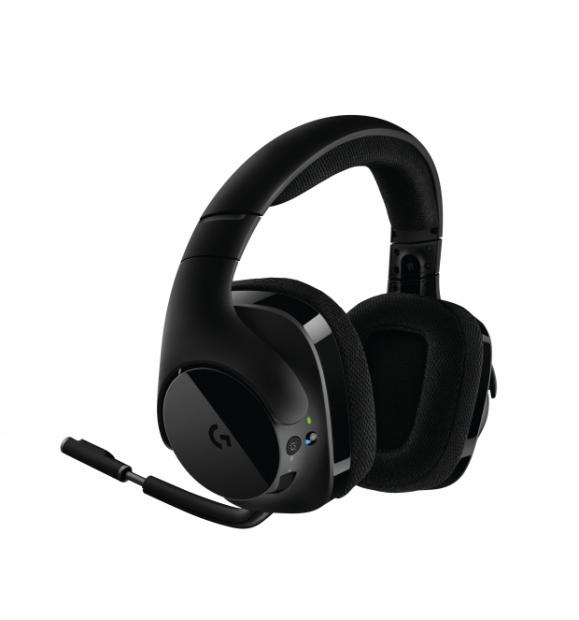 "Our audio team set out to create a headset that delivers the most immersive and accurate PC gameplay experience"
Logitech G533 Wireless Gaming Headset Features Pro-G Drivers and DTS Headphone:X 7.1 Surround Sound
"Our audio team set out to create a headset that delivers the most immersive and accurate PC gameplay experience," said Ujesh Desai, vice president and general manager of the Logitech gaming business. "With DTS Headphone:X and our Pro-G Driver, the result is amazing. Now, you can amplify game sounds to achieve the most accurate positioning and experience in-game effects."
Advanced Audio Performance
The U.S. patent-pending advanced Pro-G audio drivers are made with hybrid mesh materials that deliver audio performance previously only found in high-end audiophile headphones. The drivers deliver clear highs and lows with minimal distortion.
Highly realistic DTS Headphone:X surround sound technology accurately replicates 7.1 speaker placement and audio positioning, so you can hear in-game environmental effects and positional audio that game designers intend you to hear, such as how far away enemies are and which direction they are coming from. You can also tune the volume levels for each of the seven audio channels.
Superior Wireless Technology
Featuring advanced lossless digital audio transmission, the Logitech G533 delivers wireless convenience and incredible high fidelity sound at a range of up to 15 meters. The headset maintains a strong connection, even in high Electro-Magnetic Interference (EMI) settings when there are dozens of wireless signals in proximity. The ultra-low latency wireless connection ensures virtually no lag between your audio and your game, as well as lag free performance while watching movies and streaming media.
High Performance Design
With the latest in materials and manufacturing techniques, the Logitech G533 Wireless Gaming Headset is a durable, yet lightweight headset that you can wear for hours. It features a lightweight over-the-ear design, with sports mesh ear pads that are breathable and can be easily removed for cleaning.
Smart Mute and Microphone
The Logitech G533 integrates the popular auto mute feature for the foldable mic, and also improves on noise cancelling and EQ tuning to provide the clearest of audio for competitive gaming chat and communications. The new pop filter provides noise reduction for hisses and pops.
Battery Life
Rechargeable, replaceable batteries power the headset for up to 15 hours non-stop on a single charge, making it the perfect wireless headset for marathon gaming sessions. You can also use Logitech Gaming Software (LGS) to keep an eye on your charge level, so you don't run out of juice in the middle of a game.
Fine-Tune Controls
The Logitech G533 Wireless Gaming Headset features a noise-cancelling microphone on a folding, extendable boom for crystal-clear voice chat and communications. An easy-to-reach volume control roller and mic mute button on the left earcup makes it simple to adjust audio settings on-the-fly and to automatically mute the microphone, just fold it up. For fine-tuned settings, use LGS to set equalizer, surround sound, side tone and microphone levels on a per-game basis. And, reprogram the mute button to any function, such as "play/pause" to start/stop your media.
Pricing and Availability
The Logitech G533 Wireless Gaming Headset is expected to be available at global retailers beginning in January 2017 for a suggested retail price of $149.99. For more information please visit our website, our blog or connect with us on Facebook.
Last updated: Sep 1, 2017 at 12:58 am CDT