Today at the National Association of Broadcasters Convention, LaCie, the premium brand from Seagate Technology plc, announced the LaCie 12big Thunderbolt 3, a professional 12-bay desktop RAID storage unit. With up to 96TB of capacity, the breakthrough performance of Thunderbolt 3 and RAID 5/6, the LaCie 12big helps video professionals meet the data demands of 4/5/6K cameras.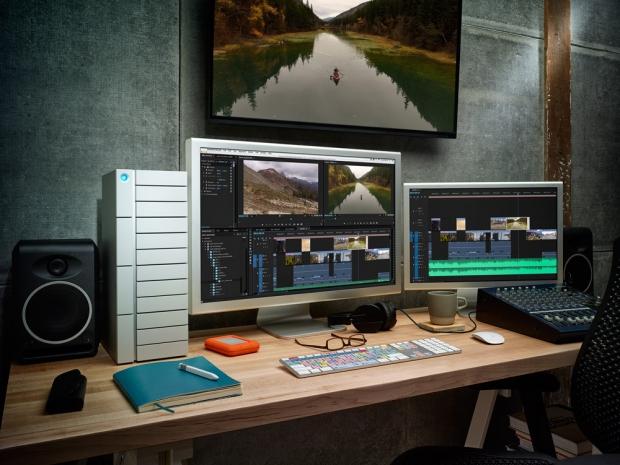 At up to 96TB, the LaCie 12big boasts a 50 percent higher capacity than any other desktop direct attached storage solution on the market-with a footprint smaller than a tablet. It features Seagate's enterprise-class drives with a five-year limited warranty for extraordinary reliability and data availability to safely store and edit massive amounts of ultra hi-res footage.
For the 12big, LaCie harnessed the breakthrough performance potential of Thunderbolt 3 technology and squeezed the absolute best speeds out of the hard drives. LaCie added a hardware RAID controller and 7200RPM drives, and the result is record-breaking speeds of up to 2600MB/s-and 2400MB/s in RAID 5.
"We are thrilled to see LaCie push the boundaries of speed, video bandwidth and compatibility with its latest Thunderbolt storage solution," said Jason Ziller, Intel's Director of Thunderbolt Marketing. "Products like the LaCie 12big help highlight what Thunderbolt 3 makes possible."
That kind of speed can slash time off nearly every post-production workflow task. Users can ingest hours of RAW footage from a Blackmagic cinema camera into Adobe Premiere Pro in a fraction of the time. They can then edit multiple streams of ProRes 422 (HQ), ProRes 444 XQ, as well as uncompressed HD 10-bit and 12-bit video. For big projects packed with high-def clips, thumbnail and preview rendering becomes much more responsive.
"LaCie is committed to helping video professionals master ever-increasing data demands by ensuring their irreplaceable data is secure, available on demand and always driving value," said Tim Bucher, Senior Vice President of Seagate and LaCie Branded Solutions, "The combination of higher spatial resolution and 3D imagery, as well as higher dynamic range and frame rates, is driving the need for high-capacity and high-speed digital storage systems. We purpose-built the LaCie 12big to have the speed, capacity and reliability to efficiently download and edit even the most demanding content-so our customers can focus on making their creative vision a reality."
With double the video bandwidth of its predecessor, Thunderbolt 3 lets the user daisy chain dual 4K displays or a single 5K display to the LaCie 12big. With two 4K displays, a video pro can spread out his/her workspace by dedicating one display to the timeline and the other to previewing 4K footage. It is even possible to provide power to a compatible laptop through the Thunderbolt 3 cable.
MASSIVE CAPACITY
With up to 96TB of capacity, the LaCie 12big can store 100 hours of 4K ProRes 444 XQ footage in RAID 5. With that capacity, it's possible to store footage from 48 LaCie Rugged Thunderbolt 2TB shuttle drives. Instead of buying a new storage device every time more capacity is needed, LaCie recommends pros invest up front in a future-proof, RAID-protected solution. This consolidated approach improves data access and security, which can save money in the long term.
ENTERPRISE CLASS
The LaCie 12big features 256MB cache, 7200RPM Seagate enterprise-class drives for superb accessibility, reliability and robust performance. Designed to operate 24ÃÆ'Æ'Æ'ÃÆ'â€Â '-7 on 16-bay racks (instead of 8ÃÆ'Æ'Æ'ÃÆ'â€Â '-5 operations for traditional hard drives), these HDDs are rated for 8760 hours of operation per year for extraordinary availability. The LaCie 12big also comes with a five-year limited warranty that covers drives, enclosure and spare parts.
NEW LACIE RAID MANAGER
The redesigned LaCie RAID Manager offers an intuitive interface to administer the LaCie 12big. A new and more user-friendly interface assists the user in setting up and monitoring storage. Wizards help easily create and manage volumes optimized for individual needs. Plus it offers advanced features such as CPU settings, auto rebuild, and drive diagnostics.
DESIGNED FOR PROFESSIONALS
From the front of the product, drive status LEDs keep track of drive health and RAID build status, and drives can be conveniently accessed. Ensuring long-term component health, the aluminum enclosure dissipates heat efficiently and four thermoregulated fans pull heat away from the drives. And even if a fan fails, the product is still fully functional. For universal compatibility, users can connect to USB-C laptops-and even USB 3.0 computers via the included USB-C to USB-A cable.
The LaCie 12big will be available this summer in 48TB, 72TB and 96TB capacities through the LaCie online store and LaCie resellers.
Last updated: Apr 7, 2020 at 12:11 pm CDT