G-Technology, a premium storage solutions provider trusted by leading creative professionals, today announced the G-DRIVE mobile USB-C, a new portable drive that speeds up and streamlines the storage and backup process using the latest USB Type-C technology. USB Type-C is the next-generation connector with a slim and sleek design, tailored to easily fit into thinner and lighter notebooks, like the latest Apple MacBook. It is a user-friendly connection as the cable can be plugged in any orientation or direction and is robust enough for notebooks and tablets.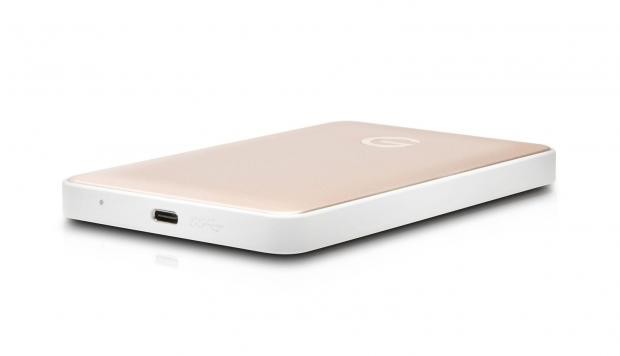 G-Technology will be showcasing the new products at the Wedding & Portrait Photography International (WPPI) Expo, March 7-9 in Las Vegas, Booth #732.
If you are a student running around campus, a business professional or a photographer traveling the world, the 1TB storage space helps handle all the videos, photos, documents, and music you need. Bus-powered, requiring no outside power adapter and featuring a thin, beveled aluminum case, the G-DRIVE mobile USB Type-C offers ultimate mobility. Best of all, you can match the drive with your favorite Apple MacBook design in gold, space gray or silver. Also, whether your system features the next generation USB-C or the standard USB 3.0/2.0 interface, the G-DRIVE mobile USB-C is compatible and can serve as your fast storage companion, while future-proofing your storage for your next-generation computer system.
The G-DRIVE mobile USB-C features a speedy 7200 RPM hard drive for transfer rates up to 136MB/s. It ships with one USB Type-C to Type-C cable and one USB Type-C to Type-A cable, allowing for backward compatibility. For Windows users, the G-DRIVE mobile USB-C can be easily reformatted using the G-Technology Windows Format Wizard available as a free download on the G-Technology website. Shipping this March, the gold and space gray colors will be available exclusively at Apple Stores, and the silver color will be available at your favorite G-Technology resellers. For the 1TB capacity, the MSRP is $129.95 and comes with G-Technology's industry leading three-Year limited warranty.
For Mega Storage Users - New 2TB and 3TB G-DRIVE mobile USB 3.0 portable storage solutions
For users that prefer USB 3.0 connectivity and huge portable capacity, G-Technology now offers the G-DRIVE mobile USB in 2TB and 3TB capacities. Available in a stylish aluminum black case, the G-DRIVE mobile USB is shipping today with MSRPs of $129.95 for 2TB capacity and $179.95 for 3TB capacity.
"From our highly flexible Evolution Series and sleek black G-SPEED line to our new colorful USB Type-C portable drives, we always strive to deliver quality, performance and style," said Mike Williams, vice president and general manager, G-Technology. "Getting consumers to backup and protect their stuff can be difficult, but we hope that our new fast and stylish G-DRIVE mobile USB-C and high-capacity G-DRIVE mobile USB 3.0 drives will encourage people to safeguard their most valuable personal data."
"The G-DRIVE Mobile USB-C is now a huge part of my workflow - it is super compact, blazing fast, crazy reliable and allows me to back-up on the go no matter where I am!," said Dixie Dixon, lifestyle, fashion and advertising photographer.
Last updated: Apr 7, 2020 at 12:11 pm CDT