Toshiba's Business Solutions Division (BSD), a division of Toshiba America Information Systems, Inc., today announced the addition of the 6th Generation Intel Core processors to its line of high-performance, enterprise-class of thin-and-light mobile computing devices. This lineup consists of a 13.3-inch Portege Z30 and 14-inch Tecra Z40 Ultrabooks, which come with a variety of screen options. The award-winning Portege Z20t Detachable 2-in-1 Ultrabook now features the new USB Type-C reversible connector to increase data speeds. Rounding out the portfolio is the 15.6-inch Tecra Z50, which features an entirely new aluminum chassis.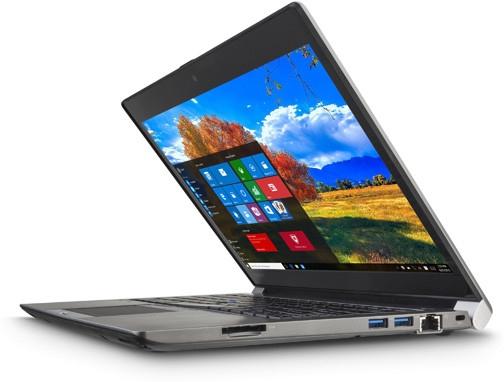 "By extending the capabilities, performance and bandwidth of our updated enterprise line of Portege and Tecra products, we're giving mobile professionals a better way to work," said Carl Pinto, vice president of marketing and engineering, Toshiba America Information Systems, Inc., Digital Products Division. "With the new Intel 'Skylake' processors included in our lineup, enterprise customers will enjoy increased form factor performance, reliability, advanced security and impressive craftsmanship they've come to expect from Toshiba for the past three decades."
Performance and Features for Greater Productivity On-the-Go
Powered by 6th Generation Intel Core processors, the 13.3-inch Portege Z30 and 14-inch Tecra Z40 Ultrabooks feature HD, Full HD, and Full HD touch-enabled displays offering plenty of screen real estate to work. With superior performance, extended battery life and enhanced durability, as well as a full array of security features, essential ports, and a variety of storage technology options, the thin-and-light Portege Z30 and Tecra Z40 Ultrabooks serve as ultimate work machines that also deliver on mobility and style.
The powerful and durable Tecra Z50 laptops deliver everything today's mobile workers need in a desktop replacement. The 15.6-inch Tecra Z50 features a 6th Generation Intel Core processor and a brand new design with aluminum chassis without compromising on essential business features like manageability, security and connectivity.
Also featuring the latest Intel processors, the versatile Portege Z20t Detachable 2-in-1 Ultrabook delivers the enhanced speed and performance expected from a business-class Portege device and allows users to switch instantly between notebook and tablet by simply detaching the screen. Equipped with all of the business-essential ports needed for a dongle-free experience and a 12.5-inch diagonal Full HD anti-glare touchscreen display, the Portege Z20t is an ideal choice for on-the-go professionals looking for a single, multifunctional device that offers more screen real estate than most tablets and the responsive performance of a laptop. The Portege Z20t now features the new USB Type-C connector, which allows reversible use and increases data speeds.
Common Docking and Accessories
The new 13.3-, 14- and 15.6-inch laptops share a common docking port and accessories, including power adapters and port replicators, making it easier for IT managers to purchase, deploy and manage these devices for their companies. Additionally, they also share a common image, allowing IT departments to easily customize their machines to meet unique needs across the company and deploy them to users in an efficient manner.
Save Time and Money with Toshiba's Configuration Services
Regardless of how many laptops are purchased at one time, Toshiba can perform the most tedious configuration tasks before delivery, saving tremendous time for overburdened IT departments. Our Configuration-to-Order (CTO) services, performed in our own Toshiba factories, include image build, load and certification; custom asset tagging; company logo etching; individualized BIOS settings; provisioning; Absolute Computrace factory activation and more. Toshiba ensures that each device arrives exactly as you want it with no additional work required, allowing your IT staff to focus on more strategic tasks.
Additionally, with Toshiba's Build-to-Order (BTO) services, organizations can receive laptops built to their exact specifications to ensure high efficiency and proper workflow for a variety of enterprise needs. Toshiba offers the ability to choose from a variety of processors, storage and memory capacities, and display options to offer enterprise employees a device best equipped for day-to-day operations.
Windows Operating System Flexibility
Toshiba's enterprise portfolio of notebooks will feature a variety of Microsoft operating systems to best suit each organization's IT requirements, including Windows 10 and Windows 7 with Microsoft Windows 10 upgrade licensing rights.
Better Manageability for IT with Toshiba Smart Client Manager
The Tecra and Portege laptops are the perfect platform for the Toshiba Cloud Client Manager (TCCM) - a cloud service that allows IT administrators to easily manage end-point devices across a deployment by providing comprehensive tools and patch management to ensure device efficiency and compliance. Using a standard web browser, IT administrators can now oversee and take control of devices online, in real-time, without the need to invest in servers and dedicated management software. The devices also have advanced manageability options, supporting Microsoft System Center Configuration Manager (SCCM), Windows Management Instrumentation (WMI) and Toshiba Smart Client Manager 2.0 (TSCM).
Toshiba BIOS for more efficient (and secure) asset management
With Toshiba's proprietary BIOS, Tecra laptops deliver seamless integration of hardware and software that few PC manufacturers can deliver. Having proprietary BIOS speeds laptop customization and saves time managing assets-a valuable benefit for companies with limited IT resources. This foundational BIOS software also monitors the PC's internal components to maintain stability, while offering system-level security and built-in countermeasures to prevent unauthorized access.
Pricing and Availability
The Portege Z20t, Portege Z30t, Tecra Z40t, and Tecra Z50 are all available for purchase through our network of resellers as well as Corporate Direct and our strategic partners: CDW, PC Connections, PCM, Insight, SHI and Zones.
The Portege Z20t Detachable Ultrabooks starts at $999.99 MSRP.

The Portege Z30 Ultrabooks start at $1,279.99 MSRP.

The Tecra Z40 Ultrabooks starts at $1,229.99 MSRP.

The Tecra Z50 laptops start at $1,599.99 MSRP.
Last updated: Apr 7, 2020 at 12:10 pm CDT