HP Inc. today announced the HP Chromebook 11 G4 Education Edition (EE) -- a durable, lightweight Chromebook designed to meet the needs of students and educators. "The popularity of Chromebooks in the classroom offers a simple, secure, and manageable solution to enable technology-based learning," said Gus Schmedlen, vice president of Worldwide Education, HP. "With the HP Chromebook 11 G4 Education Edition (EE), we are bringing innovation, design and HP's legendary quality to students and teachers in a durable device built to survive the rigorous school environment while enabling students to achieve more both in and out of the classroom."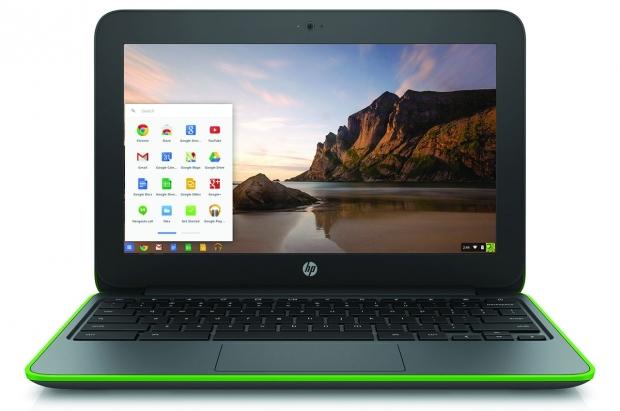 Because students can be some of the most demanding users when it comes to technology, HP designed the HP Chromebook 11 G4 EE with their environment in mind. At 20 mm thin and just 2.7 pounds, the fanless HP Chromebook 11 G4 EE is the thinnest rugged Chromebook for Education designed to pass MIL-STD testing. With rugged construction accents like co-molded rubber edges, the device passes HP's 70 cm drop test to help protect it from occasional bumps with lockers and drops from desks.
The spill-resistant keyboard helps keep the Chromebook safe from water-related accidents and includes smart features like a 180-degree hinge that allows the Chromebook to lay flat for easy collaboration, as well as an optional IPS panel that provides wide viewing angles, perfect for students working together on a project. And for those Google Hangouts study groups, built-in noise suppression technology makes everything sound great.
Inside, students will find an Intel Celeron processor for fast access to their applications and up to 9.5 hours of battery life to get through even the longest school day. Optional 3G/4G WWAN5 connectivity helps ensure students can connect to the resources they need inside and outside of the classroom.
The HP Chromebook 11 G4 EE is also easy to deploy and manage, thanks to the optional Chrome Management Console. Teachers and administrators can manage policies, apps and OS updates across a fleet of thousands of Chromebooks, all from a web-based admin console. In addition to device management, HP offers configurable color options (black and electric green) so administrators can quickly identify and distribute the HP Chromebook 11 G4 EE by grade, class or charging cart.
Pricing and Availability
The HP Chromebook 11 G4 EE is expected to be available in the United States in January 2016 starting at $199.
Last updated: Apr 7, 2020 at 12:10 pm CDT