oday, HARMAN International Industries, Incorporated (NYSE:HAR), the premier connected technologies company for automotive, consumer and enterprise markets, today announced the arrival of the industry's first in-ear wireless headphones with NXTGen noise cancelling capabilities, the JBL Everest ELITE 100. Completing the JBL Everest series of six wireless headphones, the JBL Everest ELITE 100 marries sleek, in-ear design with meaningful technology features that offer music lovers a powerful and dynamic listening experience.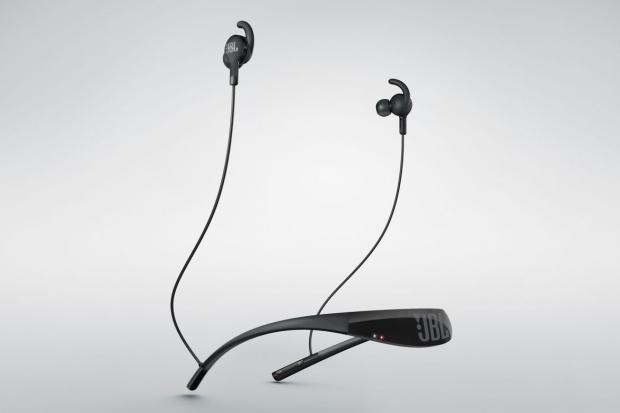 Available in white or black, JBL Everest ELITE 100 comes with the ease of wireless connectivity via Bluetooth 4.0 that creates a seamless connection to any smart device. Through HARMAN's NXTGen Active Noise Cancelling Technology, consumers can adjust and control the amount of outside noise let in, creating the ideal balance of ambient sound and music.
The JBL Everest ELITE 100 wireless headphone's ergonomic ear tips provide a comfortable, stable fit throughout its 6 hours of playtime. The free, downloadable My JBL Headphones App elevates personalization by allowing users to customize headphone settings and features.
"The JBL Everest ELITE 100 is the only in-ear wireless headphone on the market to offer NXTGen active noise cancelling technology for a rich listening experience," said Michael Mauser, president, Lifestyle Audio Division, HARMAN. "Combining design and innovative technology, the JBL Everest ELITE 100 is the ideal connected headphone to bring consumers the perfect mix of legendary acoustic sound, comfortable fit and a personalized experience."
The leader in revolutionary sound, JBL continues to push audio boundaries through innovation and personalized sound technology. The JBL brand offers unprecedented wireless headphone performance for authentic audio experiences.
JBL Everest ELITE 100 Wireless Headphones Feature Details:
Bluetooth 4.0: Connect to any Bluetooth-enabled device for amazing sound quality without the hassle of wires.

Legendary JBL Pro Audio: Experience the same elevated experience and incredible sound JBL audio products have been delivering to concert halls, studios and living rooms for almost 70 years.

NXTGen ANC: For the first time, JBL users can control the immerse experience of active noise cancellation. With a press of a button, users can balance awareness of their surroundings with the listening experience. One way consumers can utilize this feature is walking down the street, users can tune out the passing traffic by turning up the music in their left ear, while turning down the music in their right ear, allowing them to be more aware of their surroundings.

Secure Fit Ear tips: Advanced ergonomic ear tips give a comfortable, stable fit.

My JBL Headphones App: Get even more control and personalization of your listening experience with this free App. Through your mobile device, you can create custom EQ settings, and access all other headphone settings and features.
JBL Everest Series Pricing and Availability:
The JBL Everest ELITE 100 (MSRP $199) will be available in the U.S. in early 2016. Shoppers can purchase the JBL Everest Series only at Best Buy retail locations or online at JBL.com and at BestBuy.com. For more information check www.jbl.com/everest-headphones.
Last updated: Apr 7, 2020 at 12:10 pm CDT