Today, HARMAN International Industries, Incorporated (NYSE:HAR), the premier connected technologies company for automotive, consumer and enterprise markets, today unveiled Harman Kardon Omni+. This Wi-Fi enabled HD home audio system is elegantly designed from the inside out and delivers the most vibrant Hi-Definition sound.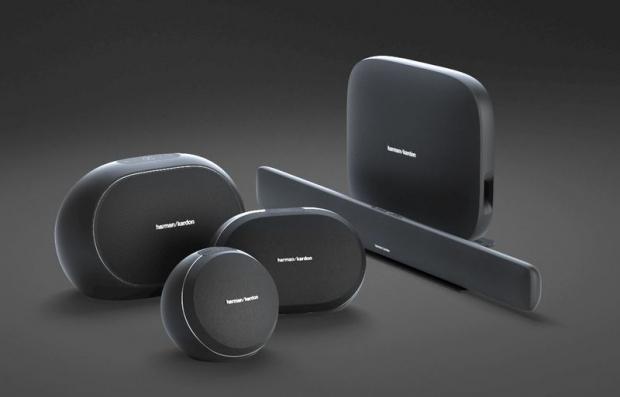 "The Harman Kardon Omni+ line is unique in its true HD sound quality, versatility and functionality," said Michael Mauser, president of Lifestyle Division at HARMAN. "Customers want to stream from many different sources, control their speakers from their phone or tablet and have one system to meet all of their needs. Whether they want one speaker or five, this Harman Kardon home audio system provides the best in wireless HD sound quality and access to all the content they care about."
Access All Your Music
The Harman Kardon Omni+ lineup boasts a wealth of streaming services including Google Cast for Audio, Spotify Connect, as well as other key services like MixRadio, Deezer, Qobuz and Tidal in addition to stored local content on any device accessible via the Harman Kardon Controller App. With Google Cast for Audio, hundreds of streaming services can be accessed, including Google Play Music, Pandora, TuneIn Radio, Rhapsody, and many more, allowing customers to listen to what they want, how they want, all in HD sound.
True HD Sound
The Harman Kardon Omni+ offers true lossless high-definition music streaming (24-bit/192KHz) for a superior audio experience at higher resolution than a CD, allowing for a listening experience that delivers more clarity and the detailed nuances of a performance.
Complete Home Solution with Multichannel Surround Sound Capabilities
The product line includes the Omni 10+, Omni 20+, Omni Bar+, Adapt+, and the Omni 50+, which offers IPX5 splashproof and outdoor capabilities. Music lovers can start with one OMNI+ system, add more, and stream the same music everywhere or different music in different rooms. The OMNI+ system also allows listeners to create complete multi-channel surround sound systems (2.1or 5.1) with no extra equipment, producing full-theater surround sound for a rich HD experience.
Highest Level of Stability and Performance
With support for 802.11ac 2.4GHz and 5GHz high speed networks, the Omni+ provides consumers a faster, higher quality connection with more stability and less chance of interference.
Easy to Setup, Easy to Use
The Omni+ line supports quick setup, including Apple WAC, so consumers can spend less time configuring their system and more time enjoying amazing Harman Kardon sound. Each product also supports Bluetooth and auxiliary audio inputs that can be restreamed to any Omni speaker in the home. And with the Link button, music follows consumers from room to room at the touch of a button.
In addition, the new, redesigned Harman Kardon Controller app for iOS / Android smartphones and tablets provides a significantly optimized interface that makes setting up the system and streaming music easier than ever. With this app, speakers can be controlled separately or rooms can be grouped together to play the same or different music at one time. Party Mode lets homeowners play the same music throughout their connected home.
The Harman Kardon Omni+ System Features: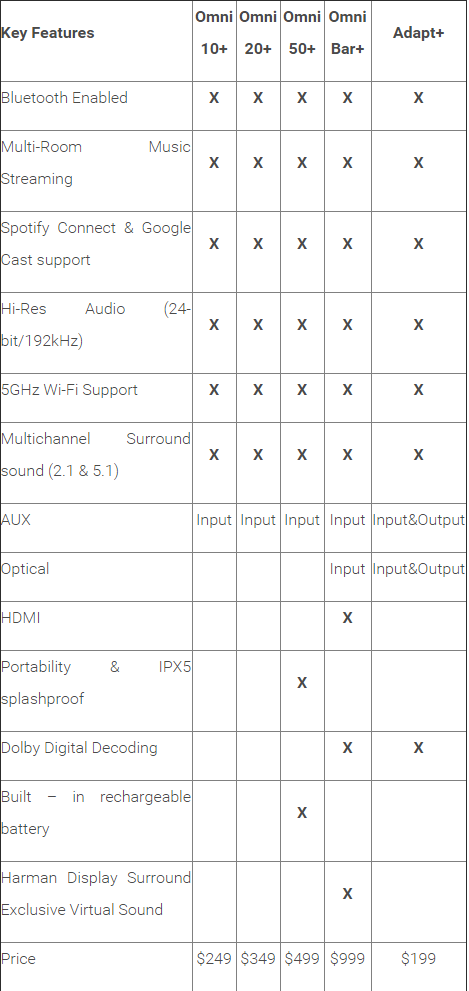 Availability
All harman/kardon Omni+ speakers will be available this summer, 2016, at www.harmankardon.com.
Last updated: Apr 7, 2020 at 12:10 pm CDT