1MORE, a premier consumer electronics audio company, is topping its line of affordable headphones with a flagship Triple Driver In-Ear Monitor to show their commitment to high-quality sound reproduction. The Triple Driver headphones feature patent pending technology that allows for a full-frequency, low-distortion premium audio experience. With three separate driver components specifically tuned to the frequency range they are most adept at producing efficiently, the Triple Driver In-Ear Monitors offer a significant step up in performance from most single and dual driver headphones, and yet are priced competitively. The company has recently launched six new products in the U.S., including five in-ear monitors and one over-ear headphone-with more products planned. The Triple Drivers are available mid-January 2016, for $99.99 on the 1MORE website and Amazon.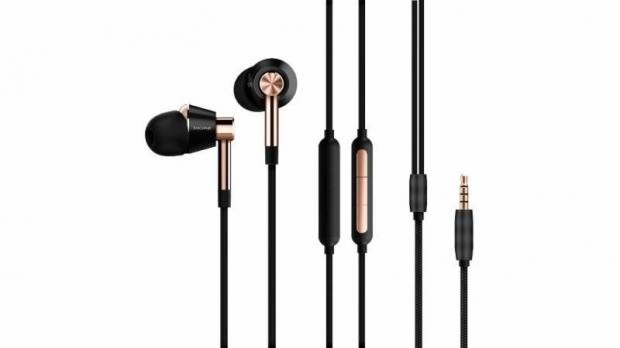 1MORE's focus is on making reference-quality audio products that are available to everyone. The Triple Drivers are the latest and greatest effort towards this goal. The Triple Drivers offer a sound that is both elegant and gratifying with an impossibly wide range of sound balance from warm mids, to bright highs and a punchy bass that results in a wonderful sound experience only upstaged by its stylish look. "With the Triple Drivers, we intend on taking ear/in ear audio technology to the next level," says 1MORE USA President, Dave Russell. "We always side with our consumers, so we will continually be bringing out products that will have spectacular quality and surprising prices," added Russell.
In order to achieve such high-resolution audio output, the Triple Drivers include a dynamic driver as well as dual-balanced armatures in each ear piece. A high-precision weld of the armature unit allows the Triple Drivers to have a stable sound output that is unaffected by any external environment and which increases the overall useful life and durability of the product. The dynamic driver unit controls the lower mid-range and bass frequencies, while the armatures balance the mid and high frequencies. The perfect and natural cohesion of these units allows you to experience gentle sound, high-quality detailed resolution, and stereo sound performance. Combine this with aerospace-grade metal diaphragms and you are left with the premium audio experience.
In addition to all its patented technology, the Triple Drivers also feature a precise ergonomic design that will spoil your ears with comfort. For example, the Triple Drivers are ergonomically designed with oblique angles that match your ear canals. This makes the headphones more comfortable to wear and are less likely to fall out, leaving you free to enjoy your music. 1MORE's Triple Drivers also have a unique cable design made from specially selected materials that provide extra durability. The interior cable wires are wrapped with Kevlar fiber, which makes the cable more durable and adds increased tensile strength. The surface of the cable is made of two different materials. The TPE portion is strategically located for comfort, while the braided portion adds the strength needed for the rigors of everyday use. The Triple Drivers also featured spaced cables designed to properly reduce the "stethoscope effect." 1MORE's Triple Drivers allow listeners to hear music as the artist originally intended, which is no longer a luxury, but a 1MORE standard.
In a world where headphone companies merely purchase off-the-shelf parts and assemble them to hit various price brackets, 1MORE instead designs and manufacturers all of its components from the ground up. Starting with the development of the drivers themselves, to the unique design of each headphone through to its production, 1MORE is committed to creating the best headphones at affordable prices.
"Our goal is to show the customer that 1MORE offers technology, fashion, and quality which is something that can be available to everybody," says 1MORE USA President, Dave Russell. "1MORE brings a breath of fresh air in the way of real value to a commodity product line and industry," says Vice President Tim Burton. In China, using the same design principals, 1MORE has sold over 20 million headphone units in just three years. The 1MORE team is looking to replicate that achievement here in the U.S.
To achieve such high standards, 1MORE technicians continuously develop new technologies, include musical experts in the design process, and strive to create an end product that exceeds consumer expectations. All of our products are personally tuned by four-time Grammy Award winning mixing engineer Luca Bignardi and are rigorously tested for quality in our sound labs.
1MORE has broken the unspoken rule in the headphone market - that high-quality headphones have to be expensive and affordable headphones have bad designs. 1MORE USA is challenging the status quo by solving the issue of creating high-quality headphones at affordable prices in many ways. 1MORE is relentlessly designing and developing core components, coordinating efficiently with our production lines, and always pursuing the best-in-class quality. This coordinated, in-house approach to the 1MORE production model results in a straight-to-consumer line, which cuts out a lot of companies that might touch and mark up other products, raising prices to the end consumer.
Products currently available in the 1MORE USA line include:
1M301 Single Driver In-Ear Monitor ($29.99),
E0323 Multi-Unit Dual Driver In-Ear Monitor ($79.99-Pre-Orders Only)
EO301-C Swarovski Crystal In-Ear Monitor Dual Pack ($79.99)
MK801 Over-Ear Headphones ($79.99)
E1001 Triple Driver ($99.99-Available in Mid-January of 2016)
Last updated: Apr 7, 2020 at 12:10 pm CDT