PROMISE Technology marked its foray into the consumer electronics market today at CES with the unveiling of Apollo, a personal Cloud appliance and app that gives users and their circles or groups full control over the storage and selective sharing of their digital content. Designed with families, small businesses, and small office / home office in mind, Apollo makes it easy for a group of members to store, access and share selected data from wherever they happen to be.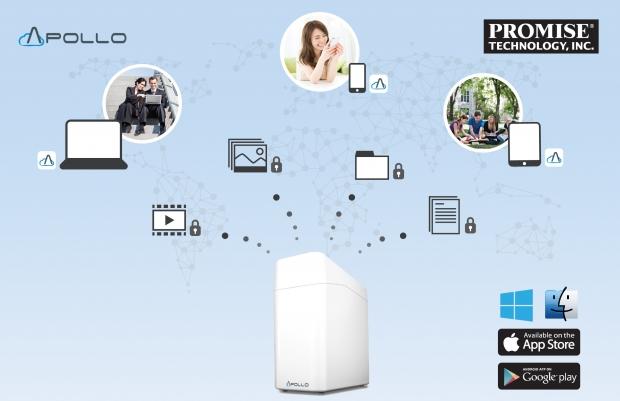 This week at CES, PROMISE will demonstrate Apollo's many features at booth #21731, located in the South Hall of the Las Vegas Convention Center Tech East. Apollo will be showcased at the Showstoppers media-only event on January 6 at the Wynn Hotel, Table F4. Apollo is a small, quiet appliance that stores huge amounts of data-up to 4 TB. It's a valuable asset to consumers who find it difficult to manage treasured family photos and videos that proliferate like wildfire on family members' phones, tablets and laptops and at increasingly high resolutions.
The Apollo device provides consumers with:
Huge Storage Space-available to all members, with no recurring fees.

Quick Access to Personal Content from Anywhere-Apollo's mobile app offers fast access and speedy playback of stored videos and other media content wherever the Internet is available.

Each member gets private space and sharing control-unlike other solutions.

Easy to set up and use from any device, anywhere-you don't need to mess with several apps or hook up a PC to manage your Apollo.

Private and Secure-Apollo provides peace of mind knowing that all data is off the Web, safe and secure on your personal Cloud, with all transactions encrypted.

Elegant, quiet yet sturdy design-well suited for a desk, entertainment center or closet.
Social Elements-Apollo enables friends and family to comment on and discuss shared content such as videos and photos within an entirely private environment.
"Apollo marks a significant milestone for our company, and we are very excited to tap into the consumer market with a personal cloud device that makes it easy to store and share digital media," said James Lee, CEO of PROMISE Technology. "Although bankers' boxes and filing cabinets are no longer required to store treasured photos, many people find that their desktop, mobile devices and stacks of USB drives no longer do the trick either. With Apollo, however, PROMISE has delivered a personal cloud storage device that's affordable, secure, robust and-most importantly-easy to use."
"With the ubiquity of connected electronic devices and digital technology, data storage isn't just a problem for the enterprise, it's also a problem in the family home," said Vijay Char, VP Business Development, PROMISE Technology. "Apollo lets users control all data and sharing-making it a better option for consumers who currently use Web-based cloud solutions but worry about services going down or losing data altogether, or having their information commandeered by Big Data marketers or, worse, breached and exploited by hackers."
Last updated: Apr 7, 2020 at 12:10 pm CDT