Team Group Inc., the world's leading memory brand, today launched the gaming laptop upgrade memory-Neptune. The global PC market is experiencing a stagnation at this point of time. Gaming has become the essential key to push forward the sustainable development of PC/NB. In this vigorously growing market, Team Group has built the gaming memory Neptune specifically for gamers. With two frequencies DDR3 2133/1600, it ensures both performance and compatibility, providing gamers laptop upgrade and excellent solutions for customized Steam Machine.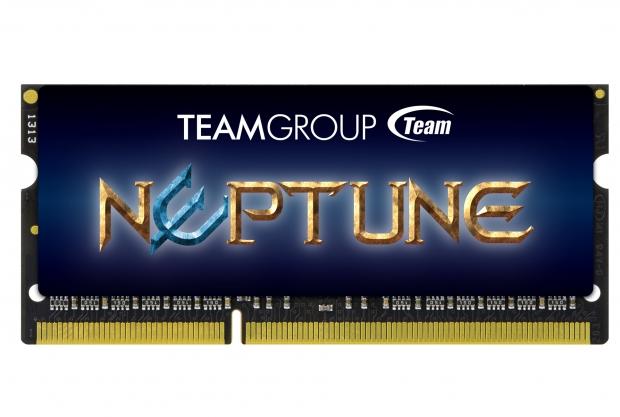 Instead of using traditional JEDEC standard, Team Group's all new Neptune gaming laptop memory will go further into the area of gaming with previous experience in developing overclocking memory. DDR3 2133/1600 SO-DIMM is not only created for gaming laptops, but also making it possible to minimize high performance PC. No matter you want to play an epic time traveling adventure game, or battle in the thrilling frontline of a war game, Neptune is able to offer infinite possibilities for upgrading gaming performance under the existing platform.
Apart from the gaming laptop, PC is also attempting to replace home consoles by making its way into your living room after high performance ITX motherboard coming out in the market. The thin line between PC and home consoles is gradually fading away also due to game industry's continuous efforts on software and hardware integration. The gaming memory of Neptune series offers a possibility for gamers who love to build their own PC gaming platform. From now on, extreme gaming performance will not only be available on desktop, but you can also enjoy an entertainment experience better than the home console provided while you are in your living room.
Neptune series memory has DDR3 2133/1600 two frequencies. Single 4GB/8GB and dual-channel 8GB/16GB Kits and 4 other packages are also available for gamers to choose from. At the same time, we are also performing compatibility verification for mainstream gaming laptops and ITX motherboard available on the market. We will serve the most critical gamers with rigorous attitude and comprehensive approach.

Last updated: Apr 7, 2020 at 12:10 pm CDT