CybertronPC, one of the largest PC system integrators in the US, serving PC gaming, home, business and server solutions, is now offering the popular Tesseract 15 SK gaming laptop with powerful new Intel Skylake processor and upgraded NVIDIA GeForce GTX mobile video card.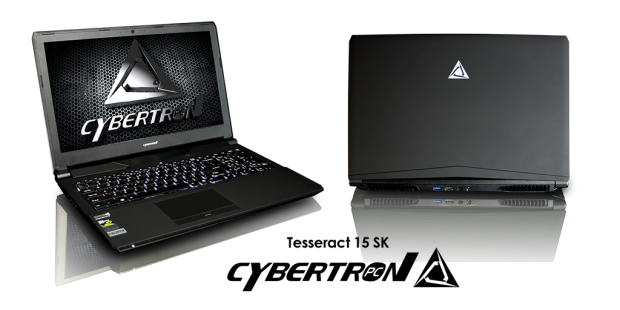 The Tesseract 15 SK series gaming laptops are built with the new 6th Generation Intel Core i7-6700HQ 2.60GHz Quad-Core mobile processor, able to achieve speeds up to 3.50GHz for powering intensive game titles or demanding professional applications. Intel mobile processors provide enhanced gaming detail and increased productivity while on the go on a stunning 15.6" 1920x1080 HD display housed in an ultra-portable design. The 6th Generation Intel processors are at the cutting-edge of innovation, resulting in significantly improved graphics performance, lightning-fast boot up times, and increased battery efficiency without sacrificing graphics resolutions.
With the improved hardware offerings in the new Tesseract 15 SK, gamers and professionals alike will have access to next-gen technologies like Windows 10 with DirectX12 support, with revolutionary graphics improvements like detailed shading and life-like gaming. Play current and next-gen pc gaming titles backed by a NVIDIA GeForce GTX 960M 2GB video card, that can support up to 4 active displays. The increased battery performance offers efficiency allowing the Tesseract 15 SK to keep up with day-to-day projects and hardcore gaming sessions regardless of location. The Tesseract 15 SK can be customized to best suit your needs, with options up to 16GB DDR3 memory and an ultra-responsive 500GB SSD drive.
Other features include:
White-LED illuminated keyboard

Supports One M.2 SATA SSD or PCIe Gen3 x4 SSD

Sound Blaster Cinema 2 Audio

3D sound technology on headphone output

M.2 LTE or UMTS/HSPA+ Card Support

Equipped with Caddy bay

Kensington Lock

Intel PTT for system without hardware TPM

Biometric Fingerprint Reader

6 cells Smart Lithium-Ion battery pack

Webcam
Ideal for gaming on the go and ultimate productivity, the CybertronPC Tesseract 15 SK X1 starts off at $1099 with 8GB of memory and 1TB SATA HD while the Tesseract 15 SK X2 comes with 16GB of memory and 500GB hard drive space. Both are available for the holiday season. All CybertronPC pre-configured or fully customized gaming systems are backed up with their unbeatable Free Lifetime Technical Support and Lifetime Warranty (1 Year on Parts + Lifetime on Labor).
For more information, please go to: www.cybertronpc.com/tesseract15
Last updated: Apr 7, 2020 at 12:10 pm CDT