TUL Corporation, a leading and innovative manufacturer of AMD video cards since 1997, has released a new video card in PowerColor PCS+ R9 380X Myst. Edition 4GB GDDR5. It is based on AMD's latest GCN architecture that delivers extraordinary graphics performance and image quality; furthermore, the models also support AMD's newest technologies such as Virtual Super Resolution, FreeSync and Liquid VR.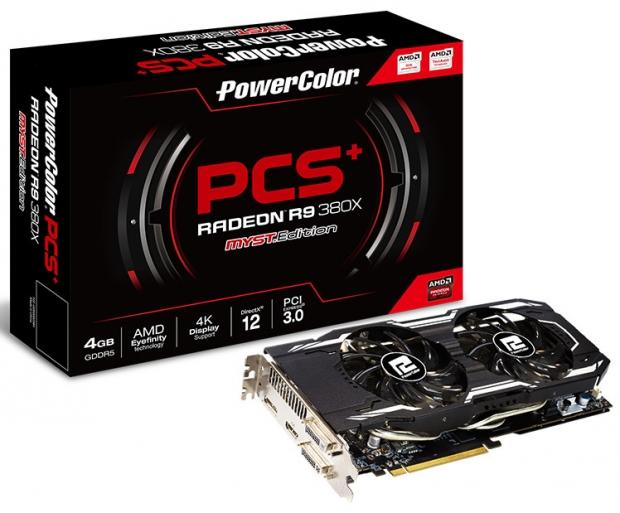 PowerColor PCS+ R9 380X Myst. Edition 4GB GDDR5 runs at 1475MHz with 2048 stream processors. The core clock speed of 1020MHz easily sits on a 256-bit wide bus supporting 4GB of GDDR5 memory. The 4+1+1+1 multi-phases board design enhances the power efficiency and stability, and also delivers ultimate performance in overclocking mode. The PowerPAK SO-8 feature is not only for minimizing conduction losses with low 1m Ohm Rds(on), but also providing excellent and stable voltage with high peak efficiency up to 91.8%.
For proper thermal solution in both normal and overclocking mode, PowerColor PCS+ R9 380X Myst. Edition 4GB GDDR5 has a 90mm ultra huge 2-ball bearing dual fans with 3pcs of 8mm GSG-shape nickel-plated heat pipes. The 100% pure copper base block covers GPU completely for delivering heats to the huge aluminum fins for proper and efficient heat dissipation.
For creating one super solid card with all components, the backplate and the PCB are locked in thermal module using the spring screws to pin through the rivets. The backplate and the copper based thermal module hold the GPU for not only balancing the pressure of the whole board but also for avoiding the card to be drooping or damaging to the GPU and other components.
For more information, visit the product page.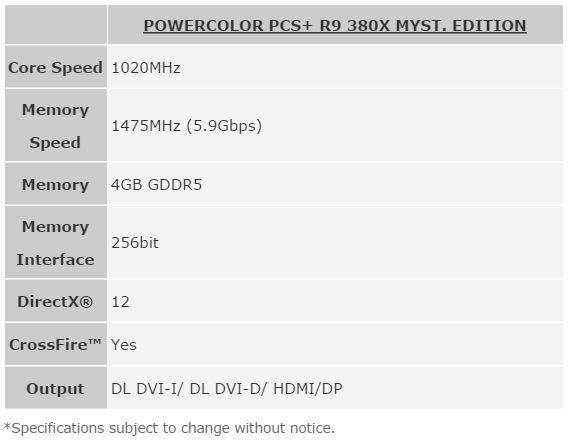 Last updated: Apr 7, 2020 at 12:10 pm CDT