AMD Radeon R9 295X2 versus GeForce GTX Titan X SLI at 6480x3840
Let's see how the AMD Radeon R9 295X2 fares against the likes of NVIDIA GeForce GTX Titan X SLI and GTX 980s in SLI at 6480x3840.
After a few weeks of playing around with our triple Acer XB280HK 28-inch 4K monitors on our various NVIDIA GPUs, such as the GTX 980s in SLI, the Titan X on its own and again with Titan X in SLI, we're now back with some AMD numbers to show you.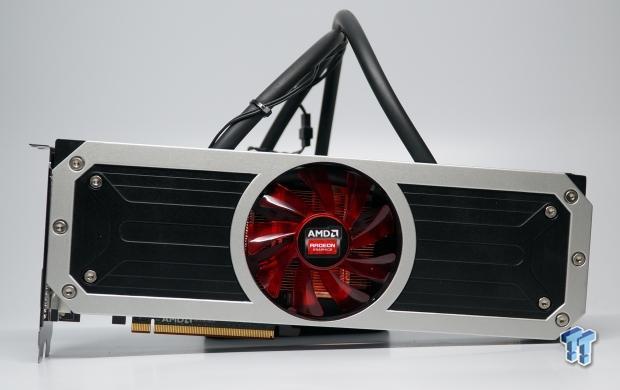 We had some reader feedback that wanted to see how the dual-GPU Radeon R9 295X2 would go in the ring with the GeForce GTX 980s in SLI and the Titan X in SLI at 6480x3840, and we're glad to report that for a card that is close to a year old, it did surprisingly well.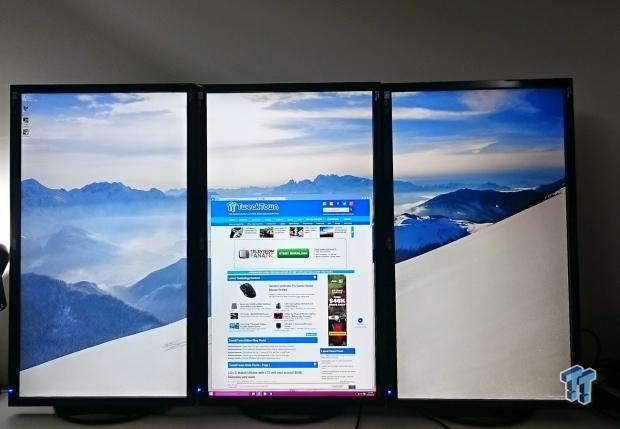 Here are our three Acer XB280HK monitors in portrait, with a huge 6480x3840 native resolution.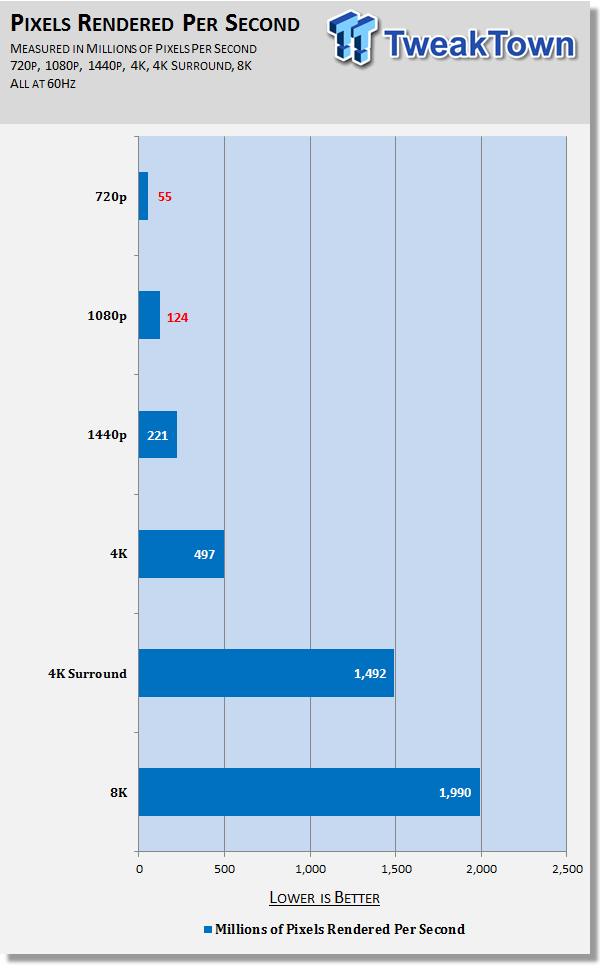 Just how many pixels are we driving? This chart will give you a better look.
First, this is the system we are running to power this huge Titan X in 4K Surround: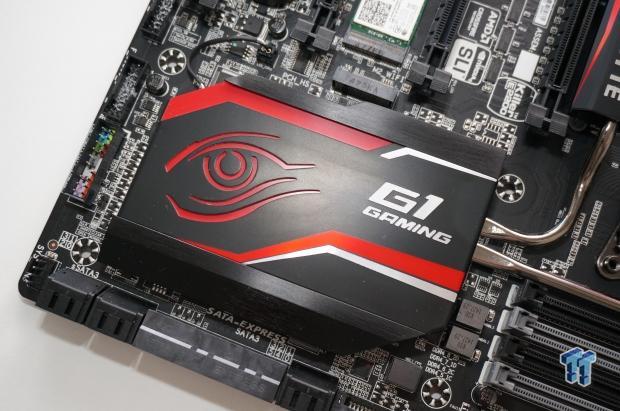 CPU: Intel Core i7 5820K processor w/Corsair H110 cooler
Motherboard: GIGABYTE X99 Gaming G1 Wi-Fi
RAM: 16GB Corsair Vengeance 2666MHz DDR4
Storage: 240GB SanDisk Extreme II and 480GB SanDisk Extreme II
Chassis: Lian Li T60 Pit Stop
PSU: Corsair AX1200i digital PSU
Software: Windows 7 Ultimate x64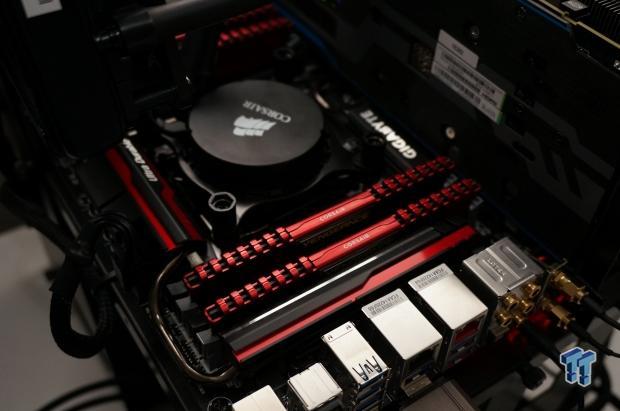 Heaven - 4K Surround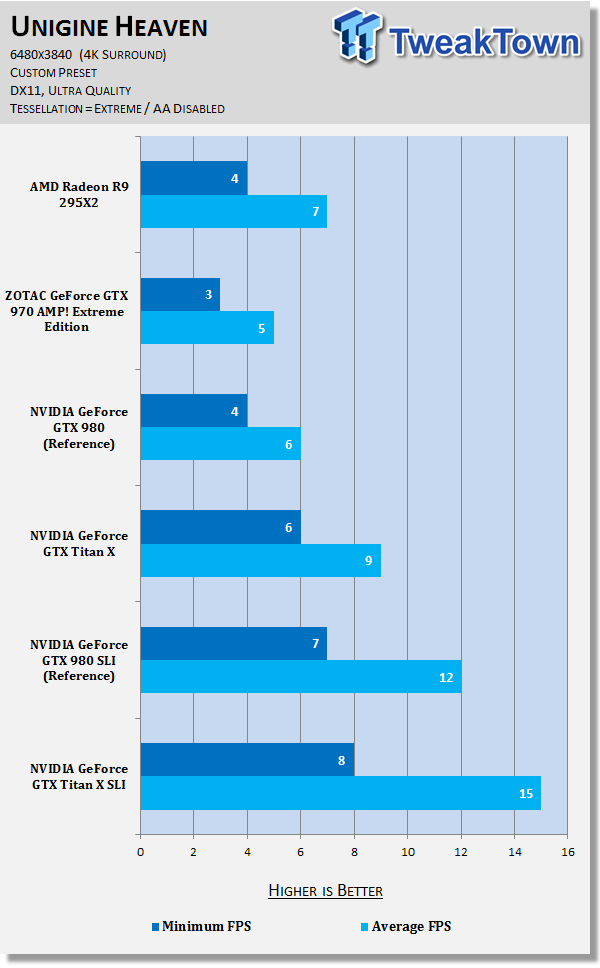 I didn't expect our Heaven score to be so low, but the Radeon R9 295X2 gets its ass handed to itself by the Titan X, GTX 980s in SLI and of course, the Titan Xs in SLI.
Battlefield 4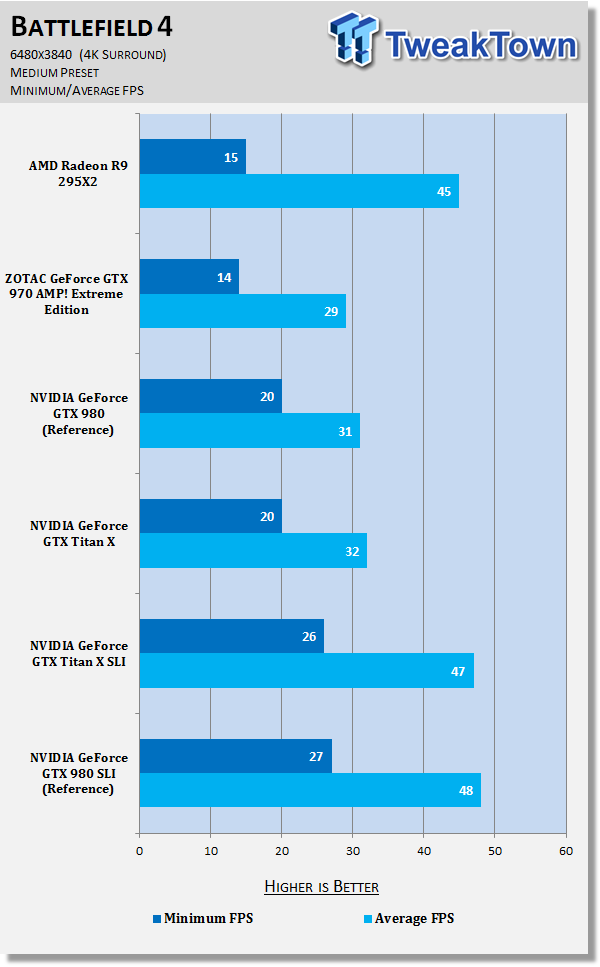 When we begin our proper game benchmarks, the power of that Hawaii architecture comes out to play. The Radeon R9 295X2 is capable of 45FPS average at 6480x3840, which is only 2FPS and 3FPS less than the Titan X SLI and GTX 980s in SLI, respectively. Not too damn bad for a card that is a year old now!
GRID Autosport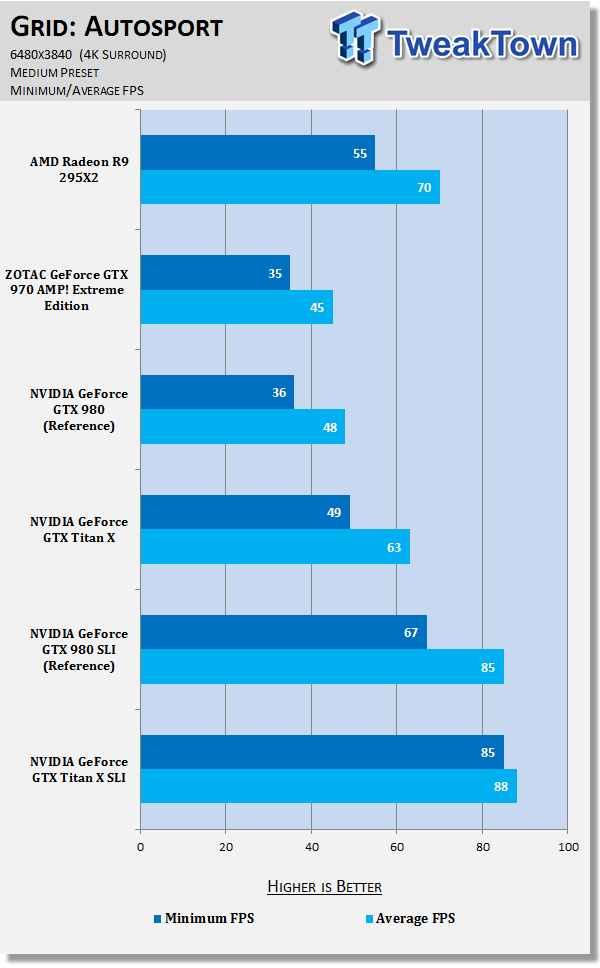 We don't see the same performance here with GRID Autosport, but 70FPS average is a damn good result from the R9 295X2. The only cards that beat it are the SLI configurations.
Metro: Last Light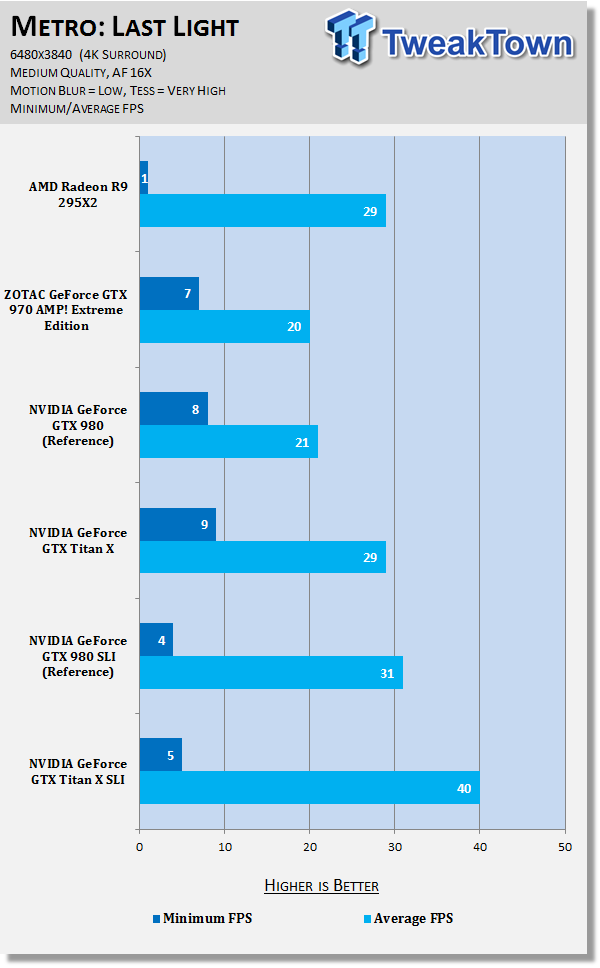 Metro: Last Light is a tough game on any rig, but the R9 295X2 was capable of 29FPS - just 1FPS off of our bare minimum requirement to play games: 30FPS. The R9 295X2 beats the Titan X here, loses to the GTX 980 SLI by just 2FPS, but the Titan X SLI really flexes its muscles here at 6480x3840 with 40FPS.
Middle-earth: Shadow of Mordor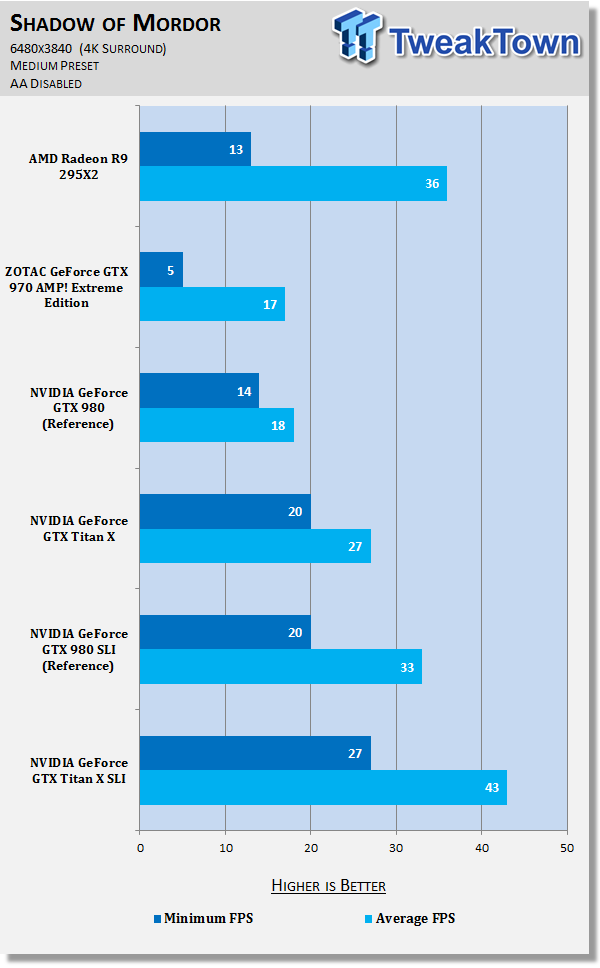 AMD has some great results to brag about with Shadow of Mordor with its Radeon R9 295X2, which is another harsh game on any VGA setup. We have an average of 36FPS at 6480x3840, which beats out the Titan X and GTX 980s in SLI, but can't keep up with the Titan X in SLI with 43FPS.
Thief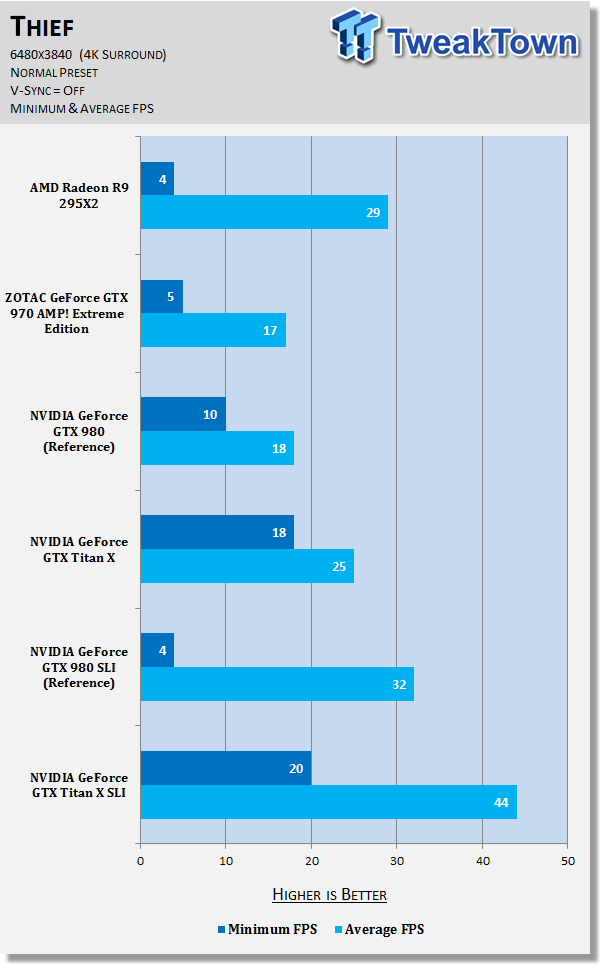 One game I'm beginning to really appreciate for high-end VGA testing is Thief, with another great result from the Radeon R9 295X2 with 29FPS average. This beats the single Titan X with its 25FPS, but loses out to the GTX 980 SLI with 32FPS, and the Titan X in SLI with a huge 44FPS.
Tomb Raider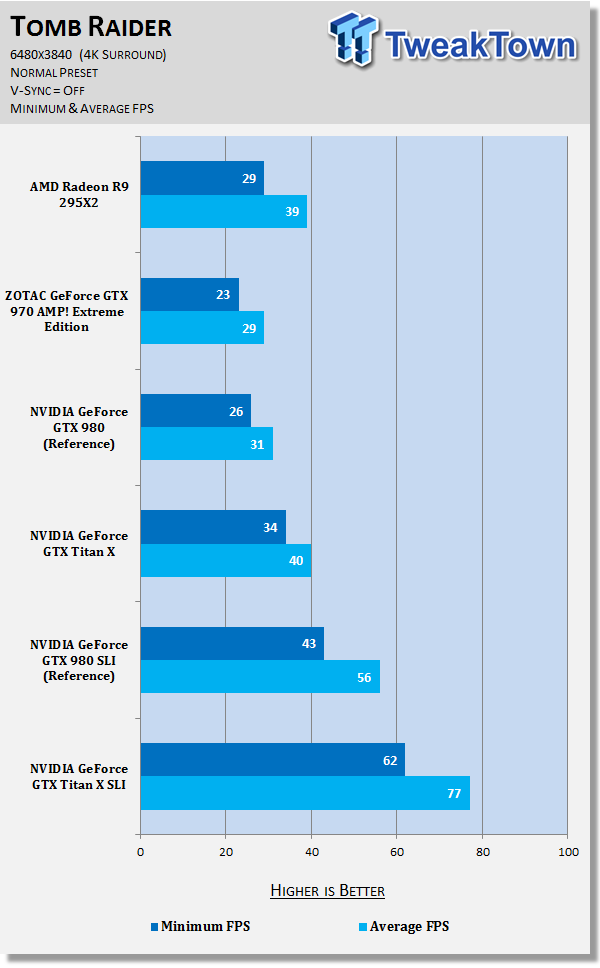 AMD loses out in Tomb Raider to the Titan X, GTX 980s in SLI and Titan X in SLI by a decent margin. The GTX 980s in SLI beat it by a huge 17FPS, or 43%. The Titan Xs in SLI do even more damage, beating the R9 295X2 by an insane 97%.
BioShock Infinite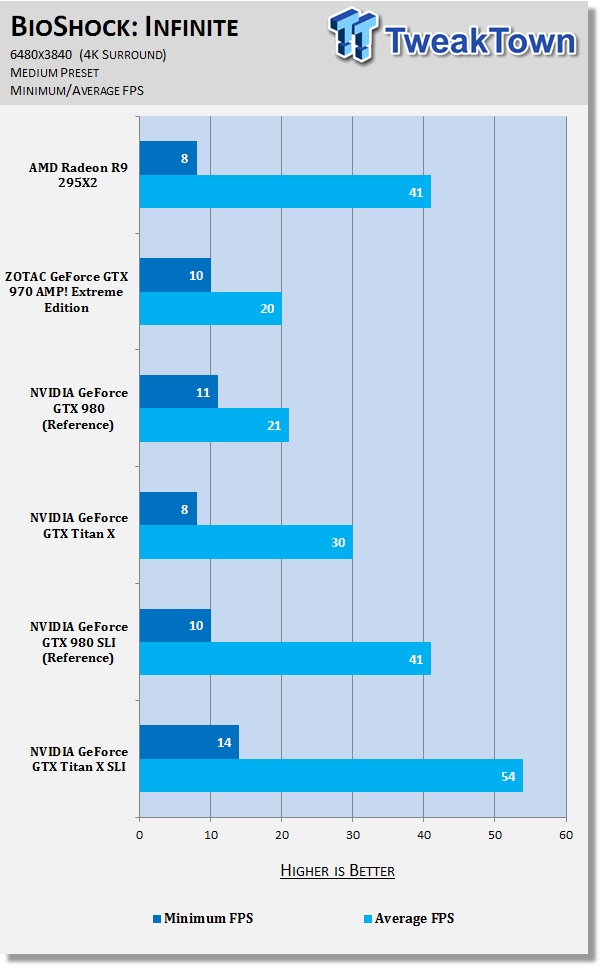 The Radeon R9 295X2 begins fighting back with BioSHock Infinite, with 41FPS average. Comparing this to the GTX 980s in SLI which score identically, but they lose out to the Titan X in SLI with 54FPS.
DiRT Showdown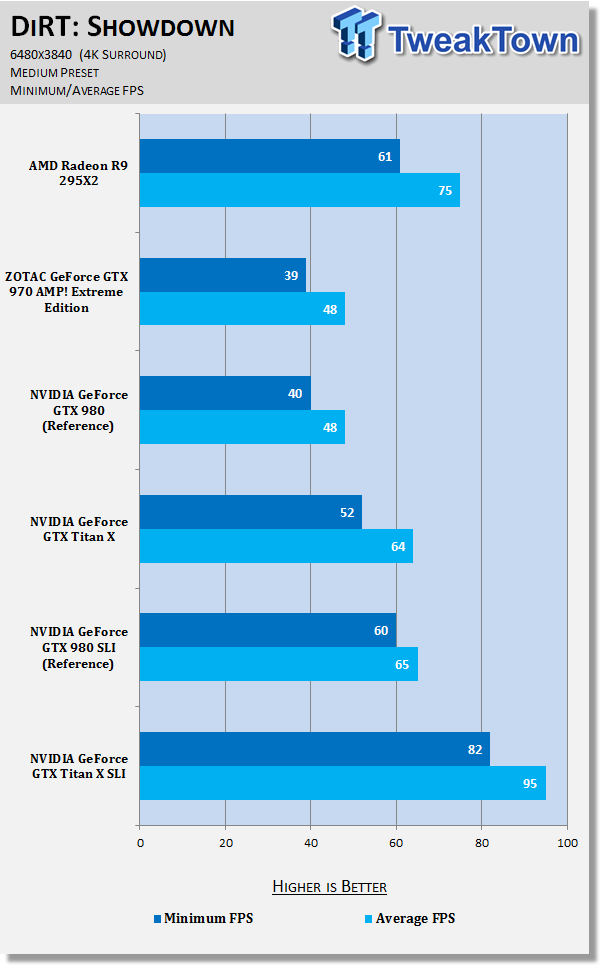 In our last test, the Radeon R9 295X2 beats out every other setup bar the Titan X SLI. 75FPS average in DiRT: Showdown at 6480x3840 is a great result, and played beautifully throughout our testing.
Power Consumption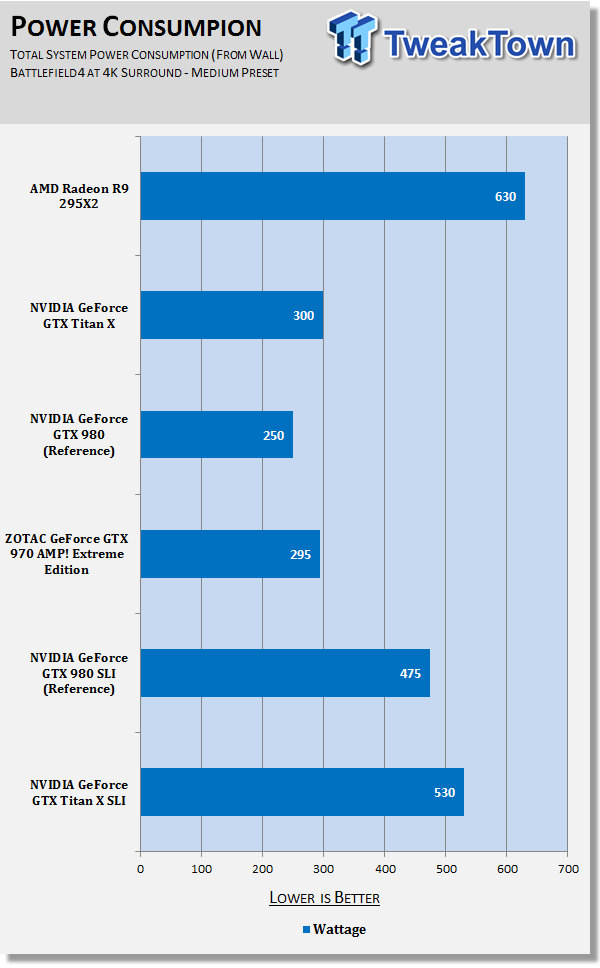 AMD's current Hawaii architecture is a massive power hog, something that can be displayed when pushing any Radeon R9 290X or R9 295X2 to its limits. Well, running 6480x3840 will do just that, and we saw a huge 630W being consumed by our full system. We did have a spike of around 700-710W running Thief, but for the most part it was hovering around 630W during most of our testing.
Comparing this to the single Titan X which consumes just 300W, or even the GTX 980s in SLI which use 475W, the R9 295X2 is a massively power-hungry card.
Final Thoughts
After twelve months, the AMD Radeon R9 295X2 still keeps up, even with the next-gen Maxwell-based cards from NVIDIA. Our favorite game to compare cards against is our real-world performance testing with Battlefield 4, where the R9 295X2 was capable of 45FPS average - comparing this against the Titan X SLI which only did 47FPS, the R9 295X2 is an excellent choice for BF4 gamers at this resolution.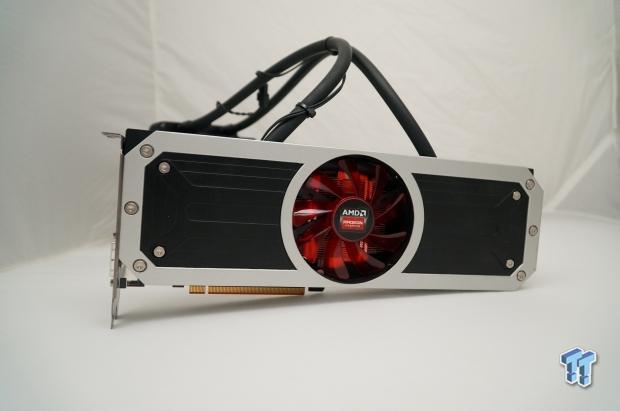 Testing 6480x3840 isn't something that you do everyday, so it's great to see AMD's dual-GPU behemoth still keeping up with the big, bad new GPUs from NVIDIA. We saw the card, for the most part, keeping up with or beating the GTX 980s in SLI, which is about where AMD positions it.
Keep in mind that you can score the Radeon R9 295X2 from Amazon for $999, while two GeForce GTX 980s will cost $1000-$1100 depending on the card you buy, the R9 295X2 is still great performance for the dollar. $1000 is a lot to spend on a VGA card these days, but if you had purchased the Radeon R9 295X2 when it came out, you're getting some damn great bang for your buck, even today, and even at this mammoth triple-monitor resolution.
AMD still has what it takes to win, even with a product from a year ago. This is a testament to just how powerful the Radeon R9 295X2 was, and still is, and how excited people should be for what AMD has coming next. The Radeon R9 390X is going to be a firecracker, but the R9 395X2 (if it ends up being called that) has me more excited than I've been in a while, especially after writing this article.
Surprise me, AMD!
Last updated: Nov 3, 2020 at 07:12 pm CST
Related Tags