When I first got the review sample of the GeForce GTX Titan X from NVIDIA, I was more excited than I had been in quite sometime. I've only been the VGA Editor for TweakTown for a little over three months now, but this was my first true beast of a video card to test. I had some interesting plans for it, and was immediately asking NVIDIA for a second card.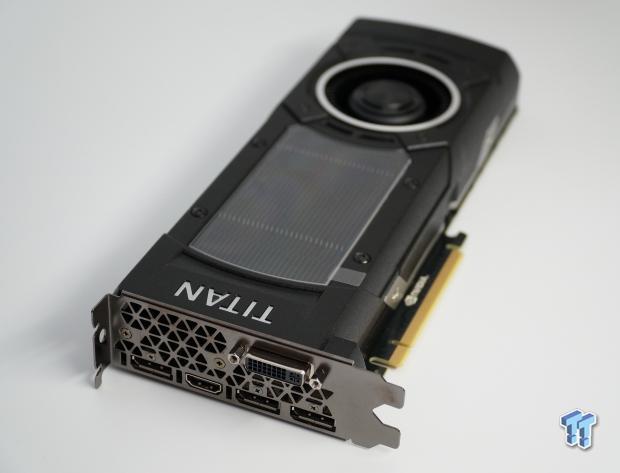 Just as NVIDIA's GPU Technology Conference was coming to an end, I was handed a second Titan X to take home for some truly mind-bending tests. Well, here we are back with our 4K Surround testing, where we're going to be pushing the boundaries of what the GM200 core can do at 6480x3840.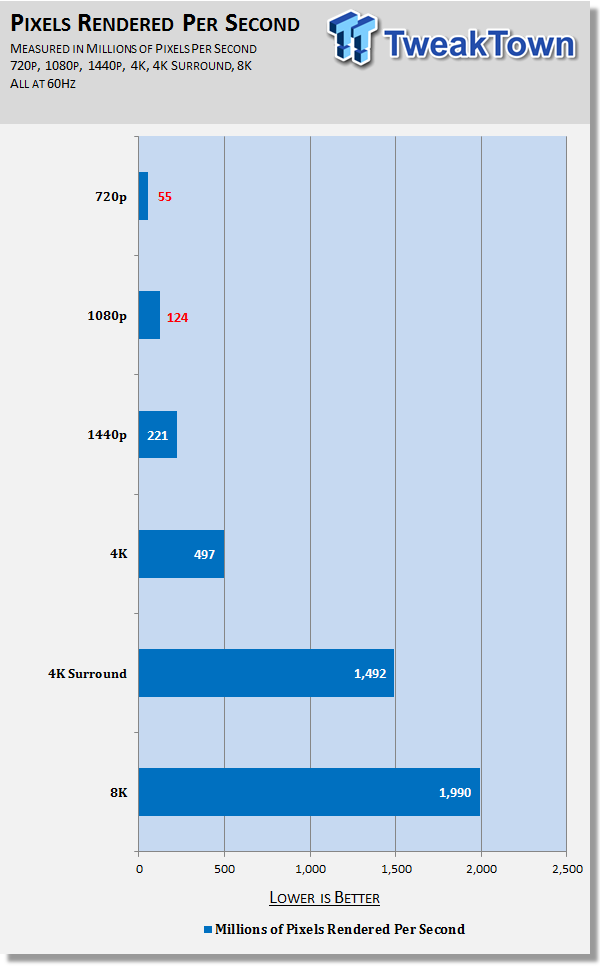 We've already tested a single Titan X in 4K Surround, which performed quite well. With the single Titan X, we achieved around 30FPS average frame rate across our tests. This is quite good considering the undertaking of the resolution, and the use of a single card. But a second GM200-powered GeForce GTX Titan X? Well, now you're talking.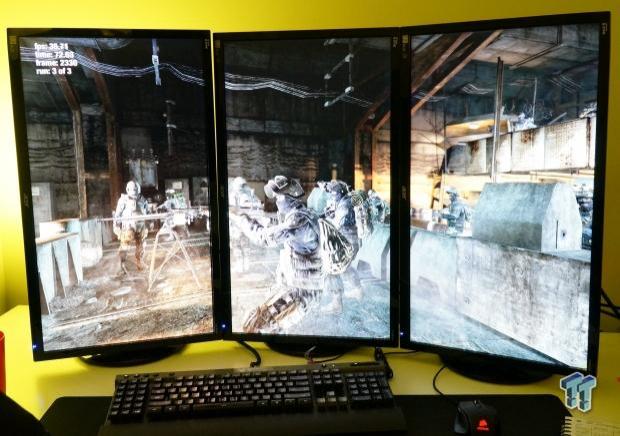 First, this is the system we are running to power this huge Titan X in 4K Surround: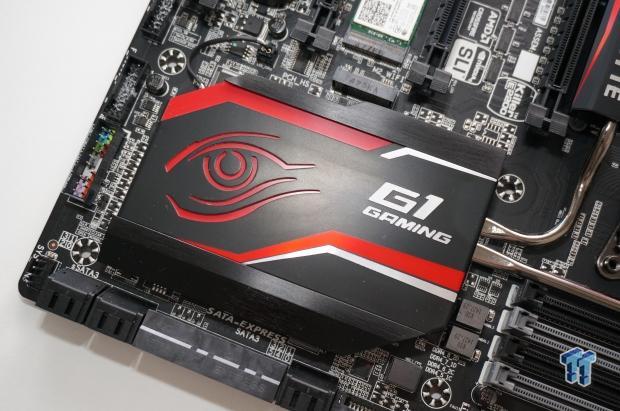 CPU: Intel Core i7 5820K processor w/Corsair H110 cooler
Motherboard: GIGABYTE X99 Gaming G1 Wi-Fi
RAM: 16GB Corsair Vengeance 2666MHz DDR4
Storage: 240GB SanDisk Extreme II and 480GB SanDisk Extreme II
Chassis: Lian Li T60 Pit Stop
PSU: Corsair AX1200i digital PSU
Software: Windows 7 Ultimate x64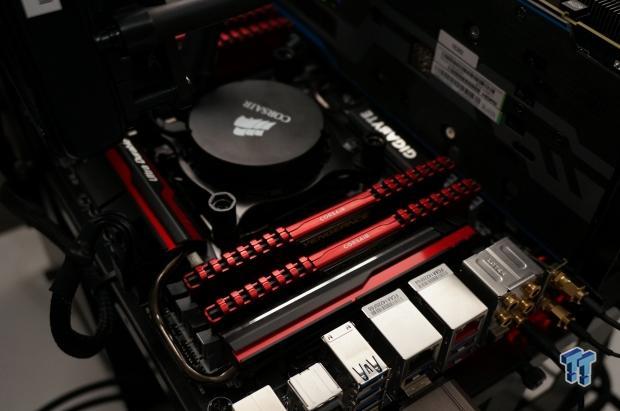 Heaven - 4K Surround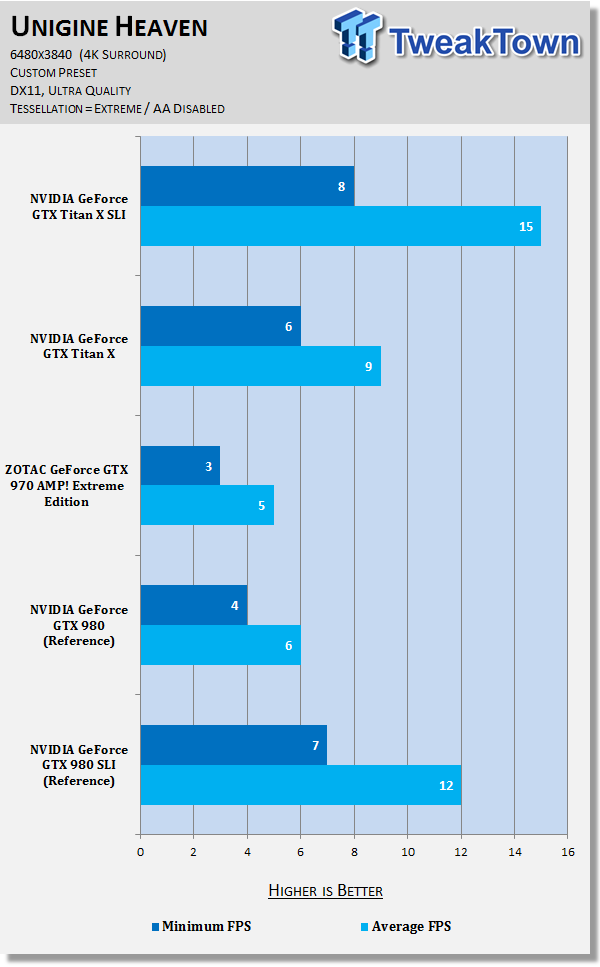 Heaven makes great use of the second Titan X, with 66% scaling at 6480x3840 with the second Titan X. We are still 3FPS better than the GTX 980 SLI rig, which begins to compete against the Titan X in SLI in our next benchmarks.
Battlefield 4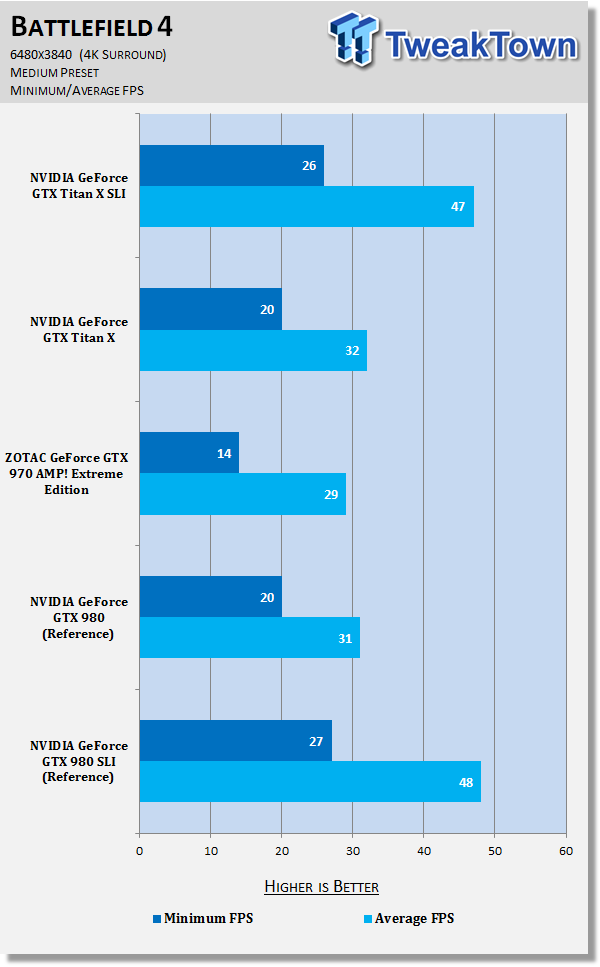 I really thought the Titan X in SLI would've demolished the GTX 980 SLI setup, but I was wrong. We have the Titan X SLI and 980 SLI head-to-head, but the Titan X SLI does have some great scaling, with 47% additional performance.
GRID Autosport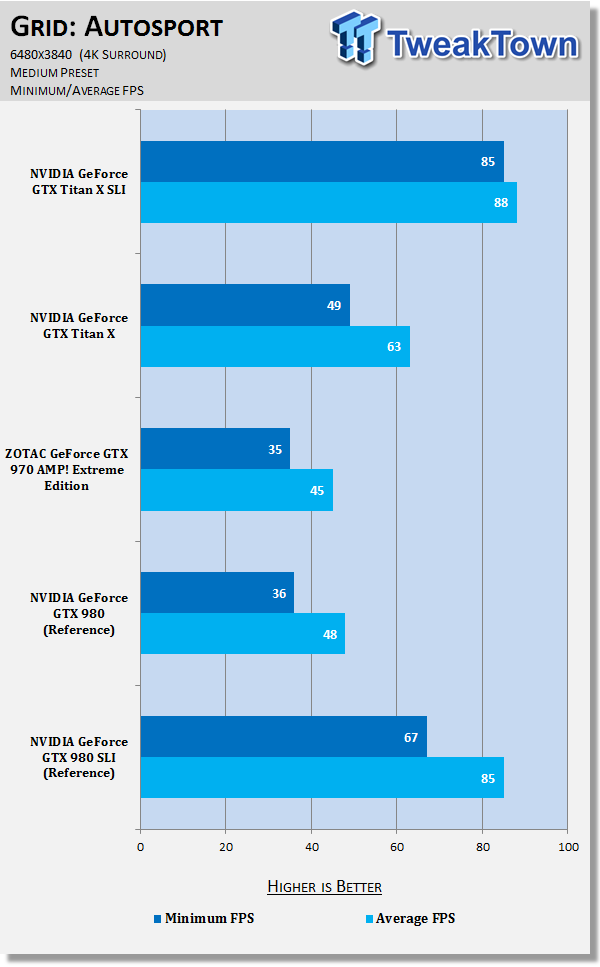 Some more great scaling from the Titan X SLI setup, with 40% more performance. The GTX 980 SLI setup isn't too far behind the Titan X's in SLI, with just 3FPS between them.
Metro: Last Light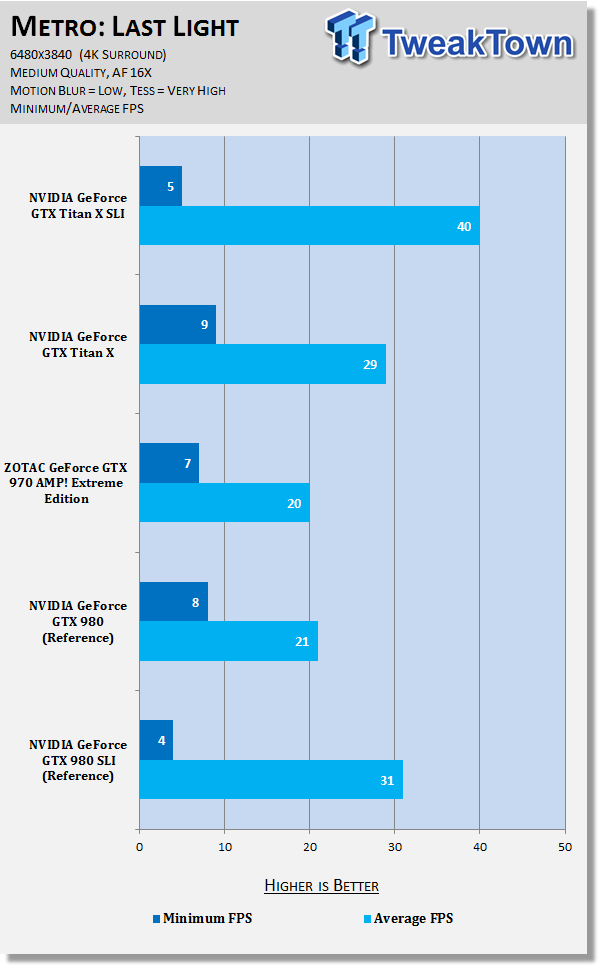 Metro: Last Light is a harsh benchmark for our VGA cards, but the Titan X SLI provides 38% scaling over the single Titan X. The GTX 980 SLI gets thrashed by the Titan X SLI, which is good to see.
Middle-earth: Shadow of Mordor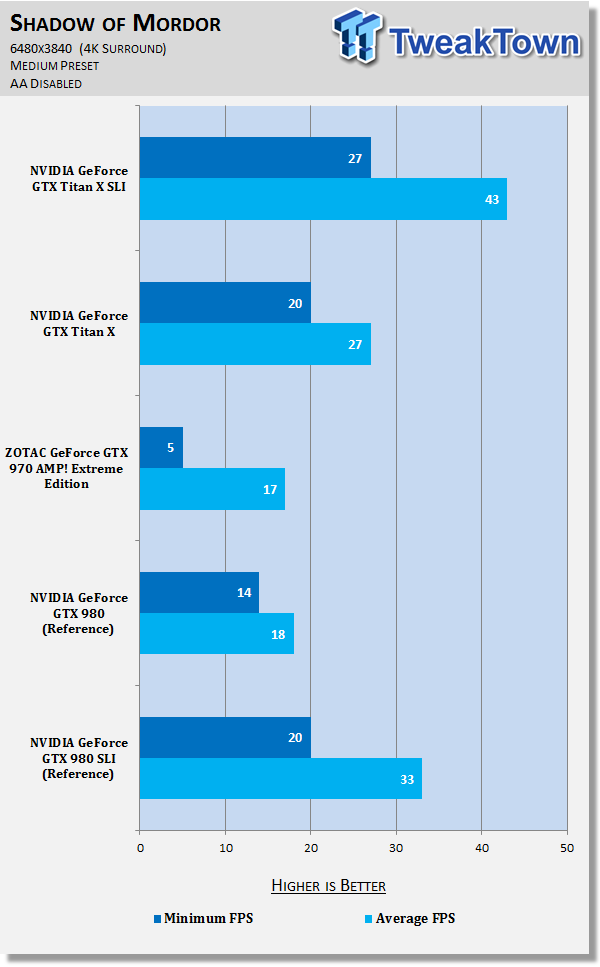 Shadow of Mordor is quickly becoming one of our favorite benchmarks, and we can really see the performance of the full GM200 core here. We have 59% scaling with the Titan X SLI setup, and a huge 30% more performance than the GTX 980's in SLI.
Thief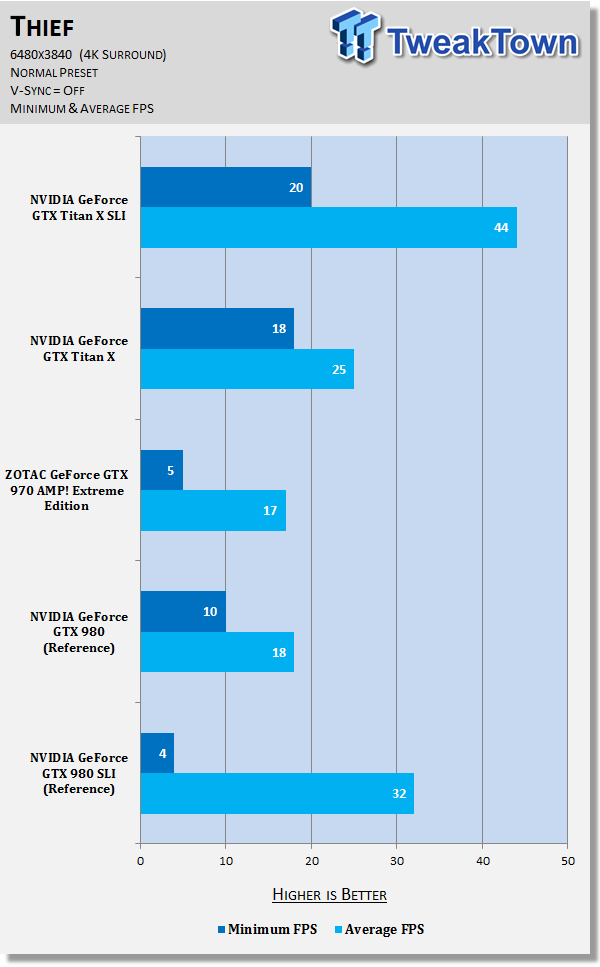 Thief is another great benchmark to really push our hardware, with a huge 76% additional performance from our second Titan X. We even have 37% more performance from the Titan X SLI when compared to the GTX 980 SLI.
Tomb Raider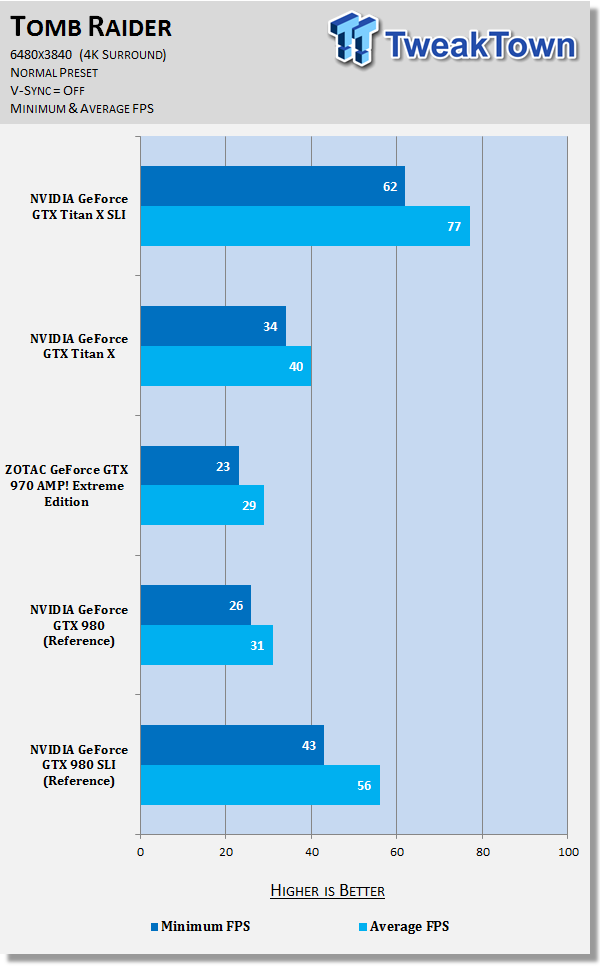 Tomb Raider is our best example of the performance of the Titan X SLI in 4K Surround, with a massive 77FPS average. This is a huge 92% scaling between our Titan X cards in SLI, beating out the GTX 980's in SLI by a giant 37%.
BioShock Infinite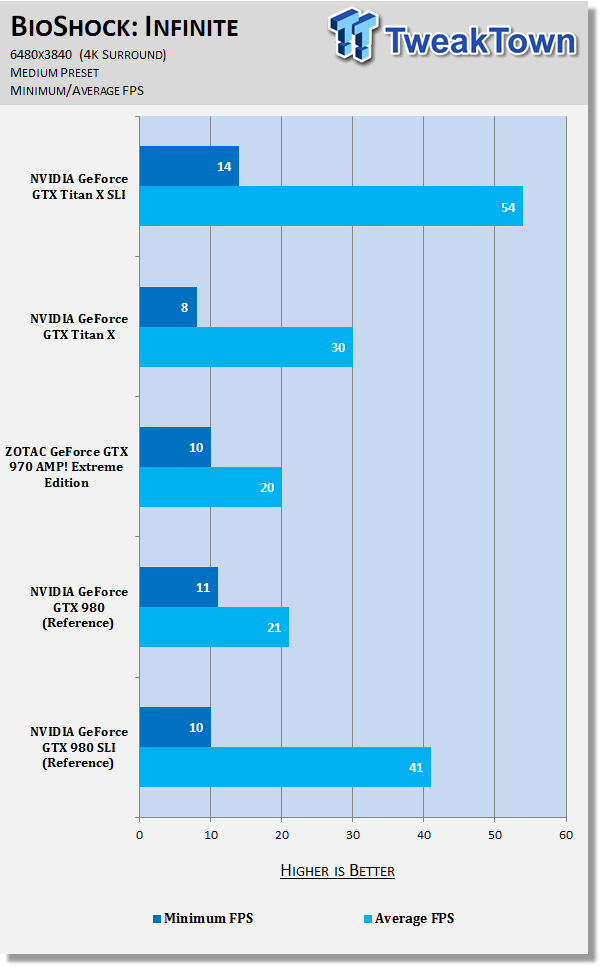 BioShock Infinite was a nice surprise for our Titan X SLI setup, with 80% scaling on the GM200-based cores in SLI. We wave goodbye to the GTX 980's in SLI, with the Titan X SLI performing 32% better.
DiRT Showdown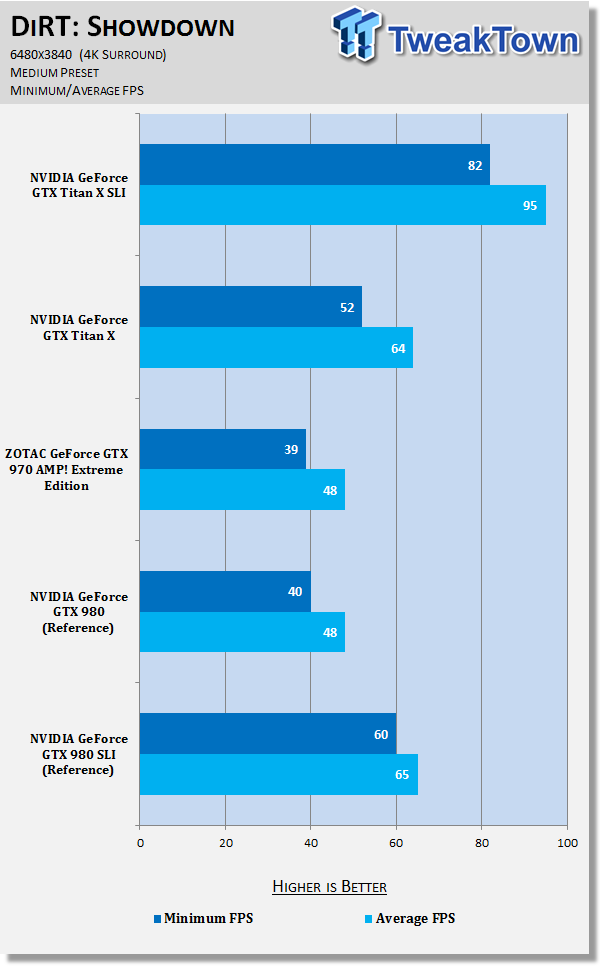 DiRT Showdown was pumping away at 95FPS average at 6480x3840, which is an additional 48% performance from the single Titan X. It's also 46% faster than the already great 65FPS that the GTX 980's in SLI provided.
Power Consumption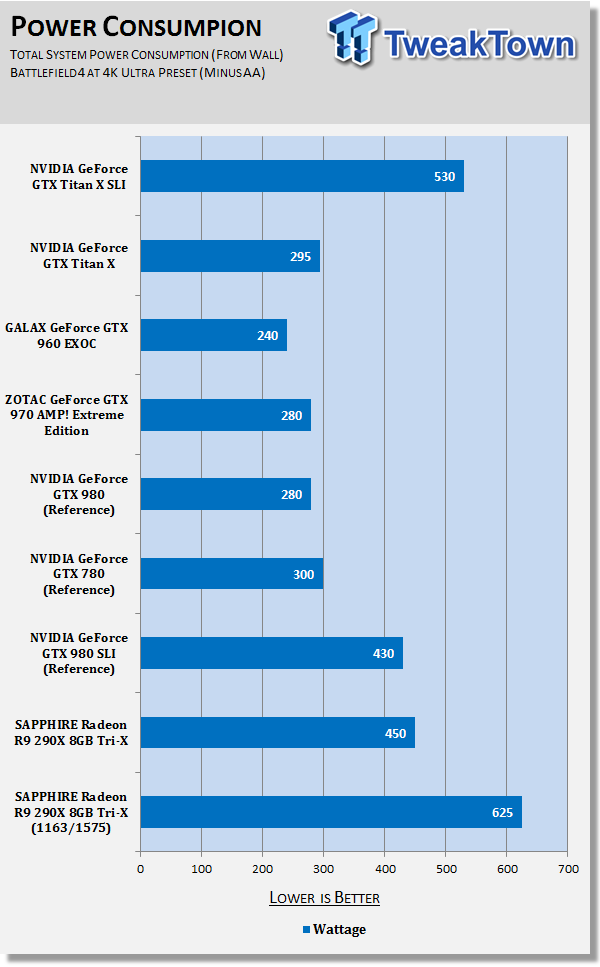 When it comes to power consumption, the Titan X in SLI when playing Battlefield 4 at 4K consumed 530W across our entire system. This is pretty damn good considering the 980 SLI consumes 430W, but a Radeon R9 290X consumes 450W. Overclocking that Radeon R9 290X cranks the power consumption up to 625W, so two GM200-powered Titan X cards in SLI is quite power efficient, considering the performance you receive.
Final Thoughts
The SLI scaling on the Titan X cards in SLI is pretty impressive, with 30% or more and in some cases up to 90% scaling. At 6480x3840, the use of a second Titan X is imperative. While we don't see 100% scaling, not many VGA setups do - no matter the game or resolution used.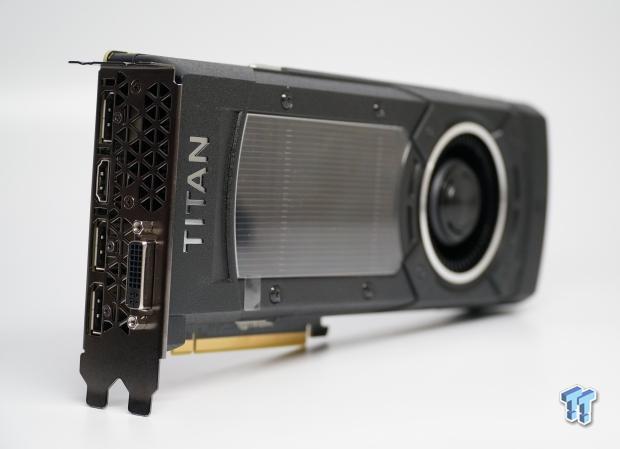 This is why we used the Medium/Normal setting in the games we benchmark, with Battlefield 4 capable of a quite playable 47FPS average at 6480x3840. Games like GRID: Autosport pumping out an average of 88FPS at this resolution is just excellent. Kudos to NVIDIA to make a full GM200-based card that is capable of being put in SLI and still pumping out a huge 88FPS average in a great looking game like GRID Autosport.
Each of our games tested was more than playable with the Titan X in SLI in 4K Surround, where the single Titan X was pushing around 25-30FPS, the second card provided a much more playable average frame rate in our games.
The amount of sound coming from the two Titan X's in SLI was still great, it was only when we began playing with the fan speed that we could hear them. Temperatures were good, so the fans didn't spin up at all.
When it comes to power consumption, our entire system pulling around 530W is just pure insanity given the VGA power we're talking about here. What will be more interesting is how a third one plays with our setup, and then a fourth. But, that will be for another article!
Last updated: Nov 3, 2020 at 07:12 pm CST