NVIDIA GeForce GTX Titan X in 4K Surround, or 6480x3840
How does the new Maxwell-powered GeForce GTX Titan X with 12GB of RAM fare on our NVIDIA 4K Surround rig?
A few days ago we gave you a peek into what we've been working on here in the TweakTown VGA labs: NVIDIA's 4K Surround, or ~6K - a resolution of a huge, GPU busting 6480x3840. It's not easy to bust out this many pixels, but that's what we do here at TweakTown - continue to push the boundaries that no one else wants to do.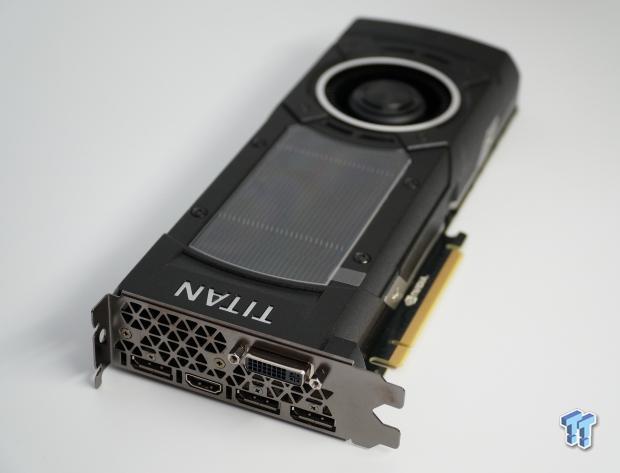 Sure, there are only a handful of people in the world that would be gaming on a 4K Surround setup, but that's what we do here - test the bleeding edge of 'real-world' gaming. Anyone with the money to spend on 4K Surround can go out and buy it, but more importantly, what type of GPU setup do you need to secure yourself around 60FPS average frame rate? This is what we 're here for.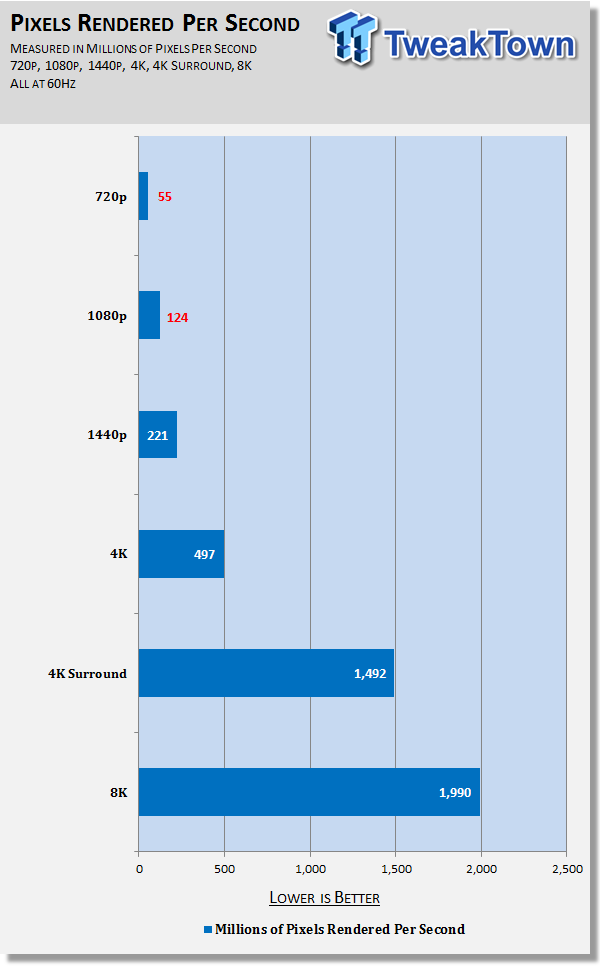 Just how many pixels does 4K Surround push? Nearly 1.5 billion.
With NVIDIA now finally making the GeForce GTX Titan X official, and our full review up and running, what better time to see how NVIDIA's most powerful VGA card yet handles 6480x3840? We know that the Titan X dominates at 4K, but with three 4K panels at our disposal, how does the GM200-powered Titan X demolish the GTX 980? Does it keep up with, or beat the GTX 980s in SLI? Let's take a look.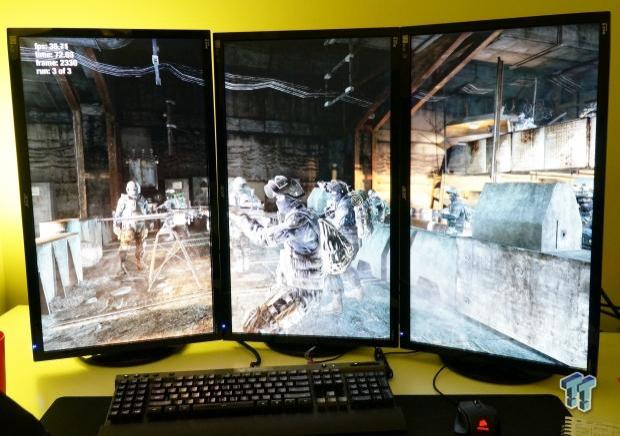 This is one of the most exciting articles I've written within the Tweakipedia section of the site, which is why it is completely separate to the normal review. We will be doing this more often with our VGA content, as this is pushing the boundaries of the cards themselves, something that needs separate attention and to not be lost in the huge 5000+ words of our normal VGA reviews.
First, this is the system we are running to power this huge Titan X in 4K Surround: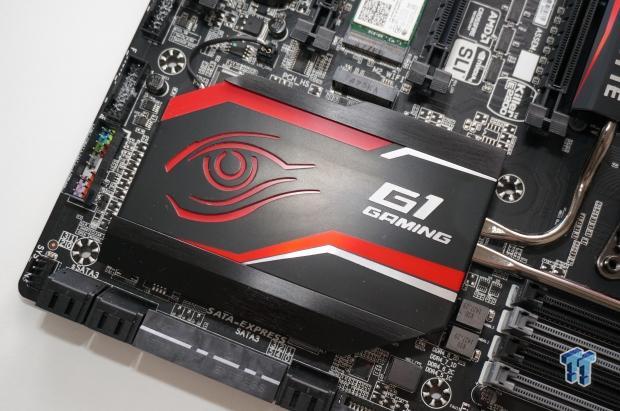 CPU: Intel Core i7 5820K processor w/Corsair H110 cooler
Motherboard: GIGABYTE X99 Gaming G1 Wi-Fi
RAM: 16GB Corsair Vengeance 2666MHz DDR4
Storage: 240GB SanDisk Extreme II and 480GB SanDisk Extreme II
Chassis: Lian Li T60 Pit Stop
PSU: Corsair AX1200i digital PSU
Software: Windows 7 Ultimate x64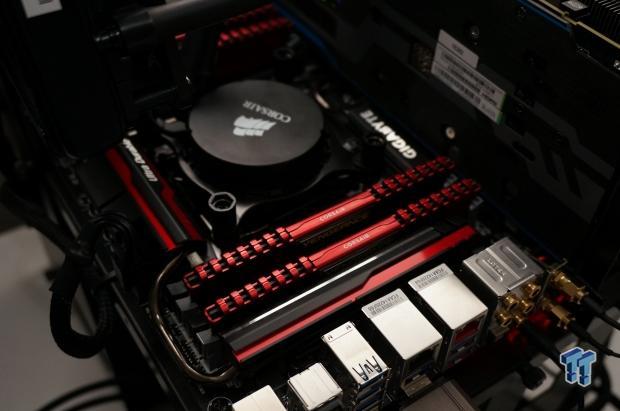 Heaven - 4K Surround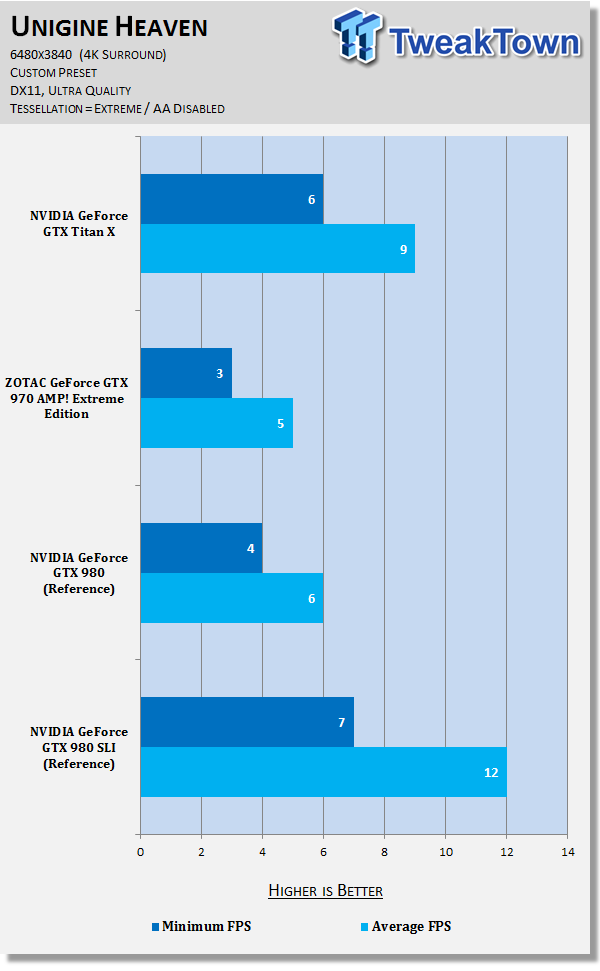 We left the details on Heaven up high, so you could truly see how the Titan X performed at 6480x3840. The Titan X is a powerhouse in 4K Surround, something you'll see more of below.
Battlefield 4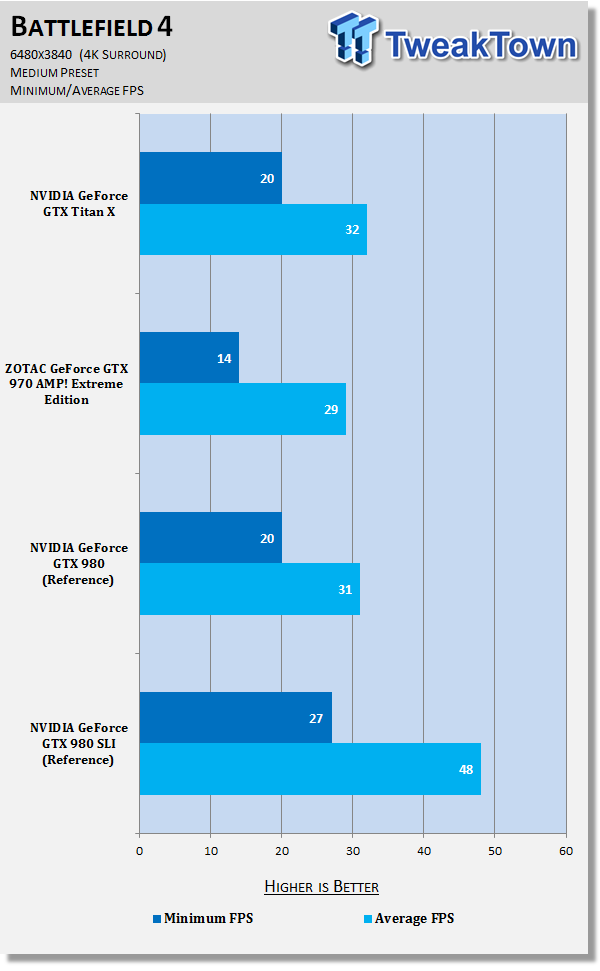 Our first game saw an improvement from the Titan X in 4K Surround, but not as much as we'd hoped. 1FPS over the GTX 980 isn't something to write home about, and it still loses quite heavily against the GTX 980 SLI setup. But just you wait until these next tests.
GRID Autosport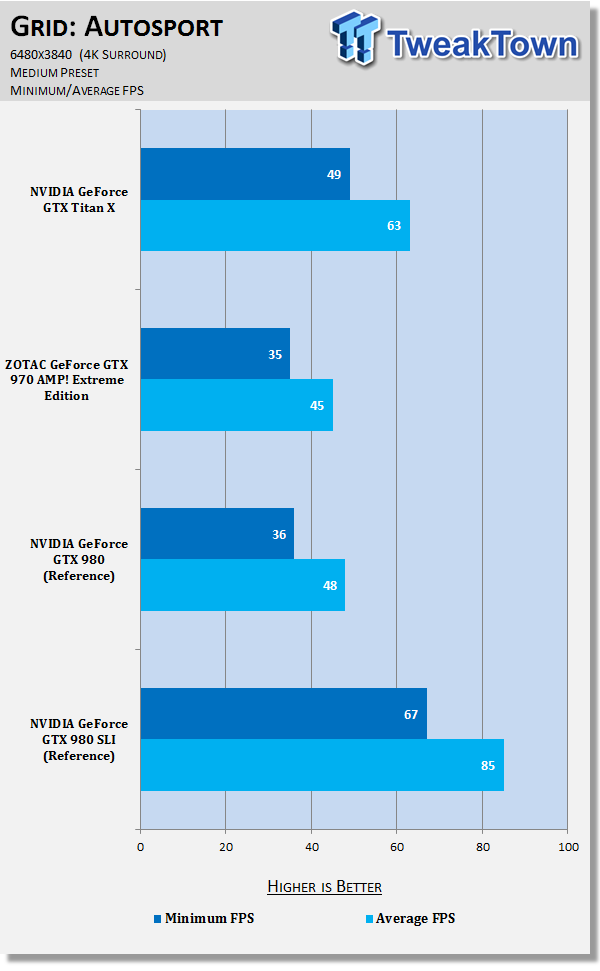 GRID Autosport is the start of our gaming tests where the GM200-based Titan X, where we have an average of 63FPS compared to the GTX 980 with 48FPS, an increase of 31%. It doesn't quite reach the highs of the GTX 980 SLI, but 63FPS at 6480x3840? Yes, please.
Metro: Last Light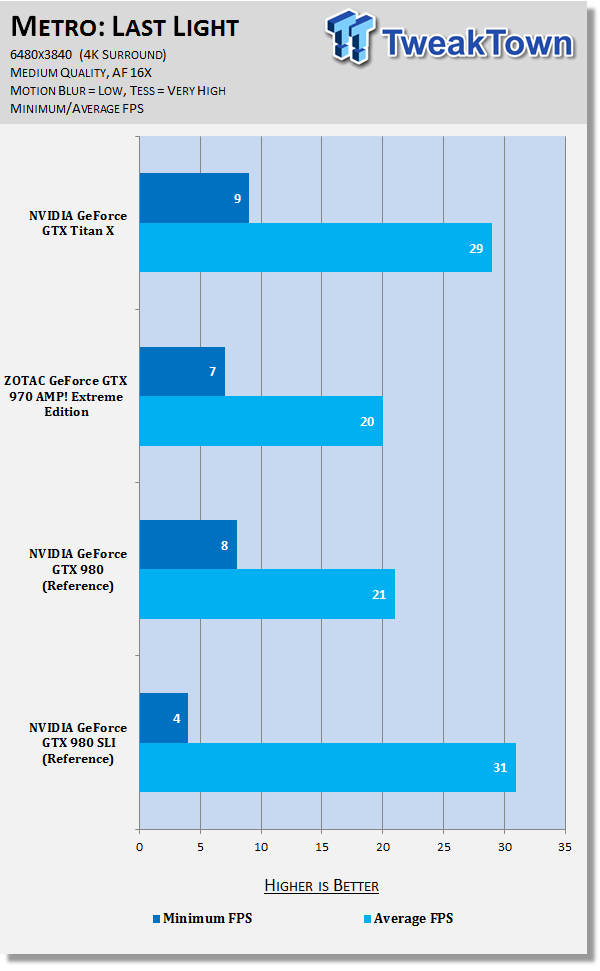 One of the harder tests in our benchmarking arsenal, Metro: Last Light, sees some truly great performance from the Titan X. We have an average of 29FPS compared to our GTX 980 which was capable of just 21FPS, an increase of 38%. The GTX 980 SLI beats the Titan X by only 2FPS.
Middle-earth: Shadow of Mordor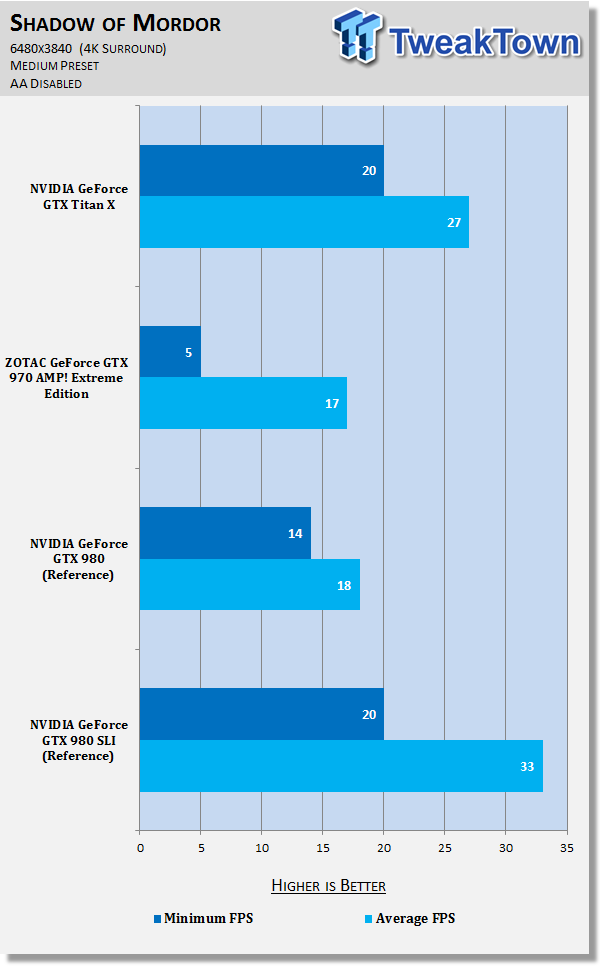 Shadow of Mordor is another hard test, where the Titan X performs beautifully with 27FPS average compared to the 18FPS on the GTX 980, an increase of 50%, which is huge. The GTX 980 SLI still edges out the Titan X with 33FPS.
Thief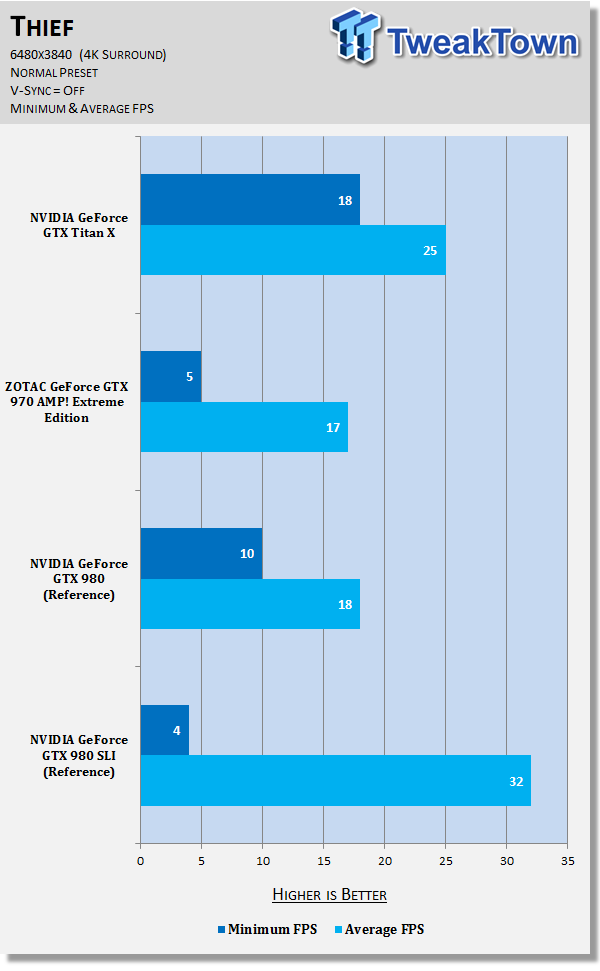 In Thief, the Titan X continues to flex its GM200 muscle at 6480x3840 with 25FPS average compared to the 18FPS on the GTX 980, representing an improvement of 38%.
Tomb Raider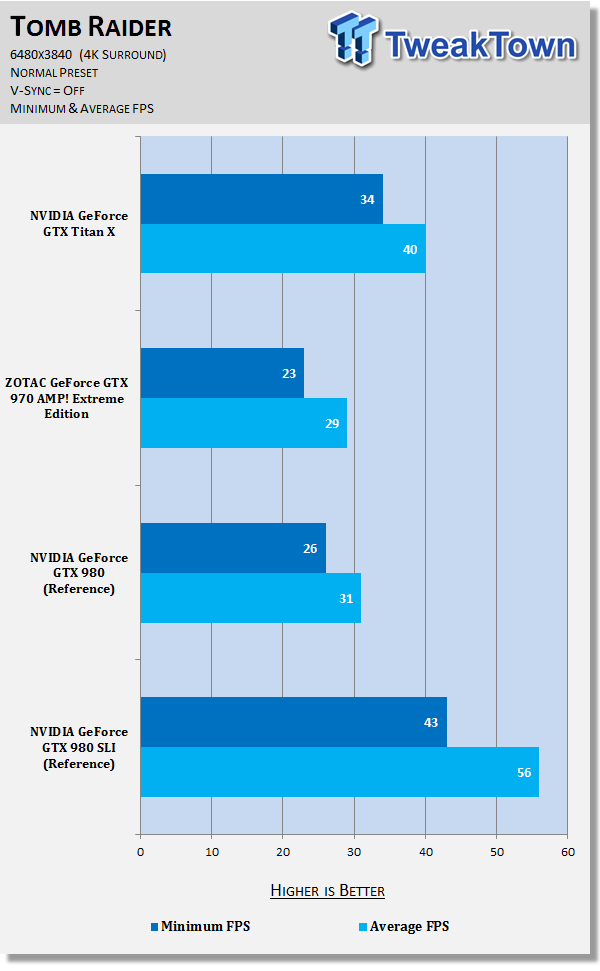 Lara Croft was happy with the performance of the Titan X in Tomb Raider, with the Titan X managing 40FPS while the GTX 980 managed just 31FPS. The GTX 980 SLI was out and ahead here with a huge 58FPS average.
BioShock Infinite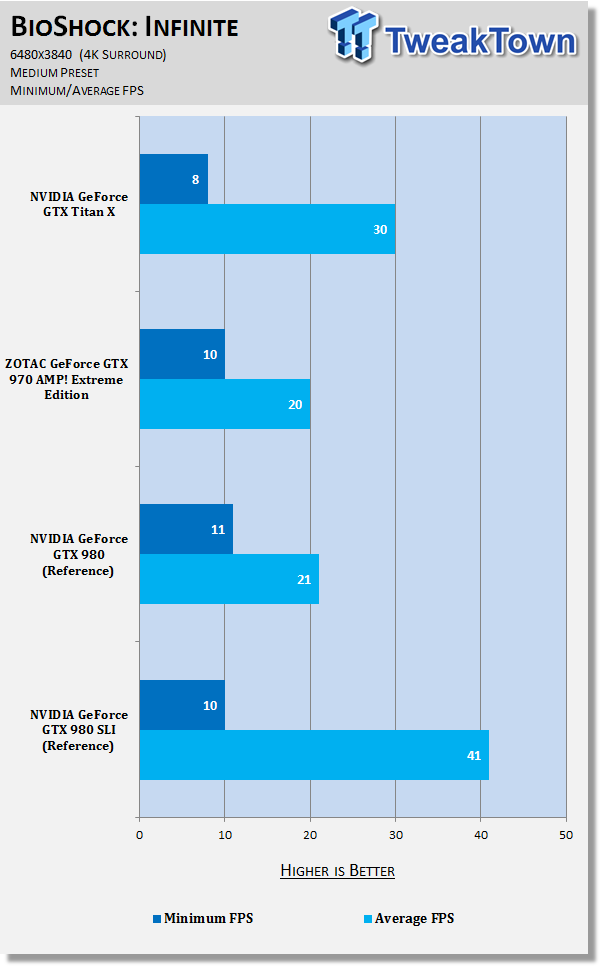 We see some truly great gains on Bioshock Infinite, with 30FPS average against the 21FPS from the GTX 980, an increase of 42%.
DiRT Showdown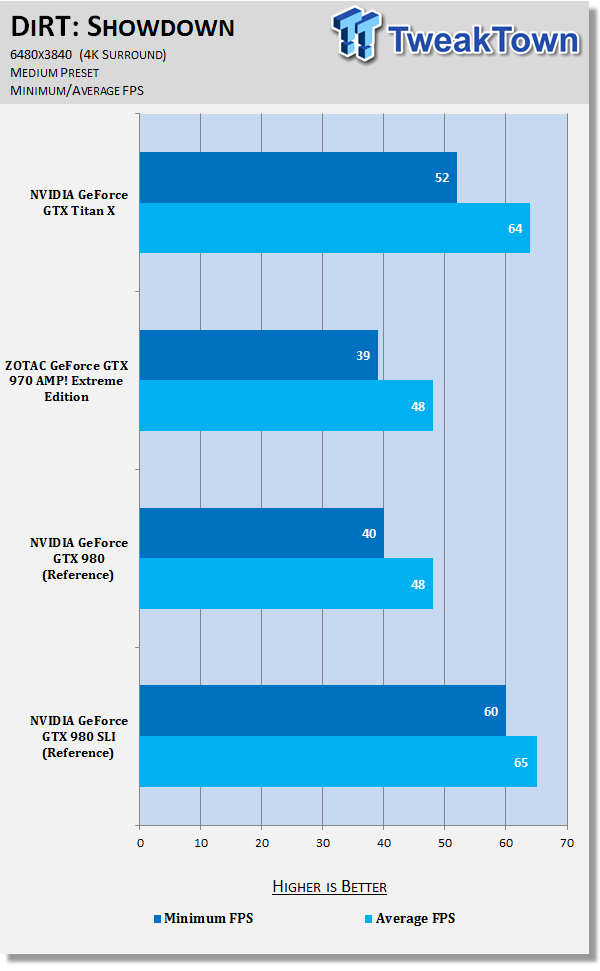 Dirt Showdown looks great and performs great on the Titan X with an average of 64FPS, representing an increase of 33% on top of the GTX 980. The GTX 980 SLI squeezes just a single frame per second on top of the GM200-based Titan X.
Power Consumption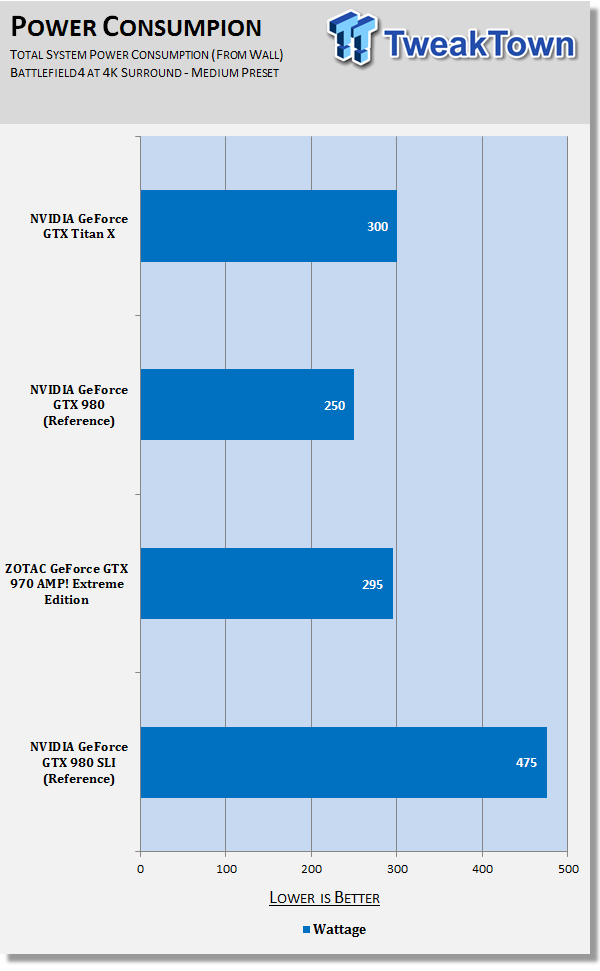 I thought I'd also provide some power consumption numbers for running the NVIDIA 4K Surround setup, with the GTX 980 having the best power consumption numbers, sipping that power nice and slowly with our entire system consuming just 250W.
The ZOTAC GeForce GTX 970 AMP! Extreme Edition consumed 295W, 45W more than the reference GTX 980. The GeForce GTX 980s in SLI bumped up the power consumption to 495W, a shave from 500W.
Final Thoughts
As you can see, the Titan X is a monster. In our official review, we already knew that, but when we're pushing this resolution the GM200-based Titan X comes into its own new level of performance. At medium detail settings, we're getting playable, albeit not amazing performance.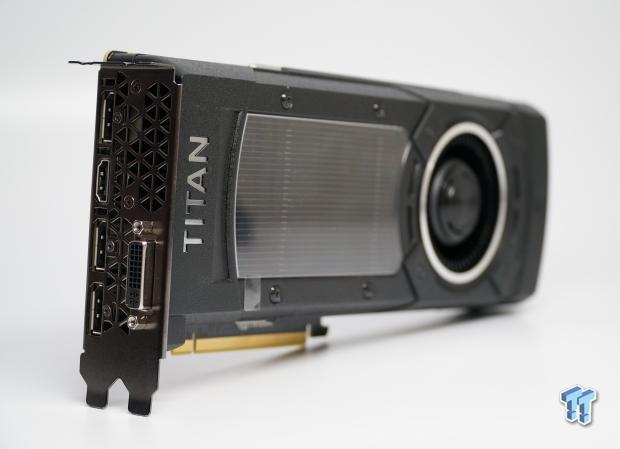 What we will be doing soon is repeating our usual slew of resolutions (1080p, 1440p and 4K) and running them all over again, as well as the 4K Surround numbers. If we're seeing the GTX 980 SLI battle it out against the Titan X, imagine Titan X in SLI. It should be drool worthy.
Last updated: Nov 3, 2020 at 07:12 pm CST
Related Tags