We have been waiting quite a while for the stars to align to bring you this article, and many that will follow - NVIDIA's 4K Surround. We have 3 x Acer XB280HK monitors in a triple portrait set up - all running 3840x2160, or 4K. This provides a native resolution of 6480x3840.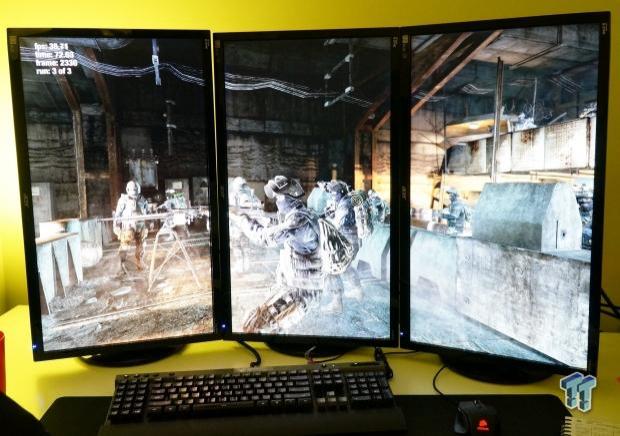 Let's clarify that: 6480x3840. This means we're rendering 1,492,992,000 pixels per second. 1.4 billion pixels, every second. Compare this to 1920x1080 (Full HD, or 1080p) which is rendering 124,416,000, or 124 million pixels per second - the 4K Surround system is rendering over 10x that of the 1080p resolution.
Instead of writing about how many pixels are being rendered, we've put them into a chart so you can better understand just how many pixels we're driving here today. Right now, the 'next-gen' consoles are rendering games at around 720p - 900p, which if they were running at 60Hz (or 60FPS) which most of the time they aren't, it's usually 30FPS or so, they would be rendering 55 million pixels per second.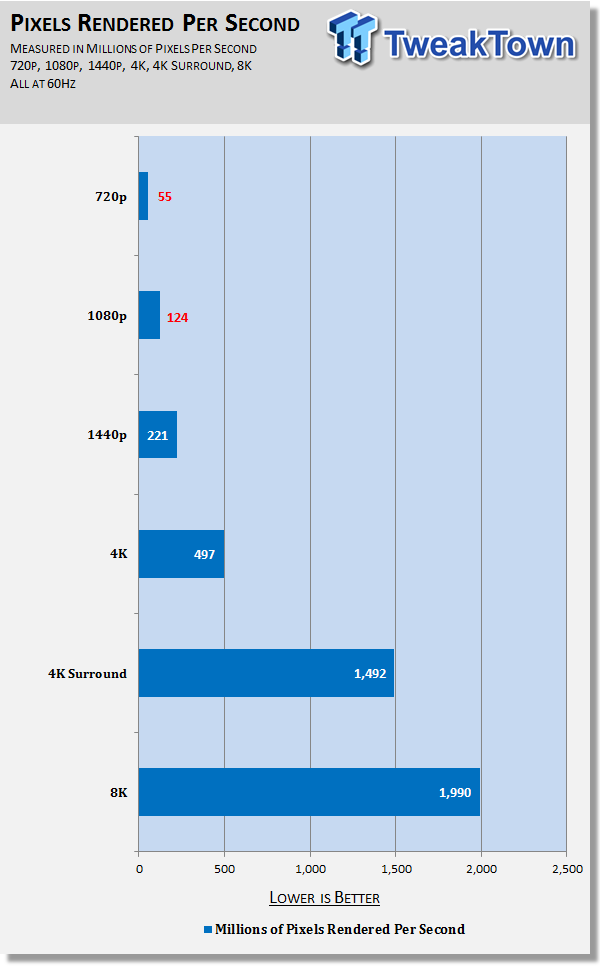 Jumping up to 1080p, that number climbs to 124 million while 1440p has it jump to 221 million. At 4K, the pixels rendered per second at 60Hz start to get serious, with 497 million, but 4K Surround has this catapult to 1.49 billion. 8K, which is in the not-too-distant future, sees 1.99 billion pixels being rendered per second.
Now that we better understand what we're doing here, driving over 10x the pixels that 1080p provides, we know the stress this will be on the GPU. This is why we did a performance recap of the GeForce GTX 980 SLI at 4K, so we can have some numbers to compare them against at 4K Surround.
As I said, we're using three of Acer's XB280HK monitors, which are 4K G-Sync capable monitors. They are great as a standalone display, but I thought they were even better set up in portrait, and G-Sync helps so much in multi-monitor gaming. Battlefield 4 was just so jaw-droppingly awesome, I couldn't believe it. Sitting in front of triple 4K displays was too much to be honest, as I'm sitting just over arms length away from them.
For desktop work, this is my new default desktop. The amount of desktop real estate I now have cannot be reproduced on a single display until 8K arrives. Glorious #pcmasterrace.
The system we'll be working with: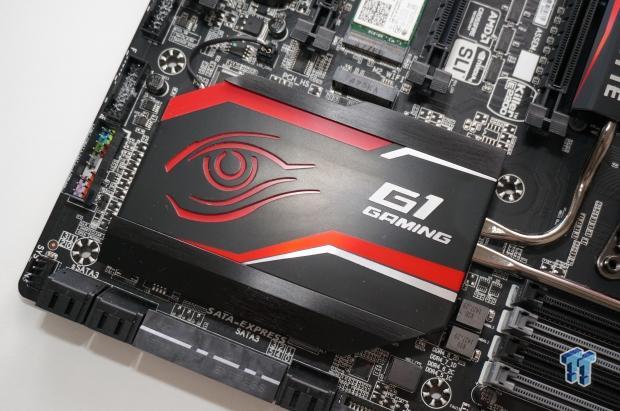 CPU: Intel Core i7 5820K processor w/Corsair H110 cooler
Motherboard: GIGABYTE X99 Gaming G1 Wi-Fi
RAM: 16GB Corsair Vengeance 2666MHz DDR4
Storage: 240GB SanDisk Extreme II and 480GB SanDisk Extreme II
Chassis: Lian Li T60 Pit Stop
PSU: Corsair AX1200i digital PSU
Software: Windows 7 Ultimate x64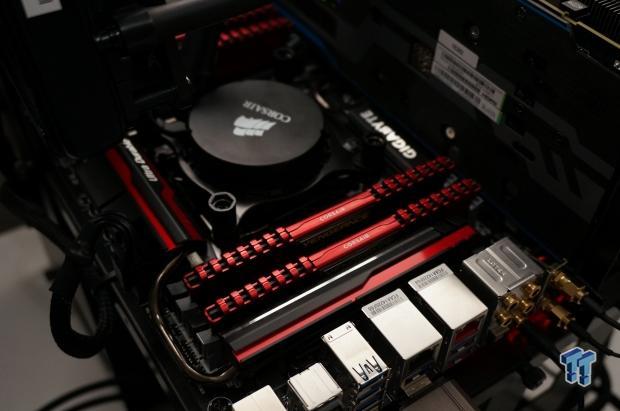 Heaven - 4K Surround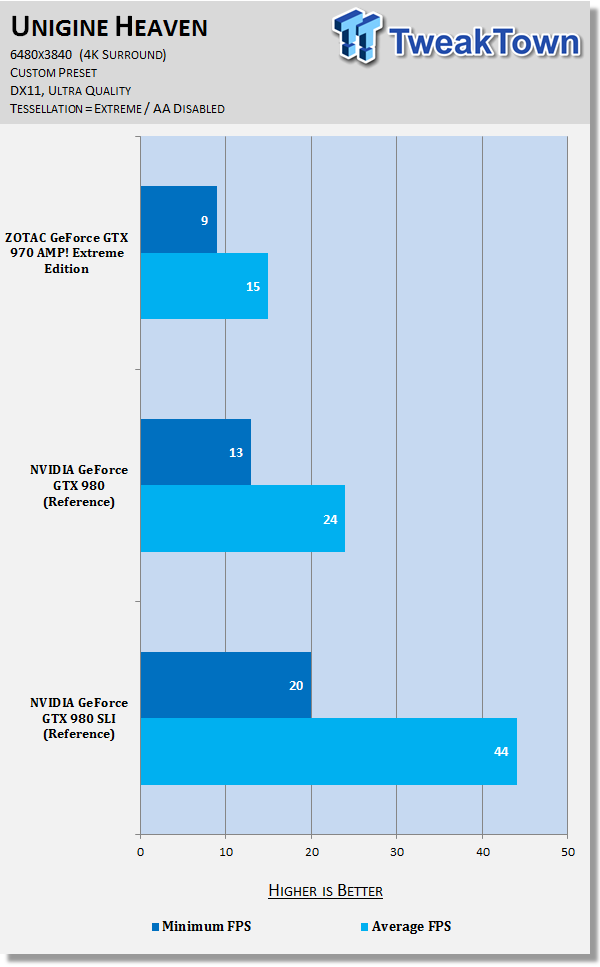 As we can see here, Heaven has incredible scaling with our GTX 980 SLI setup, with it destroying the single GTX 980, and close to triple the performance of the single GTX 970.
Battlefield 4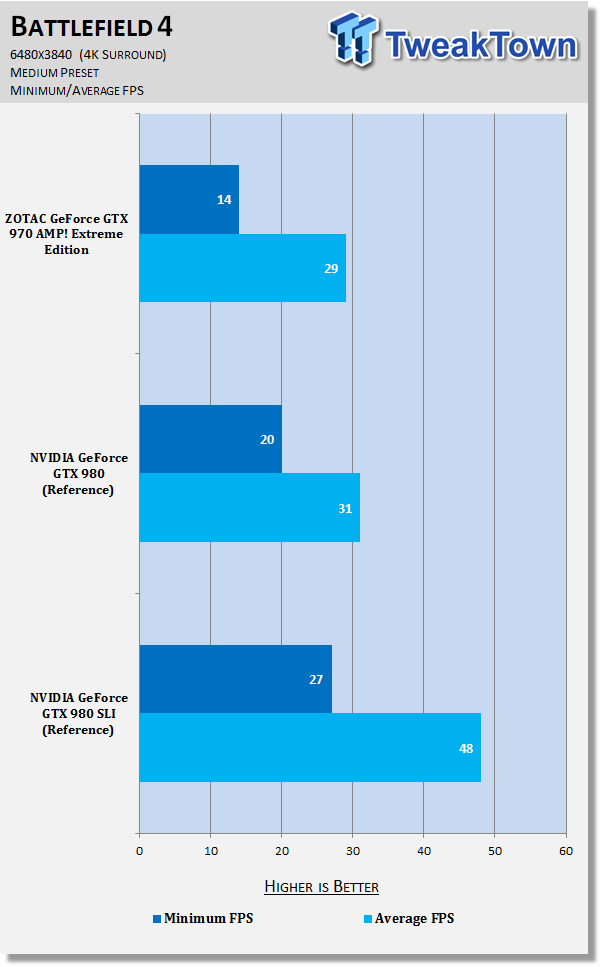 This is the game that I wanted to test the most, as I played it in real-time for all of my testing. The GTX 980s in SLI performed admirably, with 48FPS even at 6480x3840 which is just insane. The single GTX 970 and GTX 980 were pushing out 29FPS and 31FPS respectively, which is great to see from a single card in our 4K Surround setup.
GRID Autosport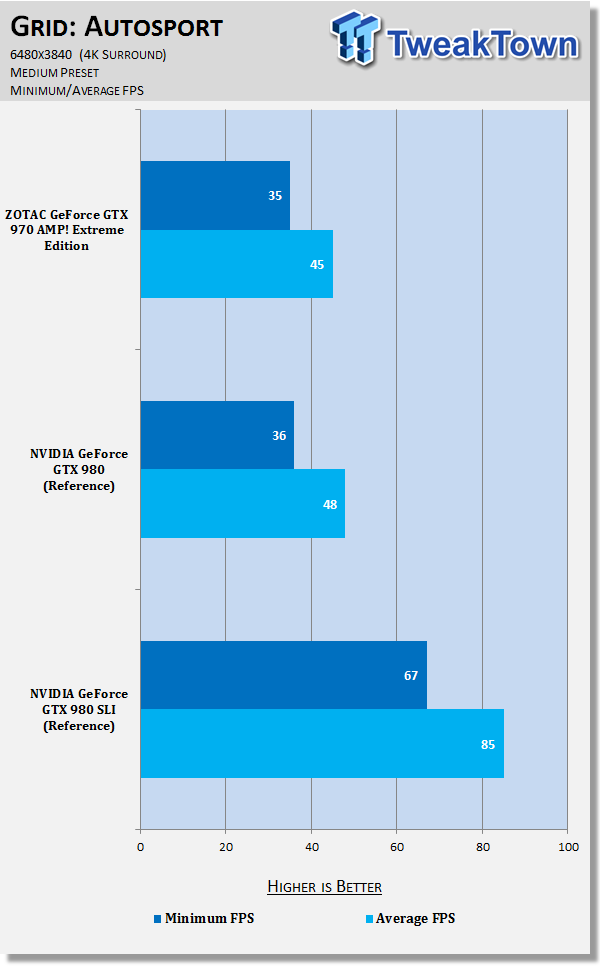 GRID Autosport is another title that shows the power of the GTX 980s in SLI, with a huge 85FPS average compared to the single GTX 980 with 48FPS average.
Metro: Last Light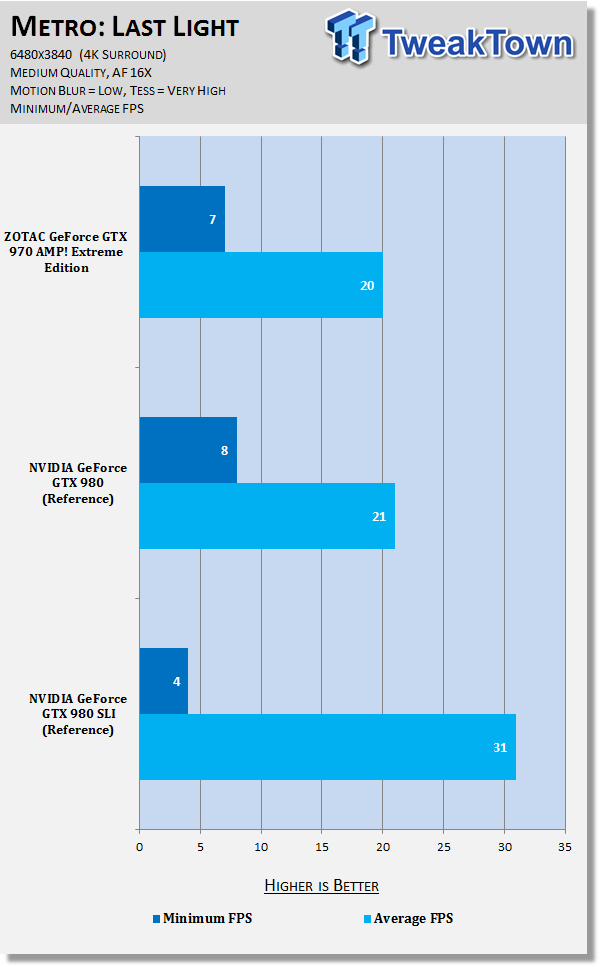 Even at 4K, Metro: Last Light is pretty harsh on any VGA card, but in 4K Surround, it's even worse. Our GTX 970 and GTX 980 performed virtually identically, but the GTX 980s in SLI were much better at 31FPS - an increase of 47%.
Middle-earth: Shadow of Mordor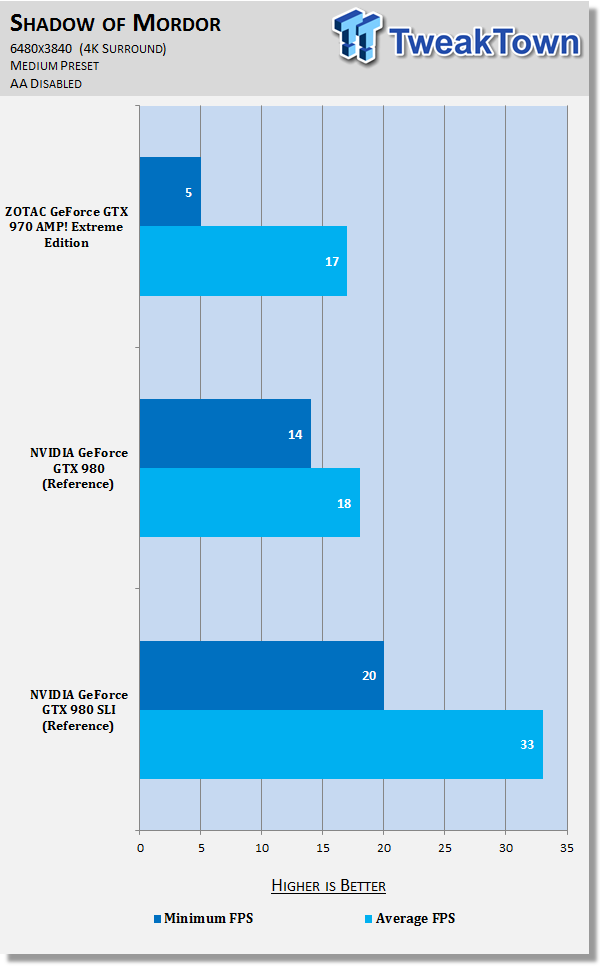 Another harsh game on our VGA benchmarks is Middle-earth: Shadow of Mordor, but it's a great game to test SLI and Crossfire scaling, and even more so with a triple 4K setup. Our GTX 970 and GTX 980 had near identical results with 17FPS and 18FPS, respectively. But the GTX 980 SLI rig dived out ahead with 33FPS, an increase of 83%.
Thief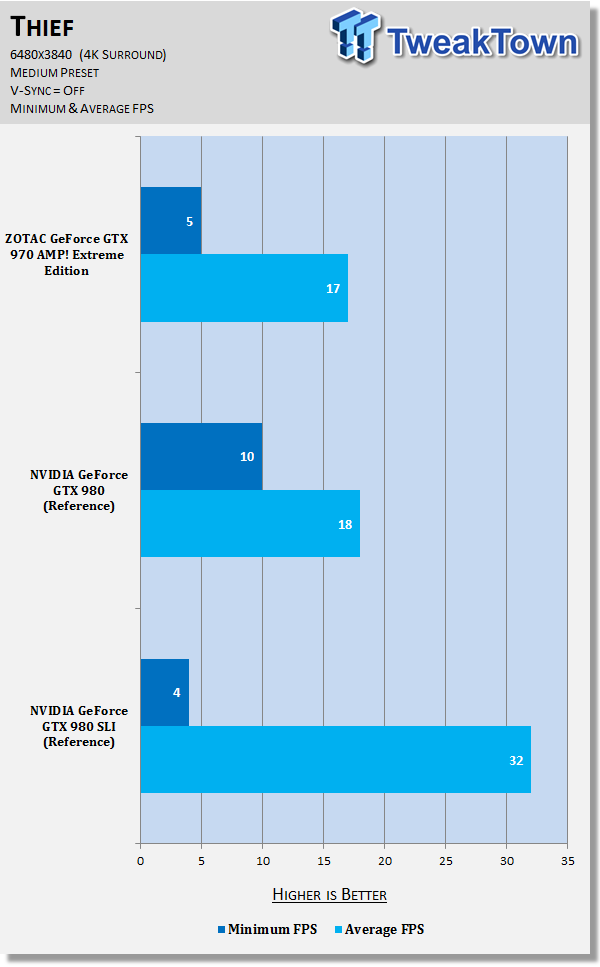 Something that surprised me with our testing was Thief, which had some huge scaling on our GTX 980 SLI setup. Starting with the GTX 970 which pumped out 17FPS, and the GTX 980 with a single frame more at 18FPS, the SLI setup managed 32FPS. This is some truly great scaling, with an improvement of 77% over the single GTX 980.
Tomb Raider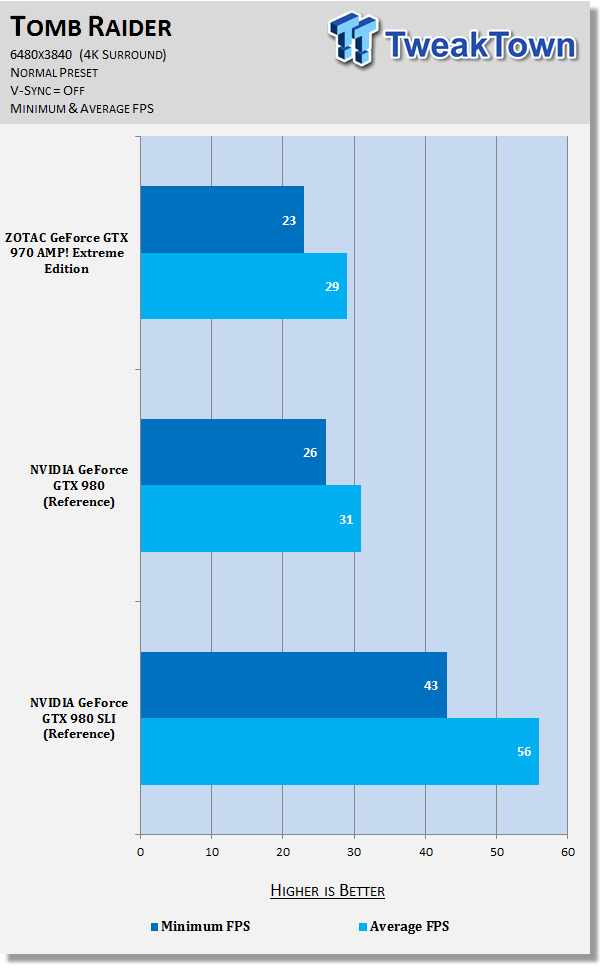 The great SLI scaling continues on our 4K Surround testing with Tomb Raider, and again the GTX 970 and GTX 980 have nearly identical performance with 29FPS and 31FPS, respectively. The SLI setup provided an increase of 80%, jumping up to 56FPS.
BioShock Infinite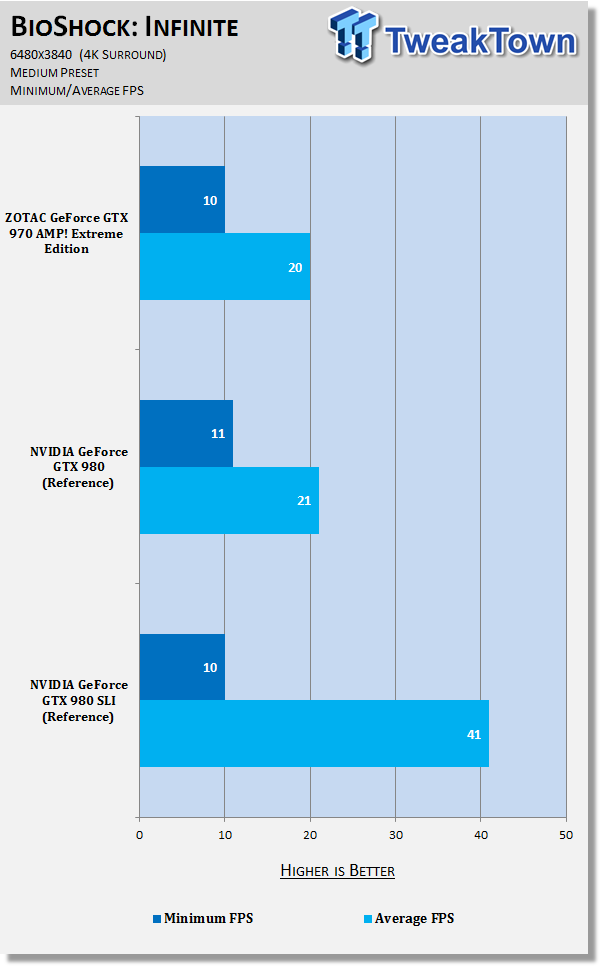 The scaling goodness continues with BioShock Infinite, with 20FPS on our GTX 970, and 21FPS on our GTX 980. On the GTX 980 SLI setup however, we have a huge 41FPS, an increase of 95% - great results here with BioShock Infinite.
DiRT Showdown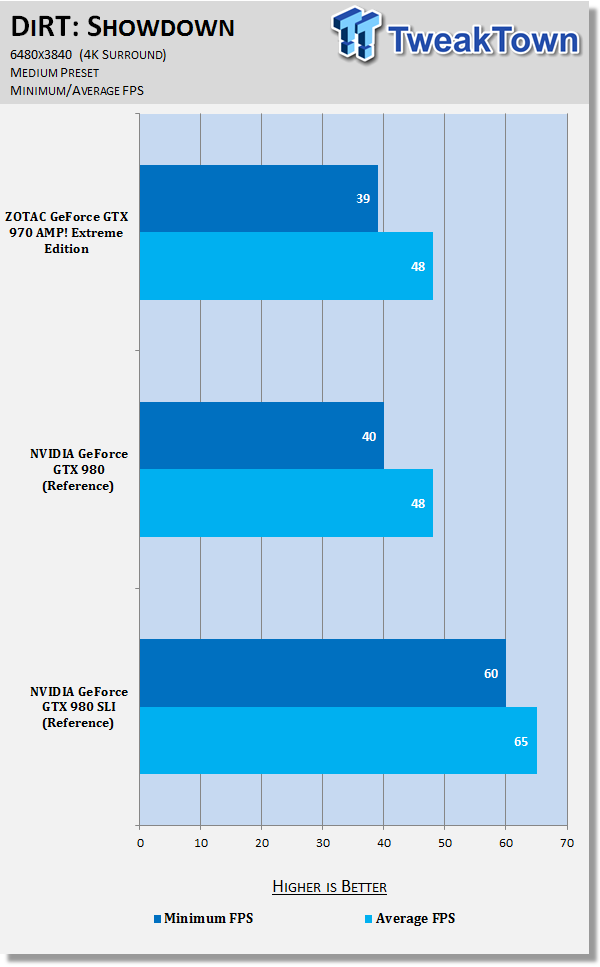 DiRT Showdown is another game, like GRID: Autosport, that looks absolutely gorgeous, and performs so well. We have 48FPS for both our GTX 970 and GTX 980 in our 4K Surround setup, but the second GTX 980 helps that much more, jumping up to 65FPS, an increase of 35%.
Power Consumption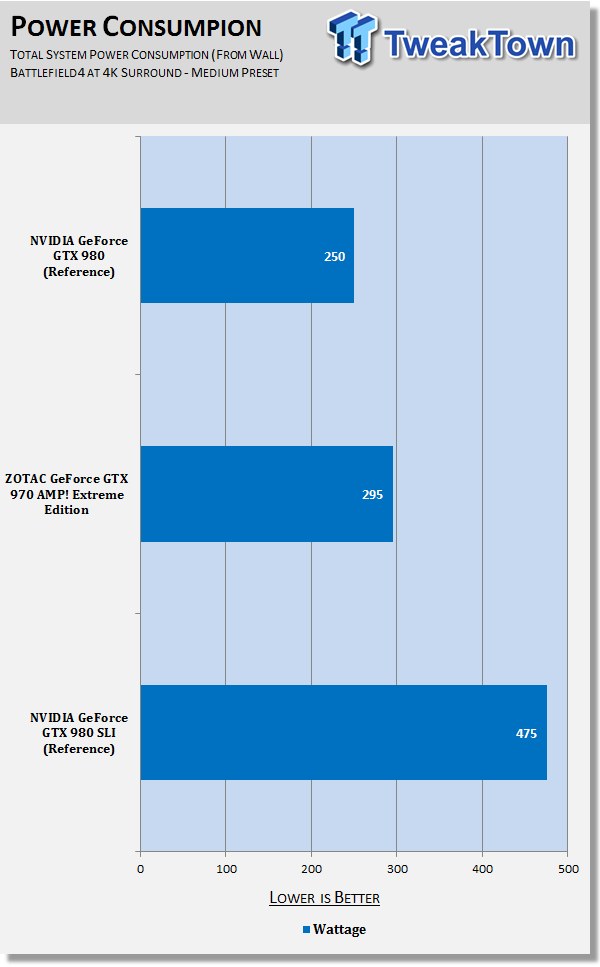 I thought I'd also provide some power consumption numbers for running the NVIDIA 4K Surround setup, with the GTX 980 having the best power consumption numbers, sipping that power nice and slowly with our entire system consuming just 250W.
The ZOTAC GeForce GTX 970 AMP! Extreme Edition consumed 295W, 45W more than the reference GTX 980. The GeForce GTX 980s in SLI bumped up the power consumption to 495W, a shave from 500W.
Final Thoughts
The big question is: what is gaming like on the NVIDIA 4K Surround setup - and there's one word: amazing. Another word: awesome. Some more words: so, many, pixels. Playing Battlefield 4 on the 4K Surround setup is unparalleled. Nothing compares to it, absolutely nothing. Maybe VR... but we don't have Battlefield in VR available yet, so that doesn't count.
I played quite a few hours of BF4 in 4K Surround and I loved it. Having NVIDIA's G-Sync technology is a massive help, something you don't really quite understand until you turn it off and play with it disabled. It's a huge help with multi-monitor solutions, and even more so when it's powering a huge 6480x3840.
This is the type of setup that 99% of people will ever own, but this is what Tweakipedia is here for. This is our playground to do whatever we want with our technology in our labs, and what better way to play around with when running this mammoth resolution?
Playing with the 4K Surround now has me wanting to get two more ASUS ROG Swift monitors, which run 2560x1440 at 144Hz. The 144Hz refresh rate is the big missing point of the triple-monitor setup, something I don't think I could go without in the long term. As great as 4K Surround is, the 60Hz refresh rate and huge tax on the GPUs is expensive.
Speaking of performance, you can see from the benchmarks above, the performance is not too bad. GTX 980s aren't too expensive when you consider the monitors will set you back close to $3000 depending on which country you live in. The best GPUs to play this on would be the upcoming GeForce GTX Titan X, which we will be doing next week. Until then... I'm going to go play some more Battlefield 4 on the 4K Surround rig.
Last updated: Nov 3, 2020 at 07:12 pm CST