Introduction & Test Setup
You might be wondering why I'm writing this article, but our GPU Editor, Shawn Baker, is currently quite ill and in hospital. Some of you may know this, but for those of you that don't, he's currently unable to write a performance analysis of the new Catalyst Omega drivers.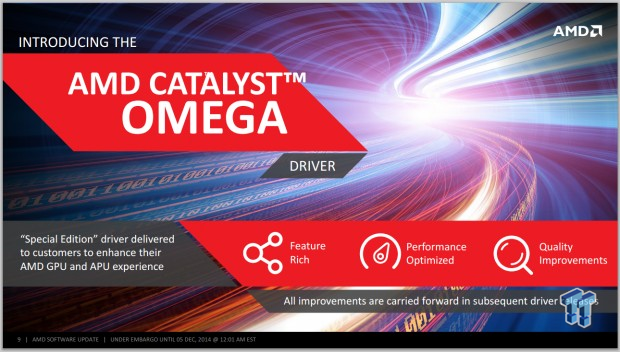 I'm stepping in to test these drivers, but this is my first time with a set of drivers under NDA that I only had less than 48 hours to work with. So, this isn't a full run with all resolutions, with all of the bells and whistles enabled. I'll explain some more about that below, but first let's get you acquainted with the new Catalyst Omega driver suite.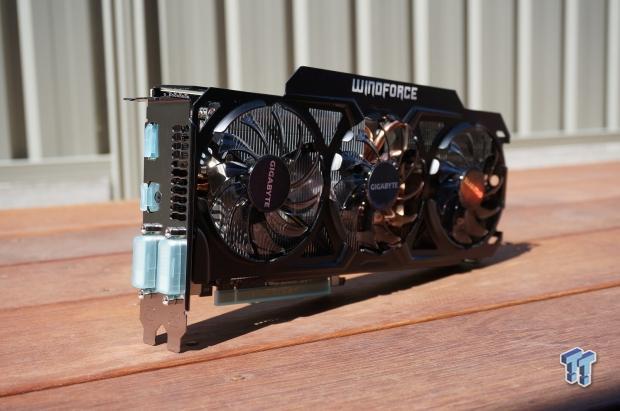 AMD has just unveiled its new Catalyst Omega drivers, which are offering some improved performance for a bunch of games on the market, as well as a slew of new features. We have technologies like Virtual Super Resolution, Fluid Motion Video, support for 5K monitors, 24 monitors under Eyefinity and so much more.
You can check out that article here, but for the performance side of things, strap yourself in, as we're about to explore our usual run of benchmarks to see if AMD is onto a winner here with its new Catalyst Omega driver suite.
Our Test Setup
CPU: Intel Core i7 4770K processor w/Corsair H110 cooler
Motherboard: ASRock Z87M OC Formula
RAM: 16GB of Corsair Vengeance 2400MHz DDR3
GPU: GIGABYTE Radeon R9 290X WindForce OC
Storage: 240GB SanDisk Extreme II SSD
Chassis: BitFenix Prodigy M
PSU: Corsair AX760i PSU
Software: Windows 7 Ultimate x64
Drivers: Catalyst 14.9 WHQL + Catalyst Omega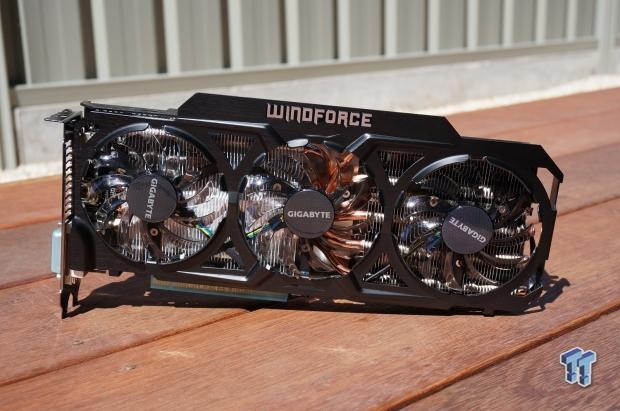 Testing Methodology & Benchmark Lineup
We want to see how these drivers go, so we're pushing the games to their limits as we always do. I haven't had much time with the drivers, so to get them out on time for the NDA, I've limited this article to 1080p testing only. I will release a future piece that will look at 1440p and then 4K. After that, we might take a look at Crossfire results, and then before the end of the year I hope to have my hands-on some SAPPHIRE Radeon R9 290X 8GB cards, which should be pretty damn awesome in Crossfire.
For now, we will be cranking everything up in 1080p to see how these new Catalyst Omega drivers hold up, in synthetic benchmarks like 3DMark and Heaven, as well as our usual slew of gaming benchmarks.
Synthetic Benchmarks
These are staple benchmarks, so let's see how the new Catalyst Omega drivers handle them. I'm expecting a 5-10% jump in performance, without looking at any of the slides for 3DMark or Heaven. Let's see how we go.
We're going to be running 3DMark and Heaven at 1080p, with everything cranked to maximum, including in-app anti-aliasing to its maximum setting. Let's see this Radeon R9 290X get hot, shall we?
3DMark - Fire Strike Extreme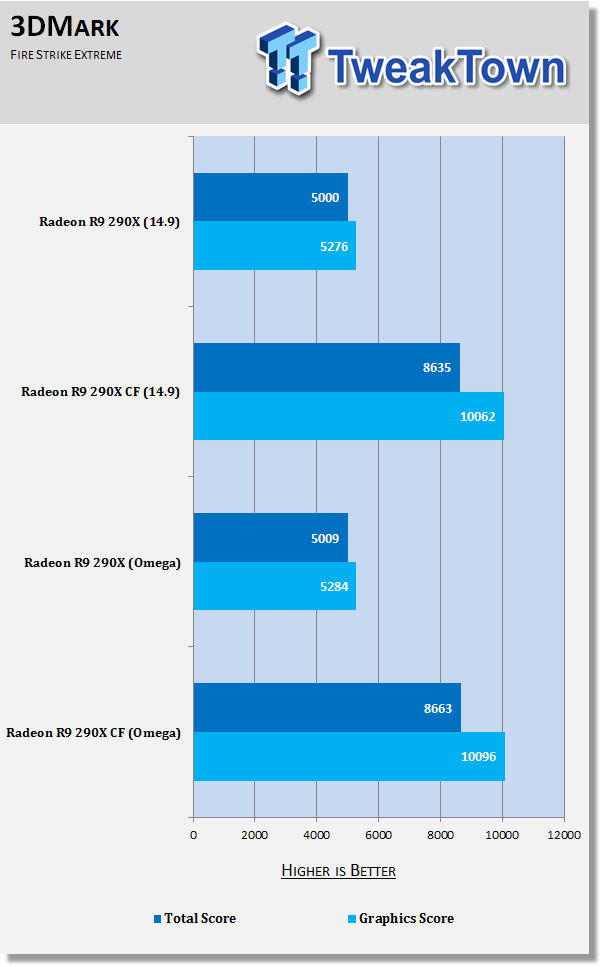 Single: We don't see much improvement at all with the new Omega drivers in 3DMark with a single R9 290X.
Crossfire: The same thing can be said for Crossfire, where we see a slight improvement in 3DMark using the new Omega suite.
Unigine Heaven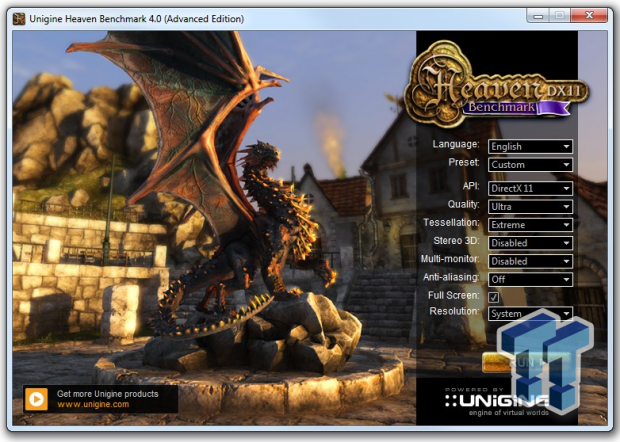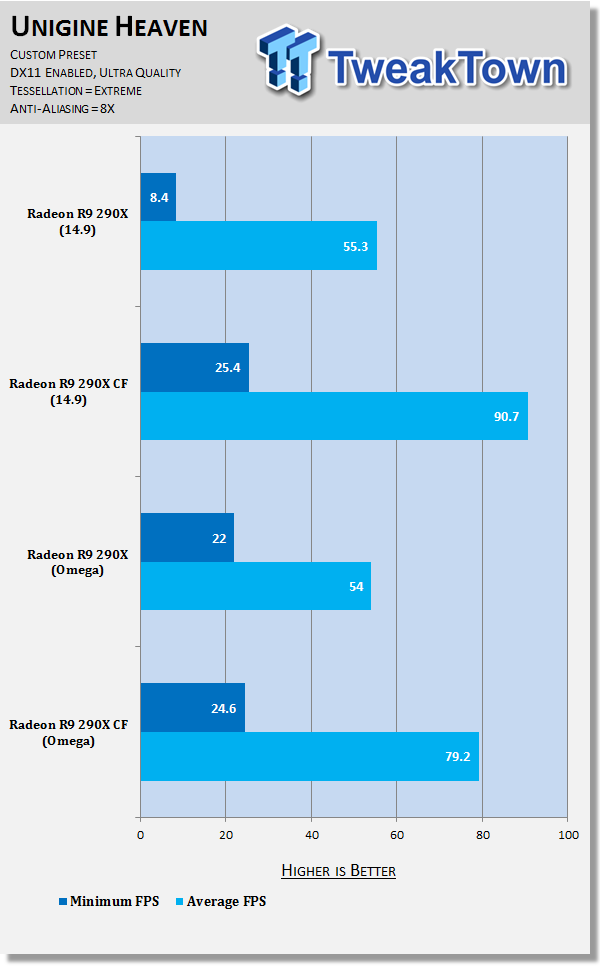 Single: A massive increase in the minimum FPS is provided with the new Omega drivers, but we did run this benchmark a few times to make sure these numbers were right. Over 100% increases in minimum FPS are usually something to do with the software itself (as in Heaven), or something else going on in the rig.
Crossfire: A drop in the average FPS, while the minimum FPS is pretty much identical to the 14.9 drivers.
Game Benchmarks
Let's start off with our new tests, which include Shadow of Mordor, Sniper Elite 3, and Thief. But we're using our usual run of benchmarks, which include BioShock: Infinite, DiRT Showdown, Tomb Raider, Batman: Arkham Origins, GRID Autosport, and Metro: Last Light.
Middle-earth: Shadow of Mordor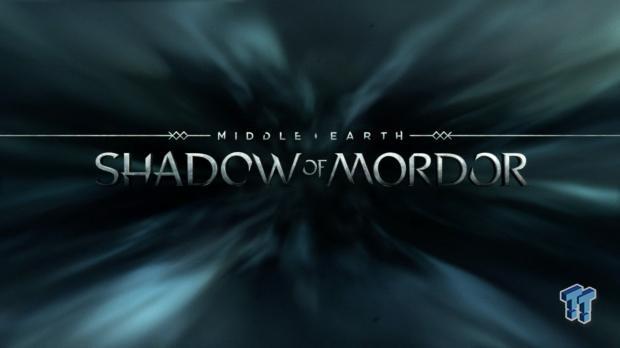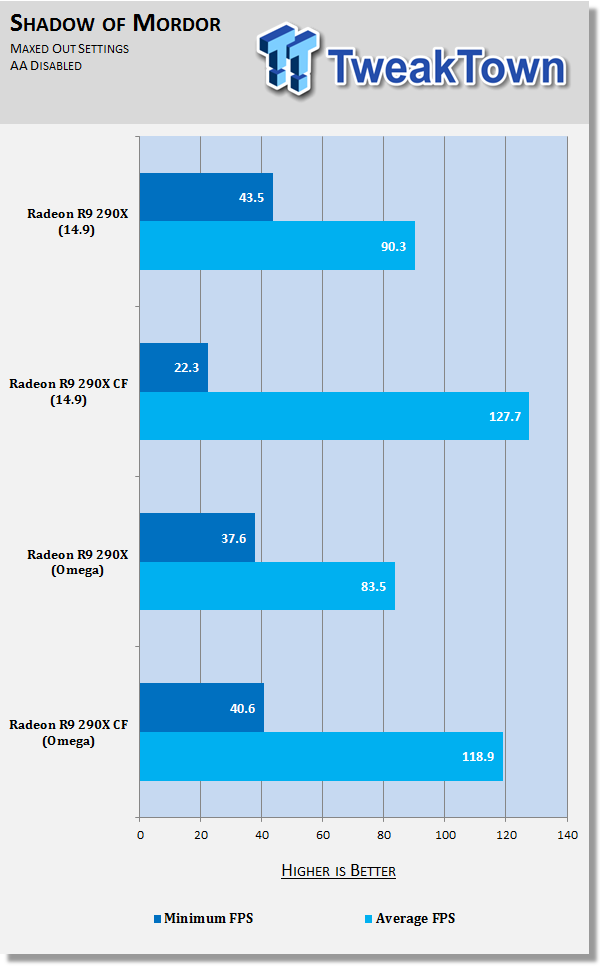 Single: We see a drop in the minimum FPS with the new drivers on a single R9 290X, while the average also drops by close to 7FPS.
Crossfire: Enabling a second card didn't really do much for the average FPS, which dropped by close to 10FPS. But those minimum results are delicious, an increase of 18FPS, or close to 90%. This is what we want to see more of. Averaging over 100FPS in Shadow of Mordor is absolutely fine anyhow.
Thief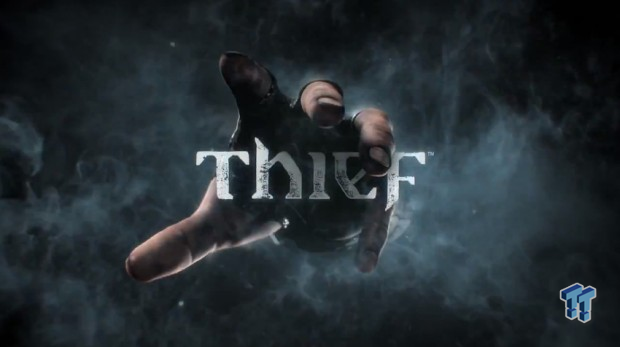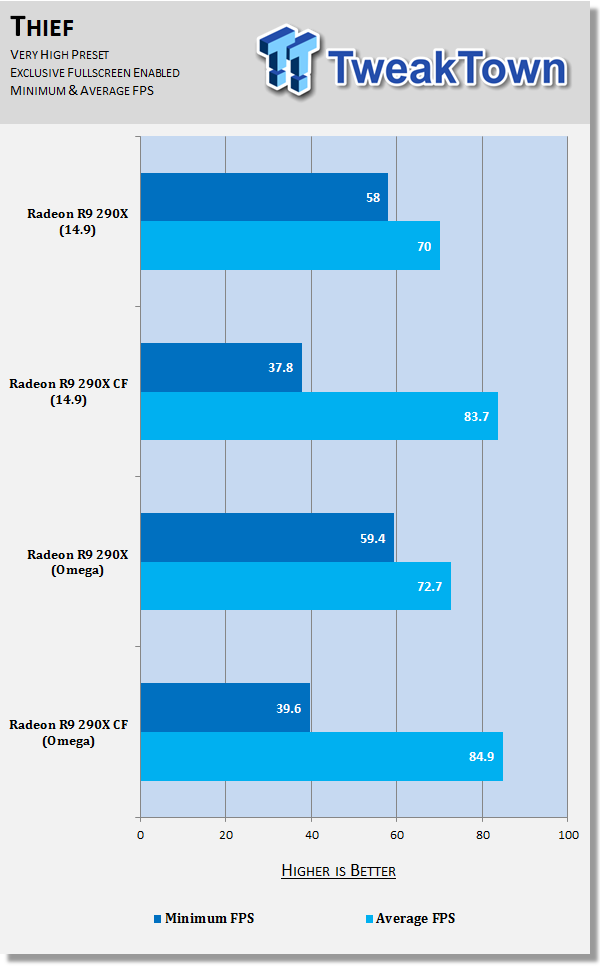 Single: Virtually identical results, with slight increases to both the minimum and average frame rates on the new Omega drivers.
Crossfire: The same can be said for Crossfire, unfortunately. But again, we're stalking a minimum of close to 84FPS on both Crossfire setups. We did find that the minimum FPS suffers greatly under Crossfire on Thief compared to the single card results - perplexing.
Sniper Elite 3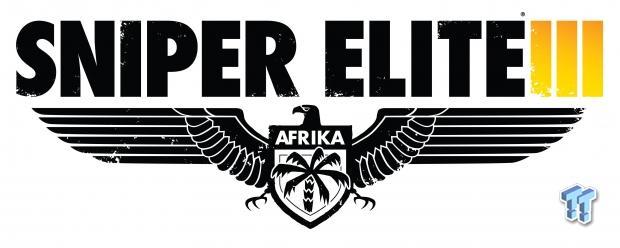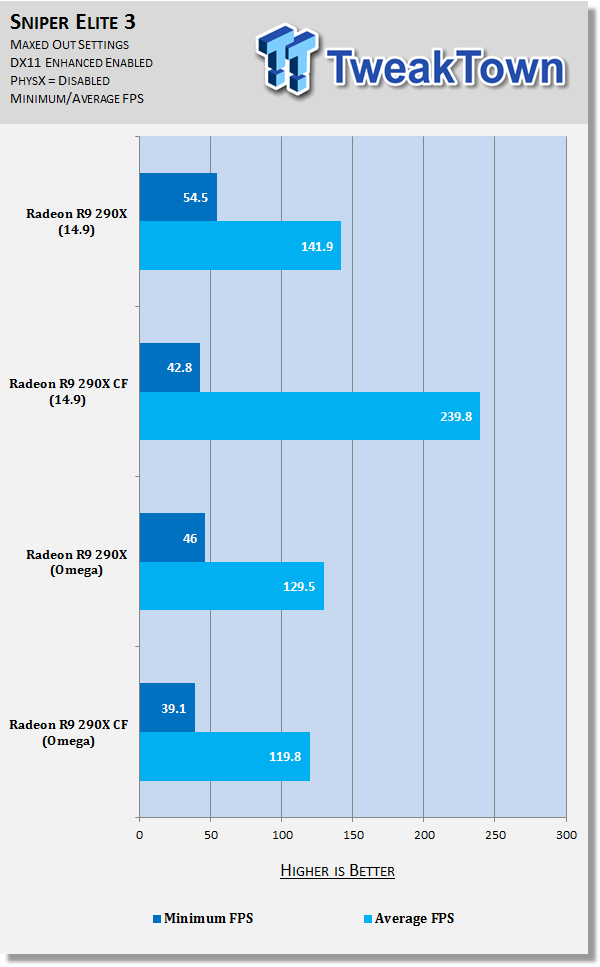 Single: The Omega drivers didn't like Sniper Elite 3 so much, with the older revision of the drivers outperforming the new drivers by a decent margin on our single card setup.
Crossfire: The Crossfire setup didn't really help much at all, if anything, it tanked. The average FPS on the 14.9 drivers was a huge 239.8FPS, while the average FPS on the new Omega drivers was 'just' 119.8.
Tomb Raider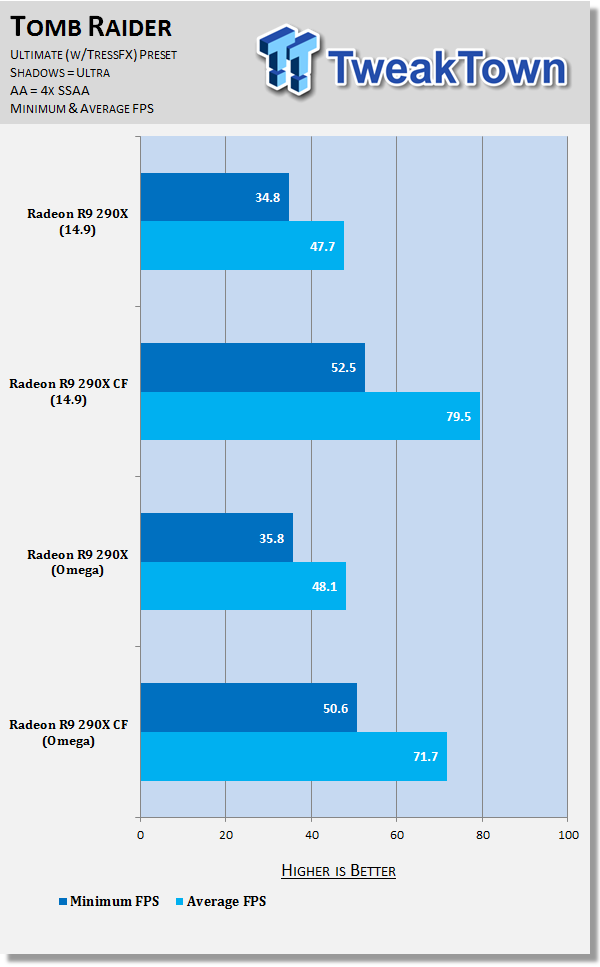 Single: Again, not much of a change here on the new Omega drivers for the single R9 290X.
Crossfire: The Omega drivers didn't treat Lara all that well, with the minimum and average frame rates sliding.
BioShock Infinite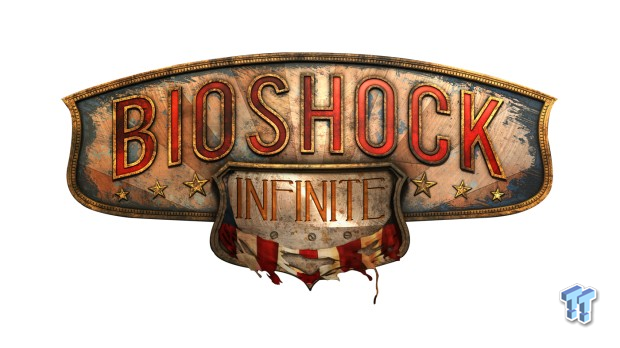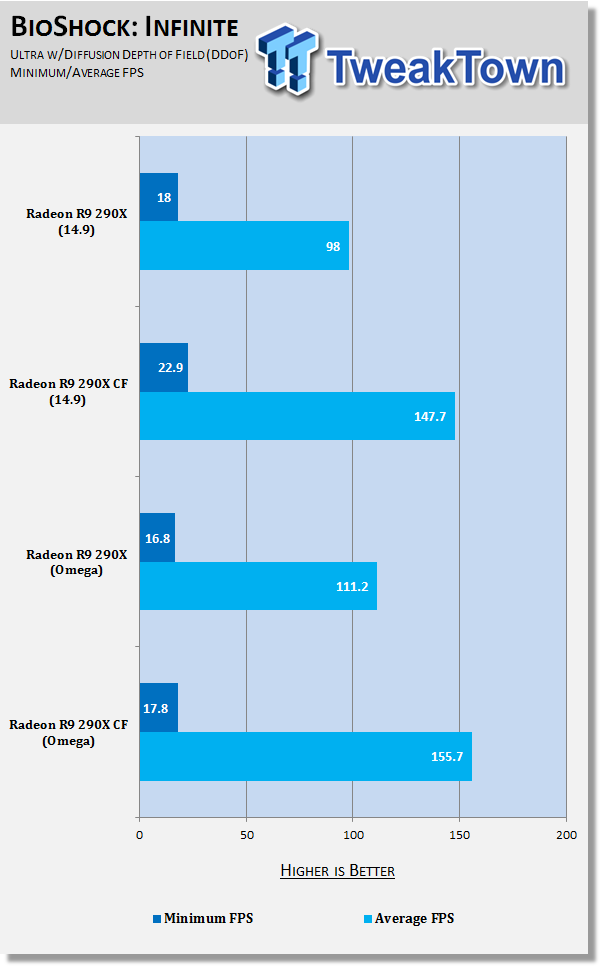 Single: We start seeing some improvements with the Omega drivers in BioShock Infinite, where our minimum drops, but the average climbs from 98FPS to a swift 111.2FPS.
Crossfire: Crossfire results were nearly the same, where the minimum FPS suffers under the new drivers, while the average FPS in BioShock Infinite climbs from 147.7FPS to 155.7FPS. 155FPS at 1080p on Crossfire average is an insane result, go BioShock Infinite and the Omega drivers!
GRID Autosport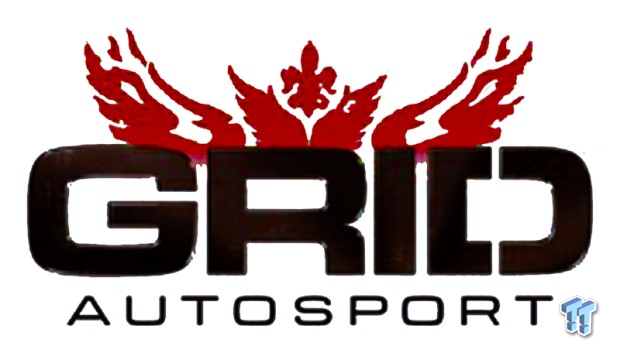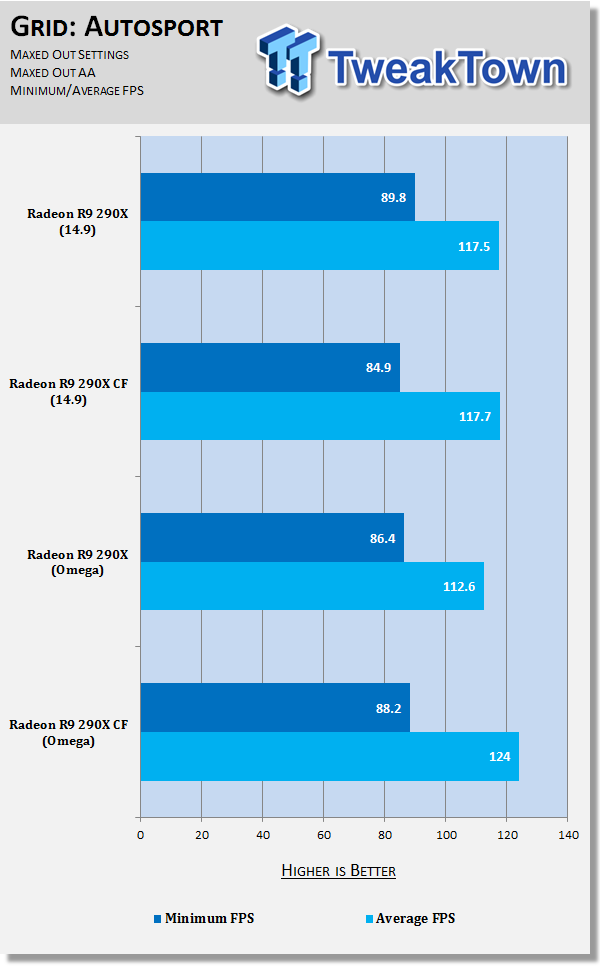 Single: GRID Autosport is such a beautiful game, with some truly great performance even on a single GPU setup. This is a game where Crossfire barely registers. The Omega drivers suffered loss of frames compared to the 14.9s here once again.
Crossfire: Crossfire performance in GRID Autosport on the Omega drivers definitely helps, with the minimum FPS increasing by close to 5% while the average jumps up by 7FPS to 124FPS average at 1080p.
DiRT Showdown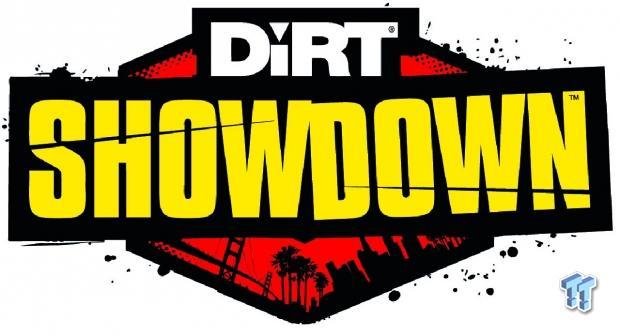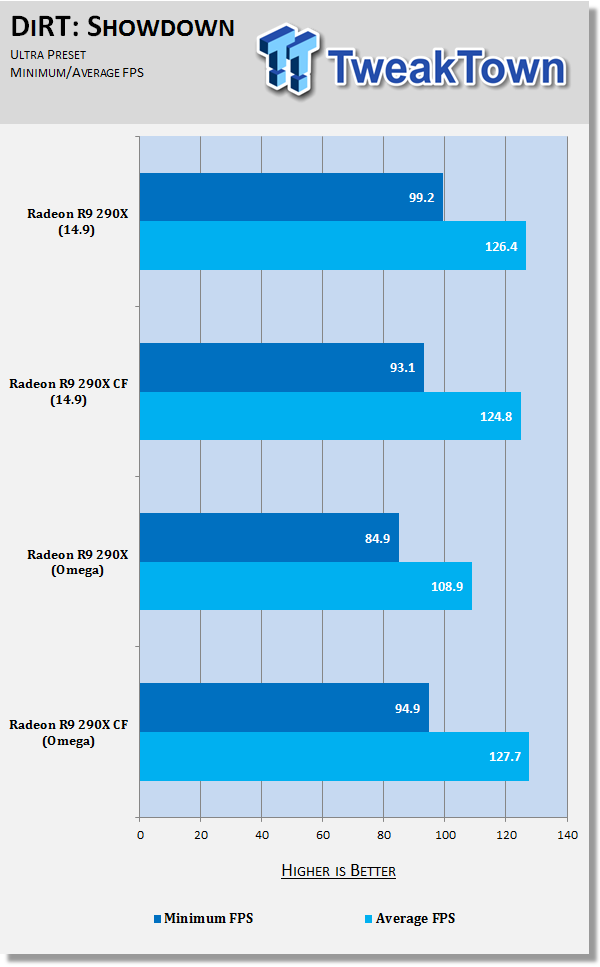 Single: DiRT Showdown is another game where Crossfire scaling does nothing at 1080p, with the Omega drivers killing the performance of our single R9 290X setup. Minimum FPS drops from 99.2FPS to 84.9FPS, which is quite the drop. The average drops from 126.4FPS to 108.9FPS.
Crossfire: Crossfire results were better on the new Omega suite, with the minimum FPS increasing by 1.8FPS, and the average FPS by 2.9FPS - not much, but better than nothing.
Batman: Arkham Origins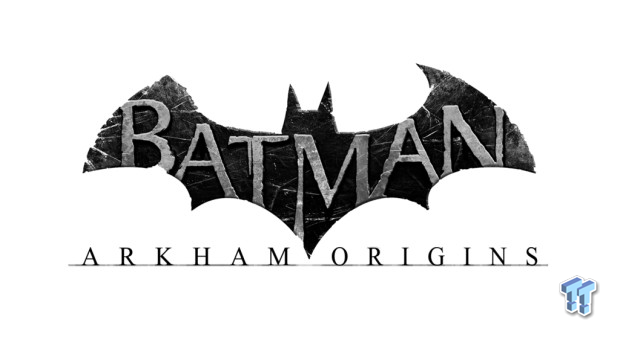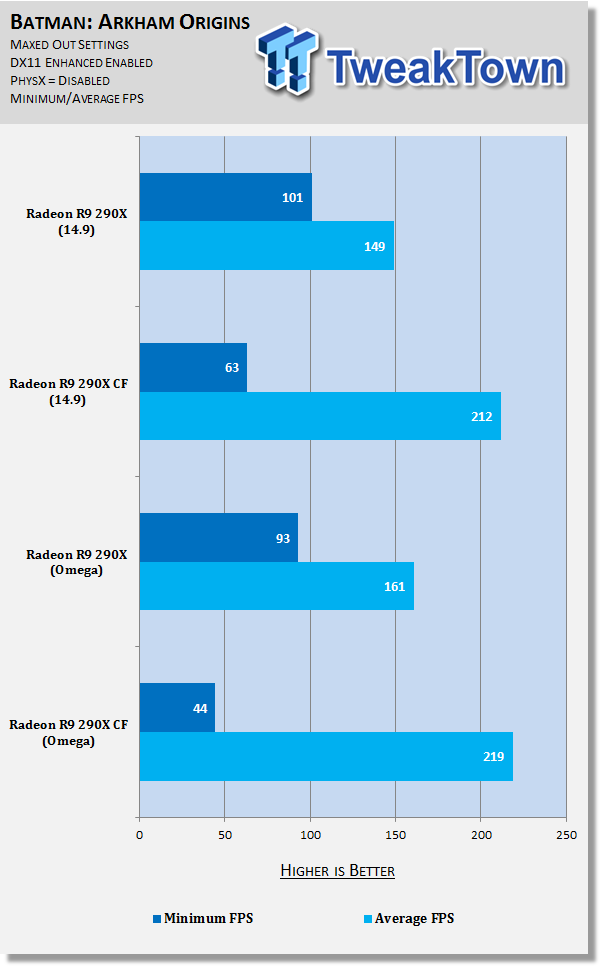 Single: Ah, Batman: Arkham Origins. This is one of those games that performs really odd, especially under the new Omega drivers. Single GPU results suffer on the new Omega drivers for minimum FPS, but the average FPS jumps from 149FPS to 161FPS at 1080p.
Crossfire: How does Crossfire perform? Minimum FPS suffers greatly under the new Omega drivers, dropping from 63FPS to just 44FPS. This made me re-run the tests multiple times to confirm this result, as dropping from minimum 63FPS to 44FPS is very noticeable. The average however, is so high that you won't notice the time spent in minimum FPS - 219FPS at 1080p... yeah.
Metro: Last Light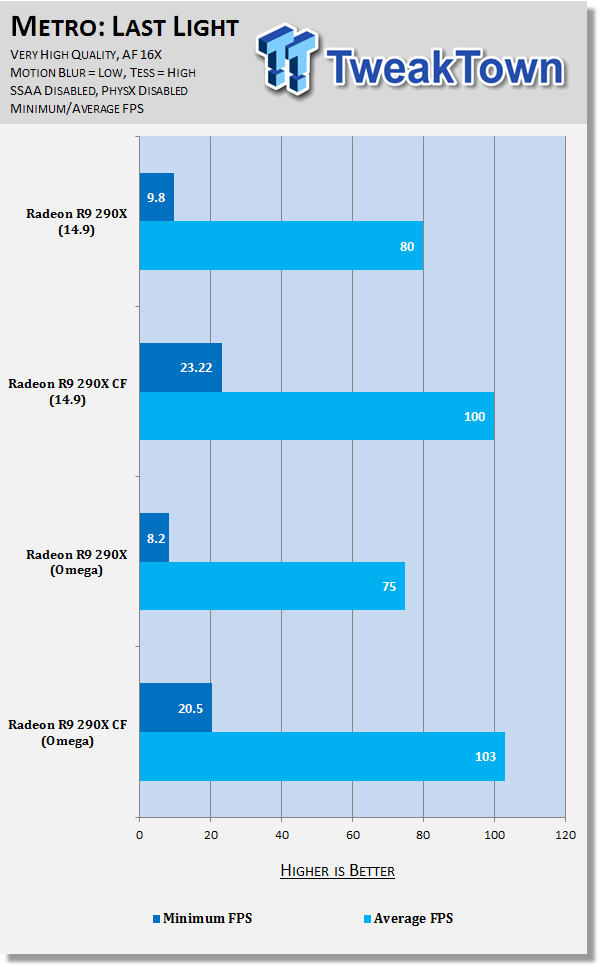 Single: Another game that doesn't perform too well, Metro: Last Light. We have a drop in minimum FPS, and average FPS under the new Catalyst Omega suite.
Crossfire: Crossfire performance sees the R9 290X GPUs dropping to 20.5FPS minimum, down from 23.22FPS. The average increases however, from 100FPS to 103FPS.
Final Thoughts
I came into the Catalyst Omega drivers not expecting too much in the way of performance, so I wasn't disappointed. Testing at 1080p isn't going to push a pair of Radeon R9 290Xs in Crossfire that much, but we did see some improvements in some games, but most of the time the drivers didn't help that much - they hindered performance. I would dare say that these tests will vary from system to system, but the new drivers are always worth installing.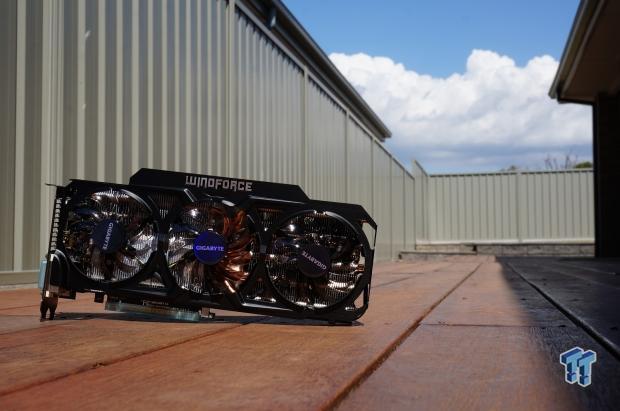 But, that's not the entire point of the Catalyst Omega set of drivers. Sure, performance improvements are normally expected, but these drivers are a nice surprise for Radeon owners going into the holidays, with so many games being released, and second, there are a few nice new technologies and features that I think are better talking points of the Omega set of drivers.
Performance isn't everything. Don't take that as me blindly defending AMD, because I'm not. I'm one of the biggest performance driven people I know, I want more performance, better frame rates, more stable and higher minimum frame rates, higher resolutions and so much more. But the one thing I found with these drivers was that they were rock solid. I had not a single crash or hiccup in my many hours of testing, which is something I really came to respect from AMD.
The new Catalyst Omega drivers are a great surprise for the holidays, so do yourself a favor and go and grab them from AMD and get installing!
Last updated: Nov 3, 2020 at 07:12 pm CST