AMD FX-8350 powering GTX 780 SLI vs GTX 980 SLI at 2560x1440
We test GeForce GTX 780 SLI versus GTX 980 SLI with AMD's budget-friendly FX-8350 CPU.
Shawn has been cranking out reviews of the new GeForce GTX 900 series GPUs since their launch, and on the day of launch I took a look of something a little different: GeForce GTX 780 SLI versus GTX 980 SLI on Intel's LGA2011-based Core i7-4930K CPU.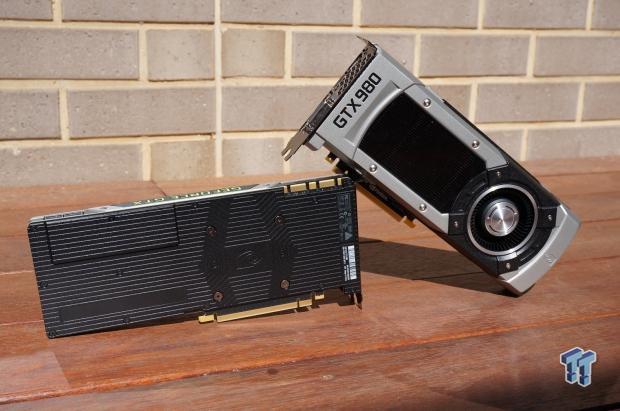 Well, we're back again with a new benchmark, testing the GTX 780 SLI vs GTX 980 SLI cards on AMD's more budget-friendly FX-8350 eight-core CPU. We did a similar test a few months ago which was quite popular, so now we're going to continue flicking between AMD and Intel on our flagship GPUs, to see the differences between performance, and whether the CPU is holding us back.
First up, let's introduce you to what systems we'll be comparing today - where we have most of the hardware identical thanks to our partners. The only thing that has changed between the two PCs is the CPU and motherboard, with every other part that matters (RAM, SSD, OS, drivers) identical to the other.
AMD system:
CPU: AMD FX-8350 @ stock
Motherboard: GIGABYTE 990FXA-UD3
RAM: 16GB Corsair Vengeance Pro 2400MHz DDR3
Storage: 240GB SanDisk Extreme II and 480GB SanDisk Extreme II
Chassis: Lian Li T60 Pitstop Testbed
PSU: Corsair AX1200i digital PSU
Software: Windows 7 Ultimate x64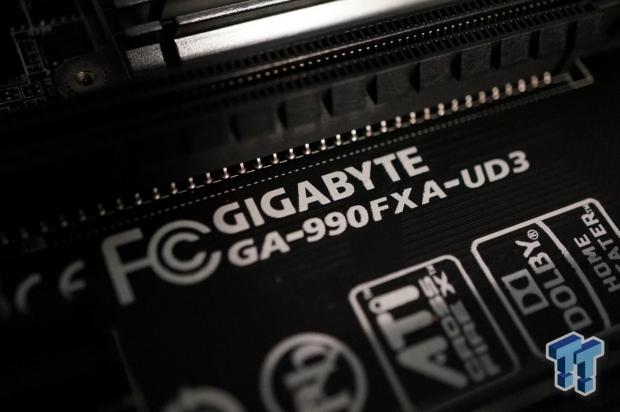 Intel system:
CPU: Intel Core i7 4930K processor w/Corsair H110 cooler @ stock
Motherboard: ASUS Rampage IV Black Edition
RAM: 16GB Corsair Vengeance Pro 2400MHz DDR3
Storage: 240GB SanDisk Extreme II and 480GB SanDisk Extreme II
Chassis: InWin X-Frame Limited Edition
PSU: Corsair AX1200i digital PSU
Software: Windows 7 Ultimate x64
I'd like to take the time to thank our very awesome partners for supplying us with the hardware that made this build possible: ASUS, Corsair, InWin, SanDisk and of course, NVIDIA. Without them, we wouldn't be here today running this test, so thank you to everyone who I've worked with to get this hardware onto my desk, it means a lot.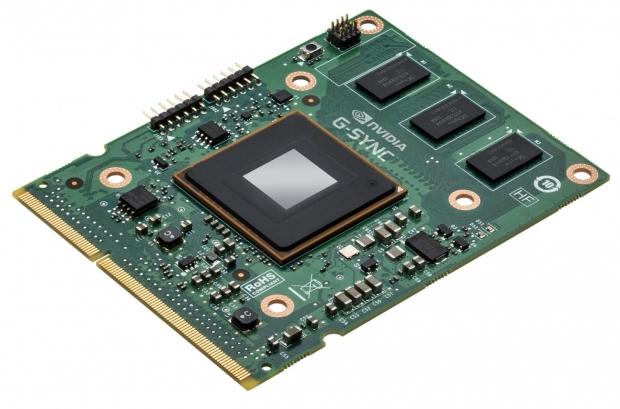 As for the GPUs, we of course have the two GeForce GTX 980s, and two GTX 780s, both reference cards directly from NVIDIA. When it comes to the display, we used the ASUS ROG Swift PG278Q, which is powered by NVIDIA's G-SYNC technology.
Benchmarks
We've changed some of our benchmarks over the last couple of months, so now we're rocking a few new ones, as well as some of our old favorites. Let's get straight into it, with our synthetic benchmarks: Futuremark's 3DMark and Unigine's Heaven.
3DMark - Fire Strike Extreme
Starting with our first of two synthetic benchmarks, 3DMark shows that the GeForce GTX 780s on our AMD setup perform admirably, keeping up with the Intel setup for the most part. The GTX 980 SLI cards definitely favor the extra CPU performance Intel has on offer, though.
Unigine Heaven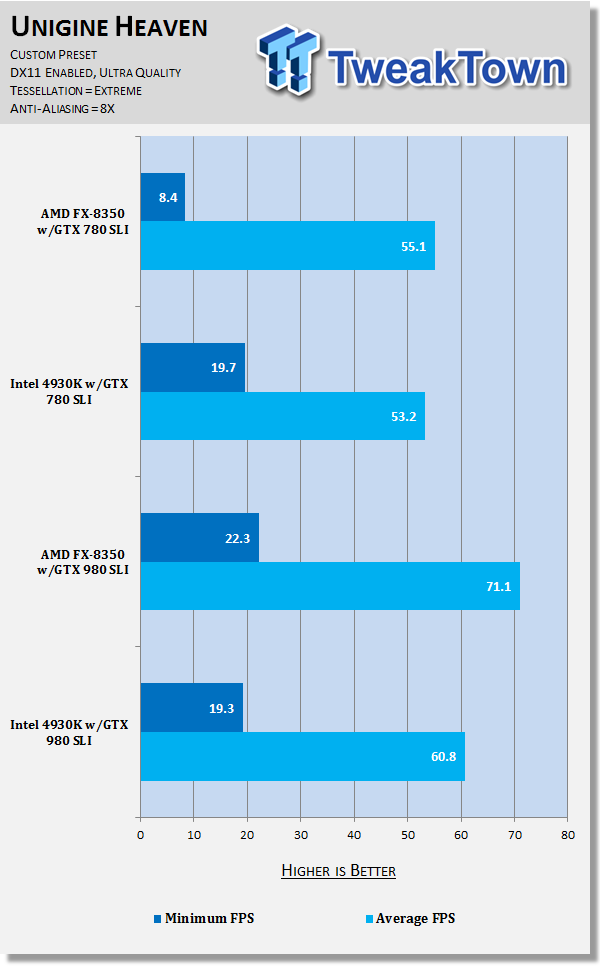 The gains continue with Heaven, with some truly amazing changes in the minimum FPS, moving from 8.4FPS on the GTX 780 SLI cards to a huge 22.3FPS on the GTX 980 SLI setup, an improvement of 165%.
Gaming Benchmarks
Our gaming benchmarks stick to games with built-in benchmarks, which enables us to allow you, our readers, to conduct the identical benchmarks to us. We will provide some other benchmarks in the future, such as Battlefield 4, but these will be provided separately to the benchmarks we have here today.
GRID: Autosport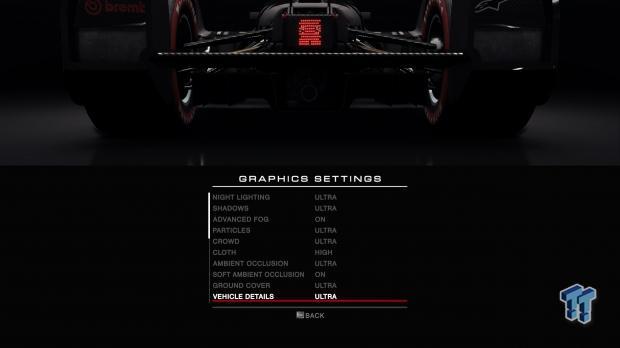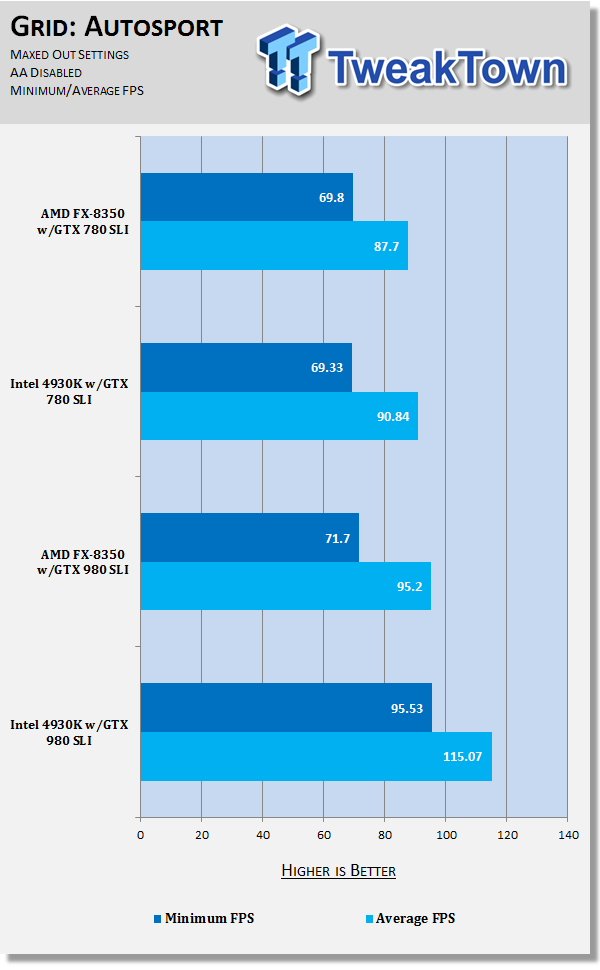 I really thought GRID: Autosport would've seen more improvements shifting between the GTX 780 SLI and GTX 980 setups, but as you can see there's not much of a difference here.
Metro: Last Light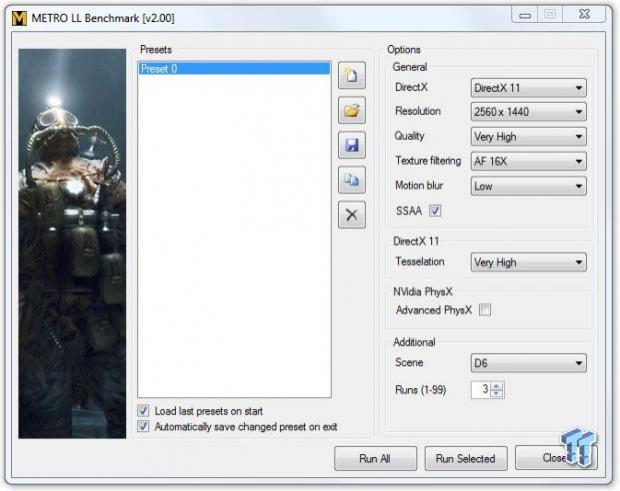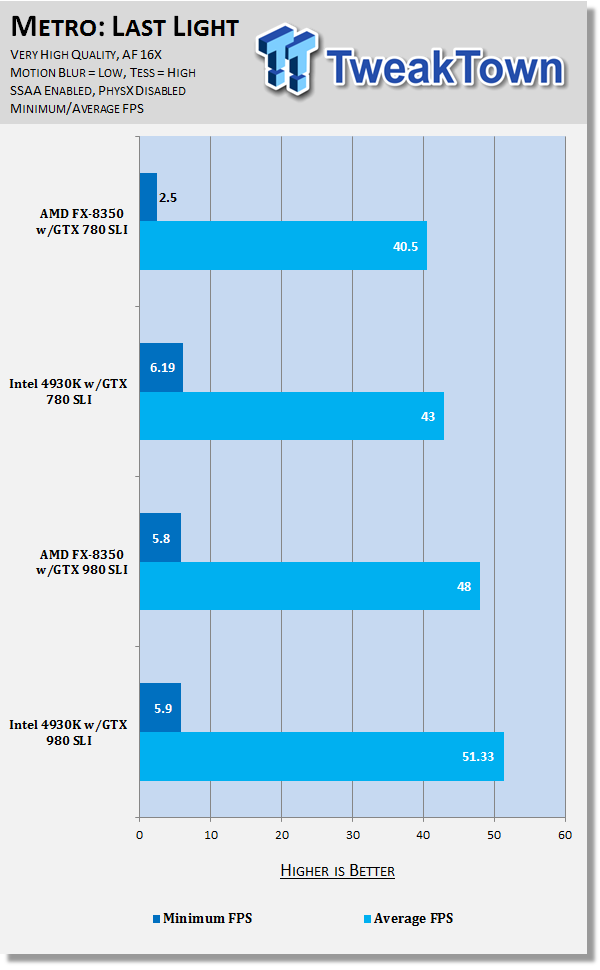 Metro: Last Light continues to be hard on our cards, with the minimum FPS jumping up from a is-it-even-running 2.5FPS to now-its-barely-running 5.8FPS.
BioShock Infinite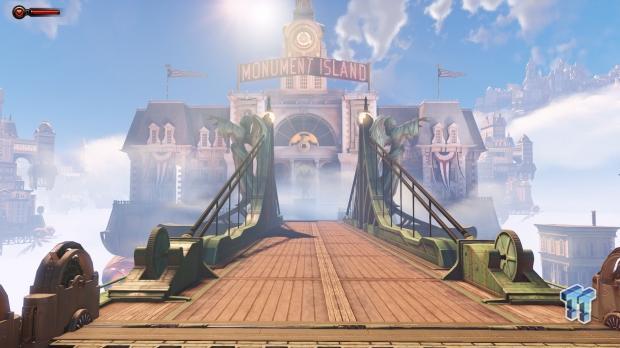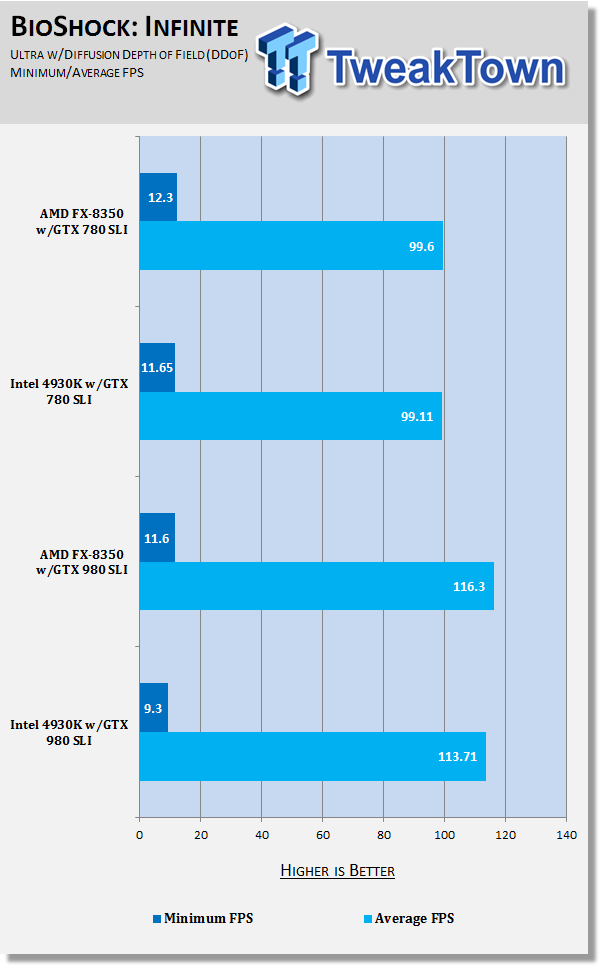 The minimum FPS switched positions with the cards, with the 780s pulling out ahead of the 980s slightly. When it came to the average FPS, we see a small, but decent improvement.
DiRT Showdown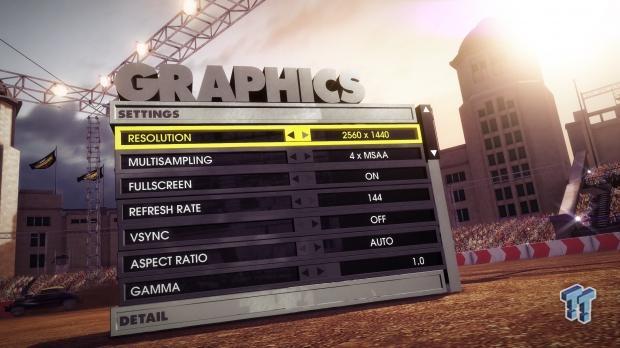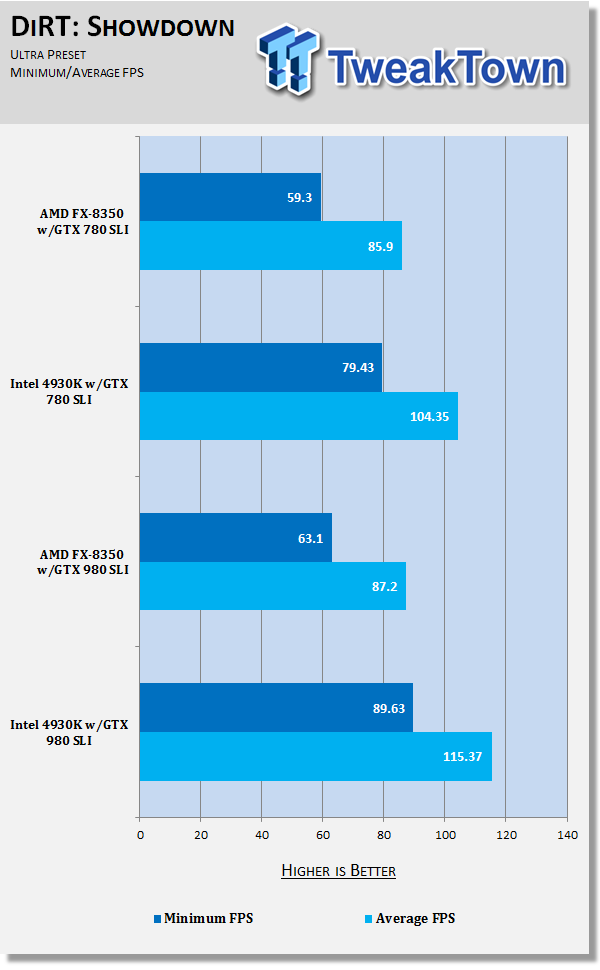 DiRT Showdown didn't provide much to talk about unfortunately, with the new Maxwell-based GTX 980s in SLI not offering much more performance than our GTX 780s.
Batman: Arkham Origins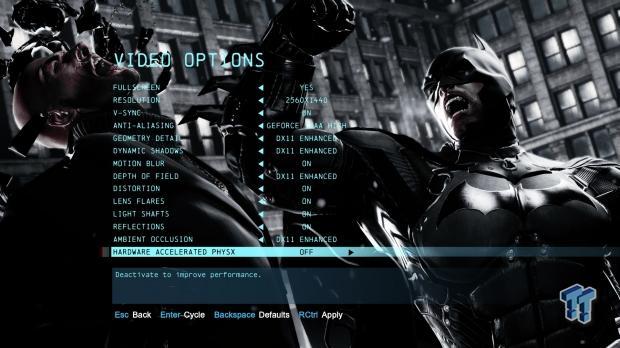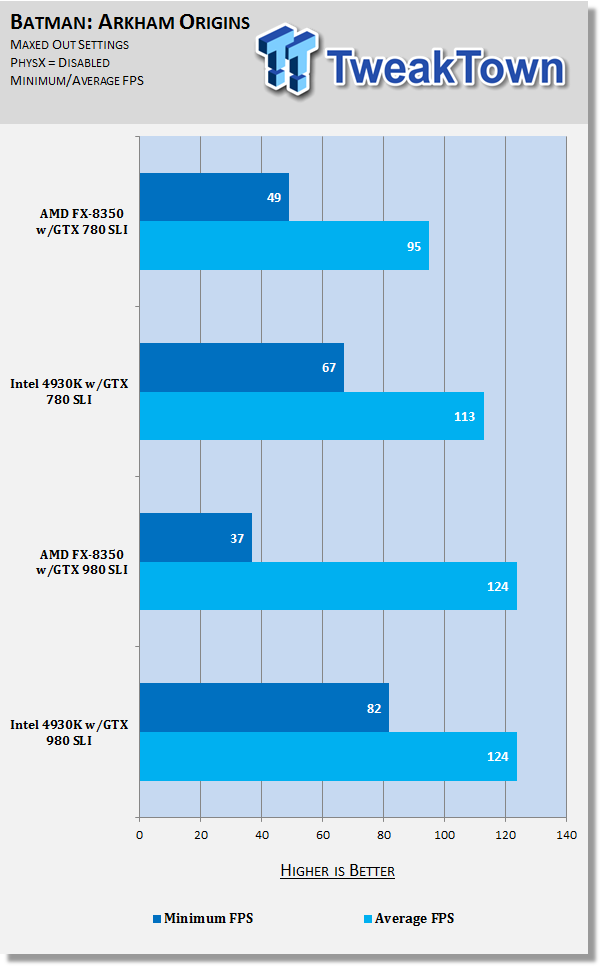 Some weird results for Batman: Arkham Origins, where the minimum FPS dropped on our 980s - but look at those average FPS numbers! An improvement of 30%, which is great.
Final Thoughts
When it comes to PCs, and especially CPUs, there's still this old thought of "Intel crushes AMD". Sure, Intel CPUs perform better than AMD CPUs clock for clock, but price to performance ratio, AMD kills Intel. We can see here, even at 1440p, AMD can keep its own with a cheap setup.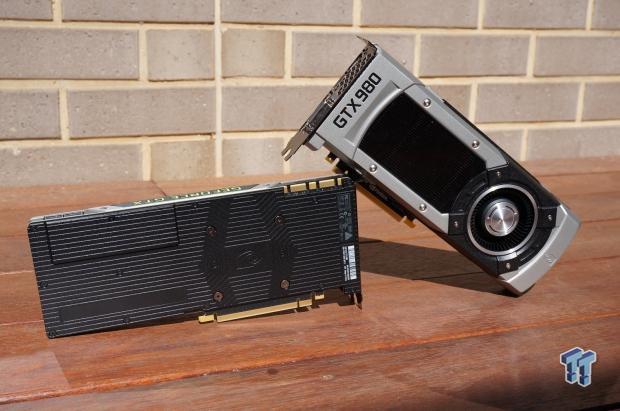 Let's break it down to price: the AMD FX-8350 CPU and GIGABYTE 990FXA-UD3 motherboard are $179.99 and $139.60, respectively. This is a total of $319.59.
Comparing this to the Intel setup, where the Core i7-4930K chip and ASUS Rampage IV Black Edition are $578.99 and $473.99, respectively. This is a total of $1052.98.
So, the AMD setup is $319 and the Intel setup is $1052 - this makes the Intel setup 329% more expensive. Yes, over 300% more expensive. For 300% more cost, we're not getting more than around 10-20% more performance. This is where you really have to think about the money you're spending. Sure, you might not have gone for two GeForce GTX 980s in SLI, and opted for the Intel processor, spending an additional $600+ on the Intel setup. But why?
For the money saved on the CPU and motherboard combo, you could purchase yourself an entire second GPU. This second GPU will provide far more noticable performance in your games, compared to spending it on a CPU.
If you were multi-tasking with your PC and using it for rendering, or video editing, or something CPU intensive, then of course - Intel is the clear winner. But for gamers, AMD is a super cheap, but awesome performing alternative that even on GTX 980s in SLI, can kick a huge punch in performance, for budget-minded gamers.
Last updated: Nov 3, 2020 at 07:12 pm CST
Related Tags