NVIDIA GeForce GTX 780 SLI benchmarked at 4K
We benchmark two NVIDIA GeForce GTX 780s in SLI at 4K.
Not too long ago we tested our SAPPHIRE Radeon R9 290X Tri-X GPUs in CrossFire at 4K, with some very surprising results. The Tri-X cards are some of the fastest consumer GPUs on the market, with some crazy headroom for overclocking.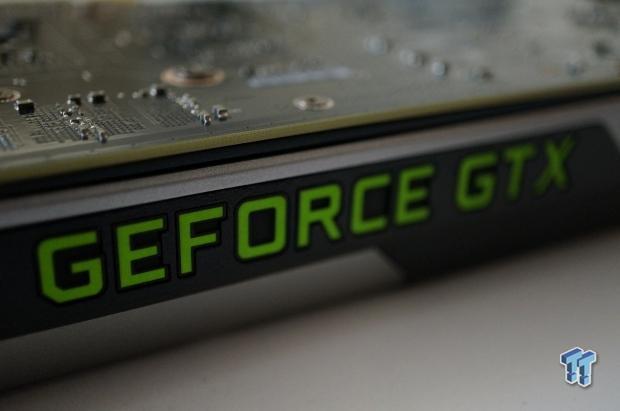 But, how does Team Green fare at 3840x2160? That's what we're here for today. We have two reference NVIDIA GeForce GTX 780 GPUs in SLI that we're going to test on our Seiki Digital 39-inch 4K TV.
We're still testing them on our Haswell setup, but we're soon moving to a Sandy Bridge-E rig, where we'll re-run the benchmarks we've already run, and are running today. This will be coming in the next month or so, we have nearly everything, we're just waiting on a few more parts.
We'd like to thank Corsair, Intel, GIGABYTE, and InWin for making this all happen - without you, we couldn't have done it.
Now I'm sure you want to know the exact specs of the system, so here we go:
CPU: Intel Core i7 4770K "Haswell" processor w/Corsair H110i cooler
Motherboard: GIGABYTE Z87X-OC
GPUs: NVIDIA GeForce GTX 780 (2x)
RAM: Corsair Vengeance Pro 16GB kit of 2400MHz DDR3
Storage: 240GB Corsair Neutron GTX and 480GB Corsair Neutron GTX
Chassis: InWin X-Frame Limited Edition
PSU: Corsair AX1200i digital PSU
Software: Windows 7 Ultimate x64
Drivers: GeForce 332.21 WHQL
We're using the Seiki Digital SE39UY04 display, which is a 39-inch 4K-capable TV. This means we're running a resolution of 3840x2160, which is truly epic in person. We have a review of this display coming up soon, but for now we have an unboxing and initial impressions you can check out.
DiRT: Showdown: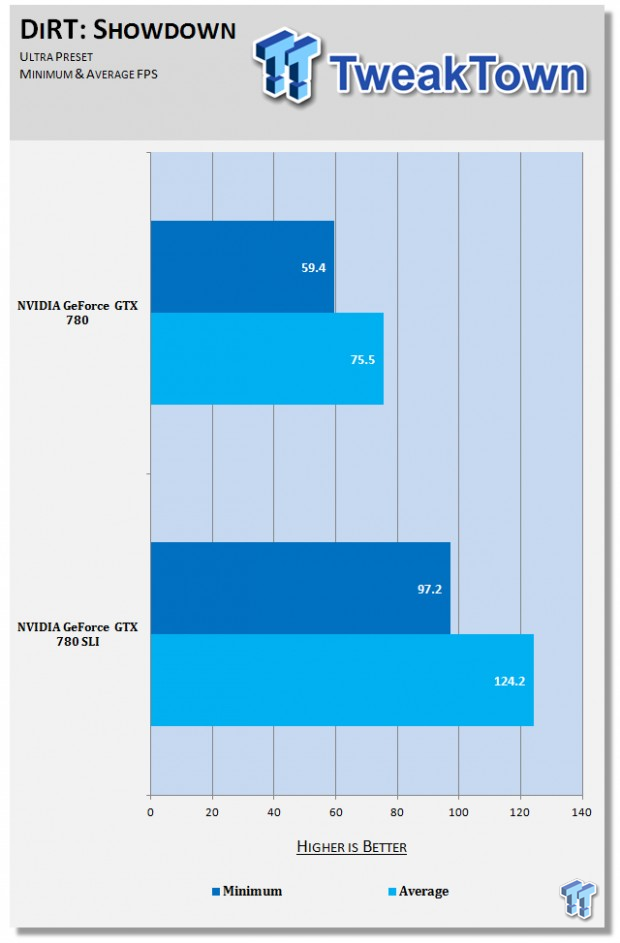 DiRT: Showdown's minimum FPS with our single GeForce GTX 780 was sitting perfect, at 59.4FPS, while the average was 75.5FPS.
Turning SLI on saw some perfect scaling, with the minimum FPS jumping from 59.4FPS to 97.2FPS, while our average increased from 75.5FPS to 124.2FPS. This means we could actually play DiRT: Showdown on 4K @ 120Hz, and achieve 120FPS average - impressive!
BioShock Infinite: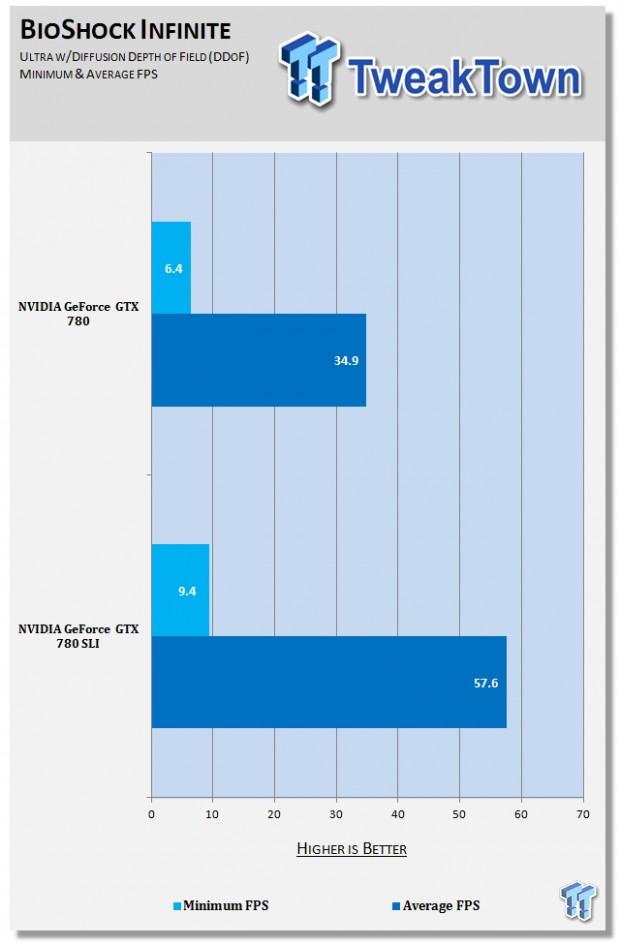 BioShock: Infinite is another game that scales well on our GTX 780 SLI setup, but starting with the single GTX 780, we have a 6.4FPS minimum - not good at all, but we're used to low minimum FPS on BioShock: Infinite. The average frame rate was actually quite good, at 34.9FPS.
Enabling our second GTX 780 saw the minimum and average frame rates both jump, with the minimum frame rate jumping from 6.4FPS to 9.4FPS. The average, from 34.9FPS to 57.6FPS. Edging very close to that 60FPS milestone.
Sleeping Dogs: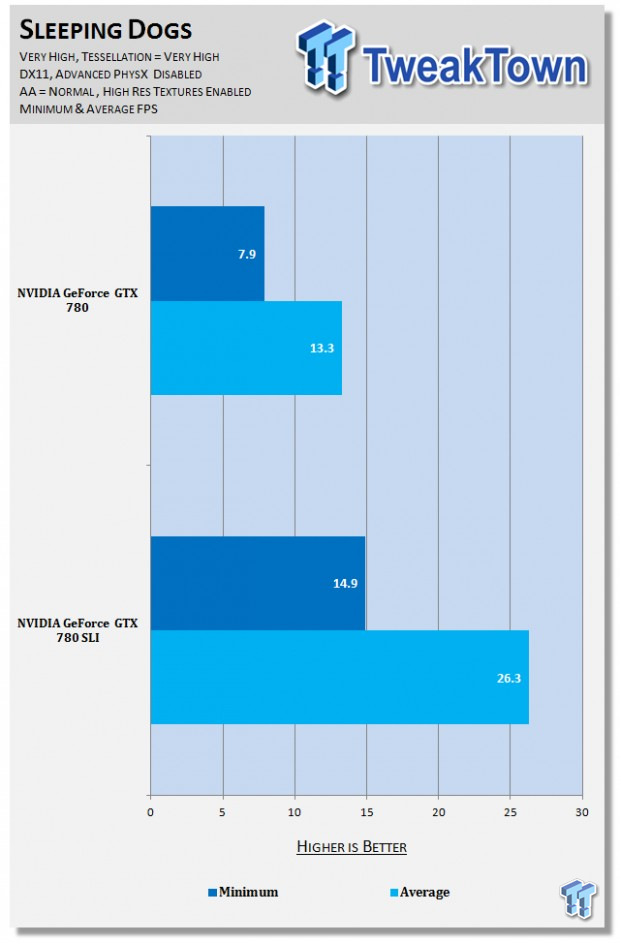 We start Sleeping Dogs off with a minimum of 7.9FPS on our single GeForce GTX 780, with the average frame rate hitting just 13.3FPS on the single GPU.
We see a 100% improvement by enabling SLI, increasing that 7.9FPS into 14.9FPS and the 13.3FPS to 26.3FPS. 2-way GTX 780 scaling on Sleeping Dogs is a smash hit!
Metro: Last Light: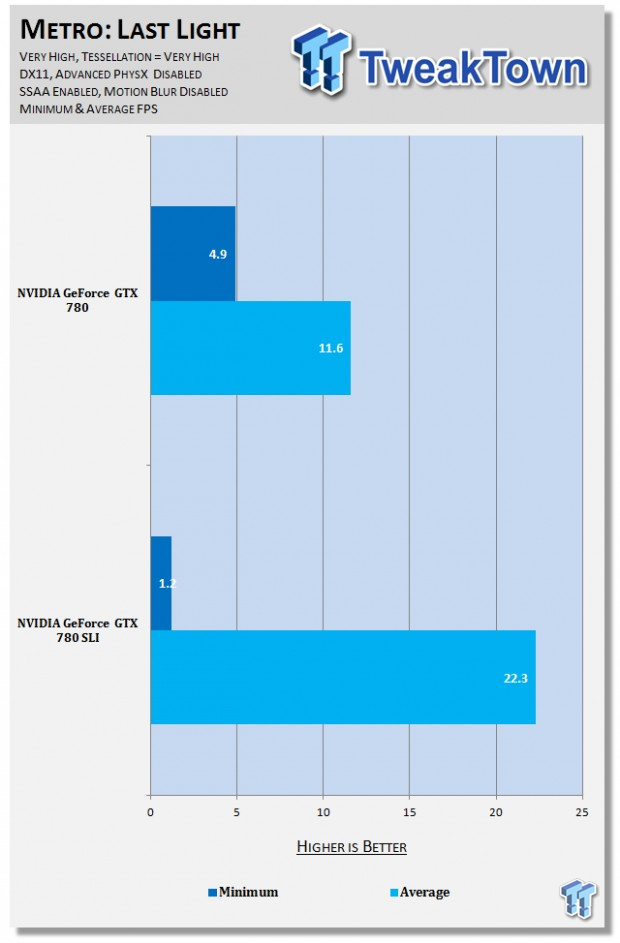 Yeah, wow. Metro: Last Light had some incredible scaling at 4K, a great way to show off your GeForce GTX 780 system. Starting with the single GTX 780, which provides 4.9FPS minimum, and an average of just 11.6FPS.
Turning SLI on, we see an instant change - but not with the minimum FPS numbers. Minimum FPS drops from 4.9FPS to 1.2FPS, but the average frame rate doubles, from 11.6FPS to 22.3FPS!
Tomb Raider: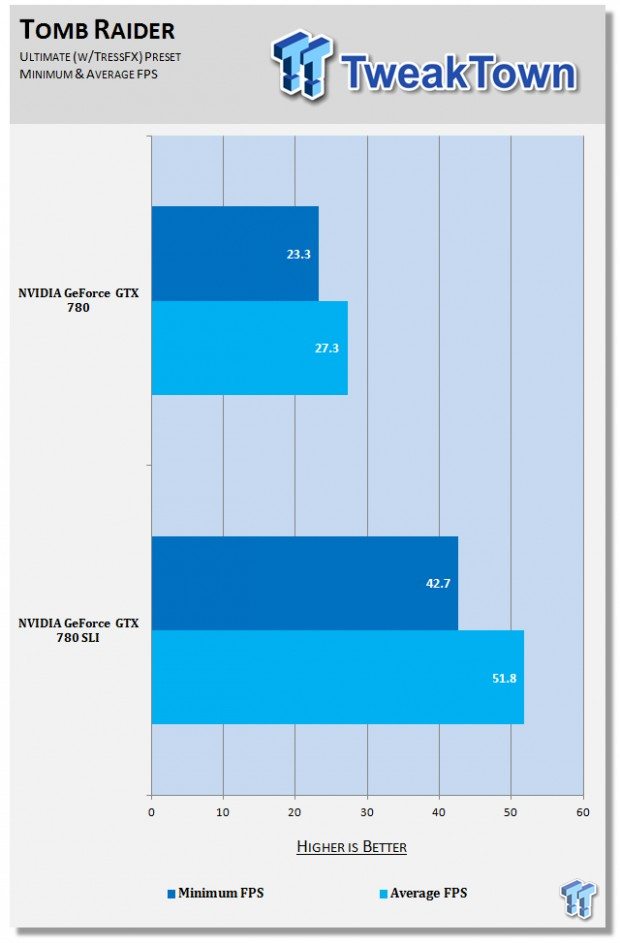 With a single GeForce GTX 780, we achieved close to one of our milestones: 30FPS average. With a single GTX 780, we see a minimum of 23.3FPS and an average of 27.3FPS.
Turning on the second card, SLI provides us with nearly 100% scaling: 42.7FPS minimum, and 51.8FPS average. Increasing from 27.3FPS to 51.8FPS average is a huge sign that SLI scales very well in Tomb Raider at 4K.
Hitman: Absolution: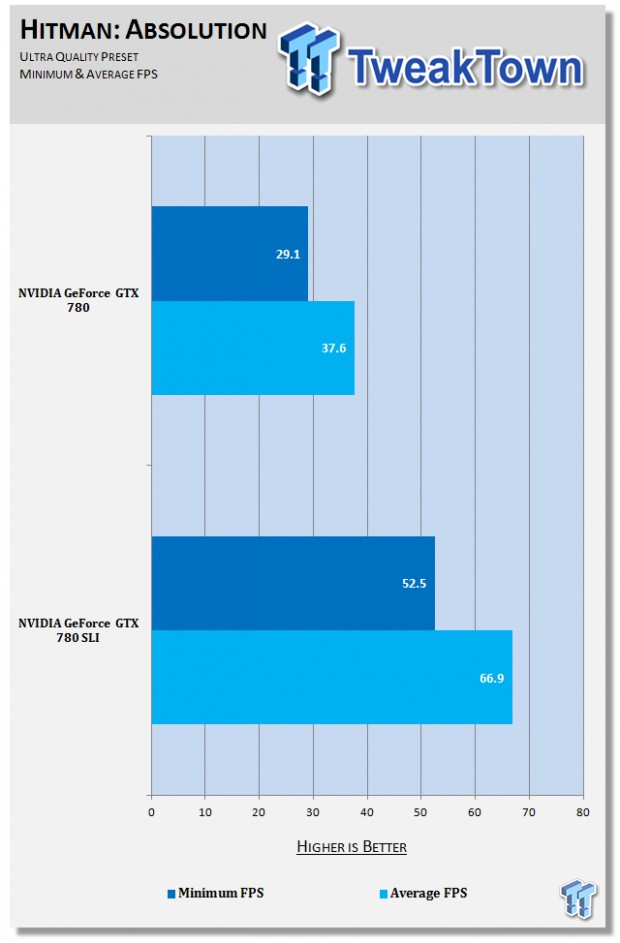 Hitman: Absolution also scaled well at 4K on our GTX 780 SLI setup, but starting with the single GTX 780: we see a minimum of 29.1FPS and an average of 37.6FPS. Not bad, but it could be better.
SLI changes things up considerably, moving from 29.1FPS to 52.5FPS with SLI enabled. We crank up the average FPS from 37.6FPS to 66.9FPS, a sign that our SLI setup is being utilized quite well. Hitting over 60FPS in Hitman: Absolution is a great result.
Final Thoughts:
Well, scaling on the GeForce GTX 780s in SLI turned into quite the exercise of enjoyment: nearly 100% scaling in all of our games. NVIDIA has been at the forefront of 4K since its inception, something I saw in person at their Editors' Day in Montreal, Canada late last year.
Where to from here? 3- and 4-way testing hopefully, as well as some Titan's, which should get rid of any VRAM limitations we're hitting at this resolution. We'll also have a comparison between the GeForce GTX 780s and the Radeon R9 290Xs coming up soon, where we'll compare our results.
Last updated: Nov 3, 2020 at 07:12 pm CST
Related Tags