Disclaimer: Star Citizen is in very, very early alpha form, and in no way, shape or form, represents the final game. The final game will include so many other parts of the game - so we're just benchmarking the Hangar Module today. Keep this in mind, I've simply run this benchmark to see what the future of PC gaming holds in store for us.

If you'll rewind nearly two decades now, you'll find yourself in an era of PC gaming at its golden age. There was a young, talented man known as Chris Roberts, who was the brainchild behind one of the biggest space-based games of all time: Wing Commander.

At the time, it pushed PC technology to the wall, and took all of its belongings. Long before you could just throw your money at the screen, Wing Commander gave you the option of upgrading your rig - video card, and sound card included - for better graphics/sound in the game.
Fast forward to today, and we have the Kickstarter and crowd-funded Star Citizen. Chris Roberts has formed Roberts Space Industries, and this is one of the hottest looking games right now. It's not expected to be released until 2015, but bits and pieces of it are being released to its backers.

The first of which, is the Hangar Module. The Hangar Module changes from hangar to hangar, depending on your ship/s, and the pledged amount of money. Today, we're going to check out the performance of the Hangar Module of Star Citizen at 7680x1440. Remember folks, this hasn't been done before - so there's no exact science on this.
I've provided a video (below) of the path I walk in the game, so you can see what procedure we do in the benchmarks themselves. It's a stressful game, and frame rates really crawl at the insane 7680x1440 resolution.
We'd like to thank Corsair, AMD, GIGABYTE, AMD, Patriot Memory, and InWin for making this all happen - without you, we couldn't have done it.
Now I'm sure you want to know the exact specs of the system, so here we go:
CPU: Intel Core i7 4770K "Haswell" processor w/Corsair H110i cooler
Motherboard: GIGABYTE Z87X-OC
GPUs: MSI Radeon HD 7970 Lightning BE (2x)
RAM: Corsair Vengeance Pro 16GB kit of 1866MHz DDR3
Storage: 240GB Corsair Neutron GTX and 480GB Corsair Neutron GTX SSDs
Chassis: InWin X-Frame Limited Edition
PSU: Corsair AX1200i digital PSU
Software: Windows 7 Ultimate x64
Drivers: Catalyst 13.12 Beta
As for the displays, we're now using three of ASUS' high-res PB278Q monitors. These bad boys pump out 2560x1440 each, for a total of 7680x1440 when in landscape. This is an insane resolution, and it really squeezes every single drop of performance from the GPUs in order to display this mammoth resolution.

I've provided a video below of the path I walked on, and what I did, so that you could do it at home on your PC, if you wanted to. I will do this with all tests going into the future, with some GeForce GTX 780s in SLI in the coming days.
What you'll need to do:
Star Citizen is powered by the CryENGINE 3 engine, and has very, very limited graphics options to play with. V-Sync is enabled by default, which will limit you to the refresh rate of your monitor - in my case, 60FPS. You can disable this by pressing the ~ key to bring up the console, and typing r_vsync 0 (it will be set to '1' by default).
Secondly, the resolutions are very limited in Star Citizen at the moment - with no 16:10 resolutions, and strange multi-monitor resolutions. Luckily, you can force resolutions in the game by modifying the system.cfg, which can be found in the Star Citizen folder, and then the CitizenClient inside of that.
Once you're in there, you'll need to change these settings:
r_width = 7860

r_height = 1440
Your width, will be from left to right - so 1920, or 2560 for single-screen setups. Multi-monitor setups will depend on the monitors and resolution, so if it's triple 1080p screens, it would be 5760x1080 - so 5760 in r_width. As for height - it would be 1080, 1440, or a custom amount.
We'll be doing some tweaks to our settings in the near future, but we'll cover that in another article.
Enough talk, let's get on with the benchmarks!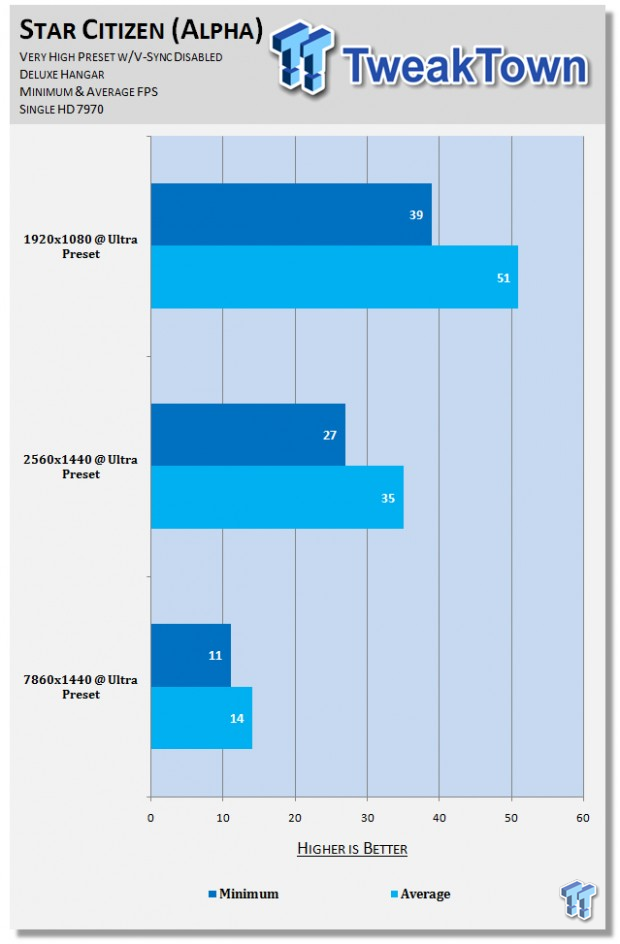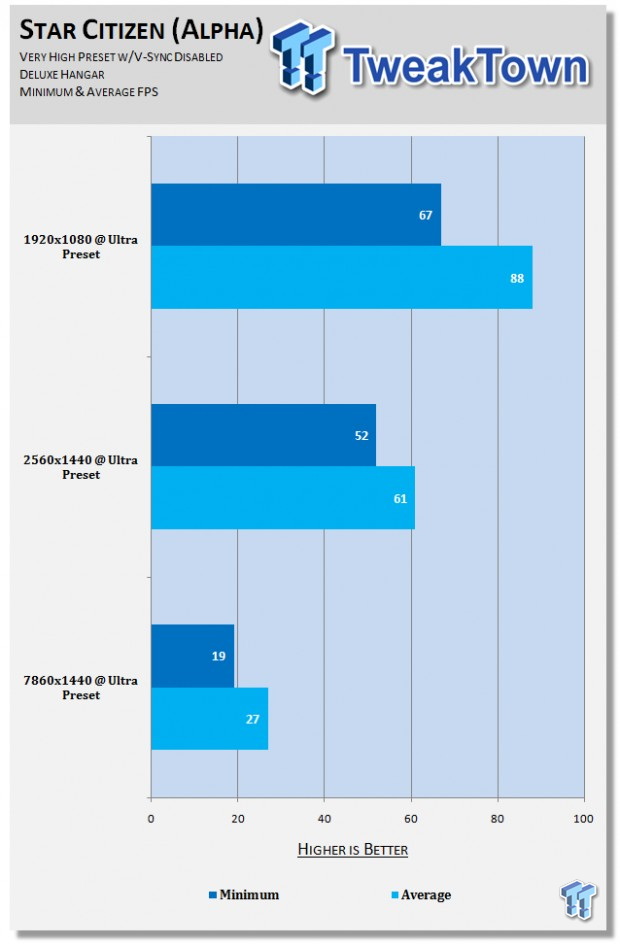 Single card results: At 1080p, we are reaching very playable settings. It felt quite smooth to play at 51FPS, with a minimum of 39FPS helping that along, big time. Even at 2560x1440, it wasn't too bad, providing a minimum of 27FPS and an average of 35FPS.
At 7680x1440, a single HD 7970 is simply not enough - but did you expect anything less?
CrossFire results: As you can see above, playing at 1920x1080 isn't too bad at all - but it really does push the system to its limits. We're running two HD 7970s in CrossFire, and we're only seeing 88FPS average. The minimum FPS is good, with 67FPS.
Moving to the 2560x1440 resolution, we see the average FPS drop to 61FPS, which isn't too bad considering the resolution hike. The minimum FPS drops to 52FPS, but it's still more than 'playable'.
And finally, the reason we're all here: 7680x1440. We have a minimum of 19FPS, and an average of 27FPS - these results are unplayable, but we are going to talk about this in a minute. 27FPS average can be played with, but the problem is, we really want 30FPS at a minimum - we're close, but not there yet.
CF Scaling thoughts: I posted this benchmark test out, without thinking to work on single HD 7970 results, but I did post this over on the Roberts Space Industries forums, and someone asked for single card results to see if the HD 7970s scaled in CrossFire in Star Citizen.
We can see some very impressive scaling results, with the minimum FPS at 1080p moving from 39FPS to 67FPS - nearly double. The average FPS wasn't as impressive, but still an increase, from 51FPS to 88FPS.
As we move up the resolution ladder, we see an improvement in 2560x1440 - a shift from 27FPS minimum to a huge
52FPS. The same can be said for average frame rates, which moved from 35FPS to 61FPS at 2560x1440.
Now, for the resolution that is the most exciting: 7680x1440. A single HD 7970 provided 11FPS minimum, but adding in that second HD 7970 for CrossFire action saw the results balloon out to 19FPS, much better. The average FPS jumped from 14FPS to 27FPS.
Final Thoughts:
The 7680x1440 results, I think, are going to absolutely plummet when the Dogfighting portion of Star Citizen is released. Remember, we're seeing an average of 27FPS, in the Hangar Module alone... let alone spaceships, planets, rockets, lasers and what not zipping past us in space.

I'm going to redo this benchmark with some GeForce GTX 780s in SLI in a few days time, and then again when the Dogfighting portion of the game is released.
As you can see, even in its early stages, Star Citizen scales extremely well on our CrossFire setup, with some very impressive scaling results!
For now, this is just a tease of some multi-monitor action on Star Citizen, I hope you've enjoyed it!
Below, we have some more screenshots from the game.






Last updated: Nov 3, 2020 at 07:12 pm CST