AMD Radeon HD 7970 CrossFire benchmarked at 7860x1440
We throw two AMD Radeon HD 7970s into CrossFire and let them bench press our 7860x1440 setup.
We've tested our NVIDIA GeForce GTX 780 SLI and GeForce GTX 770 SLI GPUs, but now it's time to test out what AMD's cards can do. Our first venture into the AMD side of things at 7860x1440 is with two Radeon HD 7970s, but don't worry, we have some R7 and R9 GPUs on their way, so keep checking back to see how these GPUs perform at the insane 7860x1440 resolution.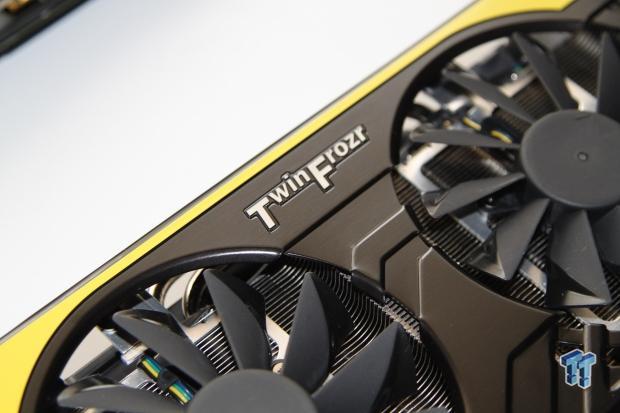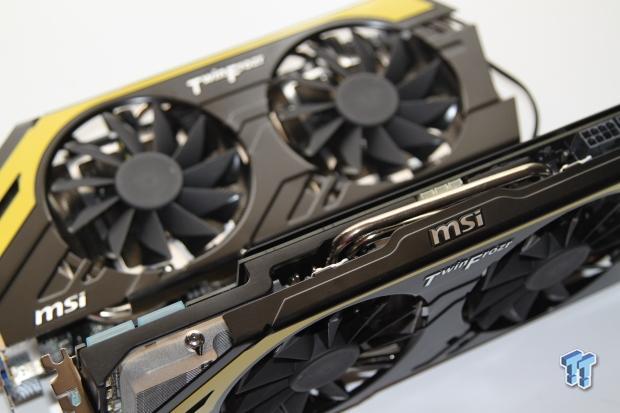 Coming into it, I didn't expect the HD 7970s to outmatch the GTX 780s, but as you'll see, there are some interesting results to be had. AMD hooked us up with two MSI Radeon HD 7970 Lightning BE GPUs, which is one of the best HD 7970s on the market. We downclocked them to stock HD 7970 settings, and will crank them back up and over the Lightning BE speeds in an article that will follow this up in a couple of days.
The AMD Radeon HD 7970 can be found on Newegg for $269.99 - which is just a steal. Throwing two of these into CrossFire results in some serious horsepower. Moving up to what we have on the testbed today, the MSI Lightning BE model, which is $474.99 - an additional $200 on top of the stock HD 7970. Of course, there is some serious overclocking potential in the Lightning BE card, which can be worth the extra dosh.
We'd like to thank Corsair, AMD, GIGABYTE, AMD, Patriot Memory, and InWin for making this all happen - without you, we couldn't have done it.
Now I'm sure you want to know the exact specs of the system, so here we go:
CPU: Intel Core i7 4770K "Haswell" processor w/Corsair H110i cooler
Motherboard: GIGABYTE Z87X-OC
GPUs: MSI Radeon HD 7970 Lightning BE (2x)
RAM: Corsair Vengeance Pro 16GB kit of 1866MHz DDR3
Storage: 240GB Corsair Force Series GT (3x) and 480GB Corsair Neutron GTX
Chassis: InWin X-Frame Limited Edition
PSU: Corsair AX1200i digital PSU
Software: Windows 7 Ultimate x64
Drivers: Catalyst 13.11 Beta 6
As for the displays, we're now using three of ASUS' high-res PB278Q monitors. These bad boys pump out 2560x1440 each, for a total of 7860x1440 when in landscape. This is an insane resolution, and it really squeezes every single drop of performance from the GPUs in order to display this mammoth resolution.
We are running the benchmarks like our usual articles, where we have two runs: Ultra/Ultimate or the highest setting possible (sans AA) and then the medium preset (sans AA). First, we can see if the best setting is actually playable, but if not, the medium preset is usually much better for performance.
Secondly, anti-aliasing isn't really required at such an insanely high resolution, and it just strains the already hard-working GPUs. For now, we have the following benchmarks, with a few new ones on the roster.
DiRT Showdown:
WOW. What a way to start our HD 7970 CF benchmarking with the Red Team just leaping into first position by a long shot. Starting with the Medium Preset found in DiRT: Showdown, we find ourselves with a minimum FPS of 100.6 and an average of 138.2FPS - nothing short of impressive, and you can see the huge lead the HD 7970 CF has on the GTX 770 SLI and GTX 780 SLI setups.
Moving onto the Ultra Preset, we find ourselves with 48.1FPS minimum and an average FPS of 59.8. This might not sound like a lot, but when compared to the GTX 780 SLI's minimum of 24.9FPS and average of 33.6FPS, it's nothing short of amazing.
BioShock Infinite:
We begin to see a pattern emerging with the HD 7970 CF setup, with the Medium Preset pushing a minimum of 20.2FPS which is quite impressive in itself, but so its the 67.2FPS average.
Shifting gears into the Ultra Preset, we have a very, very impressive minimum FPS of 10.3, and an average of 32.5FPS. The average FPS is side-by-side with the GTX 780, less than 10% off, but the minimum FPS is a 500% improvement over the GTX 780 SLI setup - some stunning results in the minimum FPS department, which is a very important part of any high-end rig.
Hard Reset:
Hard Reset saw the consistency drop, with the minimum FPS dropping on both Medium and Ultra Presets. We have 16.3FPS minimum at Medium, and a strong 122.7FPS average.
Moving into the Ultra Preset, the minimum frame rate drops to 15.1FPS, but the average FPS sticks to 103.7, which is something you can't complain about - gaming at 7860x1440 at over 100 frames per second.
Metro 2033:
Metro 2033 is always crushing our setup, with the Medium Preset providing a minimum of 6.5FPS and an average of 29.6FPS. This is definitely not bad at all, and pits it against the GTX 780 with its minimum FPS, but is around 20% less when comparing average FPS.
Moving into the Ultra Preset which really crushes anything we've thrown at it so far at 7860x1440, the HD 7970 CF setup pushes 6.2FPS as a minimum and 22FPS average. The average FPS is right there with the GTX 780 SLI setup, but the minimum FPS is a nice improvement, from 3.5FPS on the GTX 780 SLI to 6.2FPS which is close to twice the minimum frame rate.
Tomb Raider:
Coming into the HD 7970 CF testing, I expected big things from the AMD-pushed Tomb Raider, but I came away unimpressed. Starting with the Medium Preset at 7860x1440 we have a minimum frame rate of 82FPS, and an average of 93.4FPS - this is pretty much equal to the GTX 780 SLI setup.
The TressFX-enabled Ultimate Preset, the minimum FPS drops to 32.1FPS, and the average hits 40.9FPS. This again is nearly equal to the GTX 780 SLI system. I expected more from the Radeon GPUs, but you still can't be disappointed with those results.
Hitman: Absolution:
Hitman: Absolution is pretty flat, providing nearly the same kind of frame rate across our GPUs, expect for the GTX 770 SLI setup. Starting with the Medium Preset, we find ourselves seeing 48.5FPS minimum, and an average of 56.2FPS.
The Ultra Preset drops the minimum FPS to 36.6 and the average frame rate sits at 44FPS. This isn't stellar, but it is nearly 20% slower than the GTX 780 SLI setup.
Final Thoughts:
We are testing one of the best HD 7970 GPUs on the market, the MSI HD 7970 Lightning BE model, but we did downclock it for this testing. When cranking it back up to the stock settings, there is an improvement, and it does overclock like a champion which is something we're excited to see.
Comparing the HD 7970 CF setup, we see near identical results against the GTX 780 SLI setup, except for a few tests where it kills the GTX 780 SLI rig - namely DiRT: Showdown. One thing you might have noticed that on average, the minimum FPS on our HD 7970 CF rig is actually much better, and while average FPS numbers are great, you don't want your frame rate dropping so low constantly, which is great to see on the Radeon setup.
If you're after some GPUs for a triple 1440p setup, the AMD Radeon HD 7970 GPUs are a great option, especially with them being so cheap now!
Last updated: Nov 3, 2020 at 07:12 pm CST
Related Tags