"V6 GT" content on TweakTown - Page 1
We found 1 items for the tag: V6 GT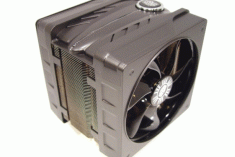 REVIEWS
Cooler Master V6 GT CPU Cooler
What do turbos, intercoolers, RAM air induction and lower temperatures of your overclocked CPU have in common? Well, thanks to Cooler Master, they are all things associated with the label "V6 GT".
NEWS
Cooler Master mixes things up with the V6 GT CPU cooler
Adjustable LED adds the all important bling factor.