"TX850" content on TweakTown - Page 1
We found 1 items for the tag: TX850

ASK THE EXPERTS
Is Corsair's TX850 PSU enough to drive EVGA GeForce GTX 670 Superclocked GPUs in SLI?
I'm running EVGA GeForce GTX 670s in SLI, and want to know if my Corsair TX850 PSU is capable of pow.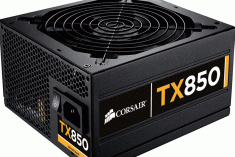 REVIEWS
Corsair TX850V2 850 Watt Power Supply Review
Corsair updates the TX series to V2 which promises improved performance and efficiency.