"P55A-UD7" content on TweakTown - Page 1
We found 3 items for the tag: P55A-UD7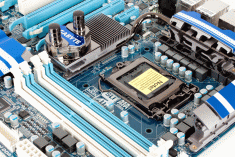 REVIEWS
GIGABYTE P55A-UD7 (P55 Express) Motherboard
We take a close look at the UD7 flavour of GIGABYTE's P55 motherboard to see if the 24 phase power really makes a difference.
NEWS
GIGABYTE demo Core i7 870 running 4.4GHz with P55A-UD7
Hicookie on the case from the HQ.

NEWS
Sneak Peek at GIGABYTE P55A-UD7 - P55 gets more PCI-E lanes
Adds in more chips for extra PCI Express lanes.