"P320H" content on TweakTown - Page 1
We found 3 items for the tag: P320H

NEWS
FMS 2014 - Crucial/Micron displays their line of SSD products
Scott Shadley from Micron stopped by to discuss their latest SSD products.

REVIEWS
Micron P320h PCIe Enterprise SSD Review
With its superb performance and unbelievable endurance, Micron continues its assault on the enterprise SSD space with the Micron P320h. This SLC-driven beast features 50PB of endurance and the highest...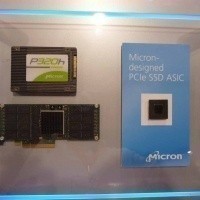 NEWS
FMS 2012: Micron P320h PCIe SSD
Micron shows off their P320h PCIe SSD at Flash Memory Summit 2012.