"NVDIMM" content on TweakTown - Page 1
We found 3 items for the tag: NVDIMM

NEWS
NVDIMM SIG representatives discuss the future of NVDIMM technology
Representatives from the NVDIMM Special Interest Group (NVDIMM SIG) discuss NVDIMM technology.

NEWS
FMS 2014 - Viking Technology demos the ArxCis-NV NVDIMM technology
Viking Technology explains the ArxCis-NV architecture.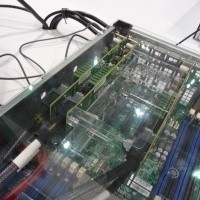 NEWS
Supermicro displays SuperStorage Server at Computex 2013
Supermicro displays the latest in their SuperStorage Servers at Computex with 12Gb/s connectivity.