"MY DIGITAL SSD" content on TweakTown - Page 1
We found 2 items for the tag: MY DIGITAL SSD

REVIEWS
MyDigitalSSD BP4 960GB SSD Review
In our search to find a Crucial M500 960GB for sale, we stumbled across a new high-capacity SSD. The MyDigitalSSD BP4 is a solid product, we've already tested the other capacity sizes, but today we see...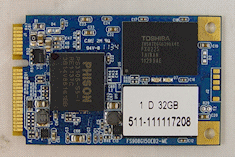 REVIEWS
MyDigitalSSD DDR2 Super Cache 32GB mSATA Solid State Drive Review
Toshiba Toggle NAND on an mSATA format paired with a new Phison controller for $60... interesting!