"DEBT" content on TweakTown - Page 1
We found 3 items for the tag: DEBT

NEWS
If you have debt you might not get your free $1,200 coronavirus check
The $1,200 stimulus check from the United States government can be taken away by your private debt collectors.

NEWS
Pantech Mobile is asking staff to return 20 percent of their salary
Pantech are still in hot water with over 50% of their staff on leave without pay, they're asking the remaining employees to donate part of their salary.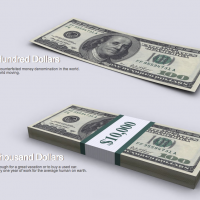 NEWS
US debt visualized in $100 bills - amazing, but scary
The US debt is huge, we know that, but what would it look like visualized with $100 bills?