"CORTEX A9" content on TweakTown - Page 1
We found 3 items for the tag: CORTEX A9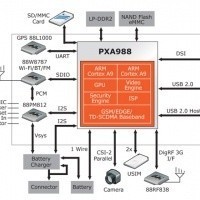 NEWS
Marvell chip powers first self-branded China Mobile smartphone
Marvell to power China Mobile's first self branded Android based smartphone.

NEWS
ARM & GlobalFoundaries show off 2.5GHz+ 28nm Cortex A9 and 20nm test vehicle
GlobalFoundaries playing with 2.5GHz dual-core Cortex A9 designs, also 20nm tech.

NEWS
NVIDIA Tegra 3 should have 1.5GHz quad-core
NVIDIA's Tegra 3 to be a Coretex-A9 quad core, 1.5GHz beast.