"CALENDAR" content on TweakTown - Page 1
We found 3 items for the tag: CALENDAR

NEWS
Apple Calendar app bug confirmed, lists wrong holidays for some users
Apple has confirmed an issue in its Calendar app that shows the wrong holidays for users in some countries.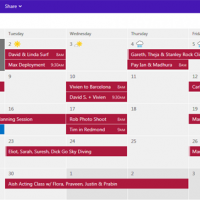 NEWS
Microsoft updates Outlook.com's calendar appearance
Microsoft unveils new design and layout for Outlook.com's calendar function.

NEWS
HTCSense.com will be reset, wipes all current data after April 30
HTC warns users that HTCSense.com will close temporarily, you have until April 30 to back up your da.