"BLENDER" content on TweakTown - Page 1
We found 2 items for the tag: BLENDER

NEWS
Intel Arc A770 GPU used in Blender's Cycles benchmark with ray tracing
Intel Arc A770 discrete GPU inside of an Intel NUC 11 Extreme PC runs Blender's Cycles with ray tracing at SIGGRAPH 2022, through realtime viewport.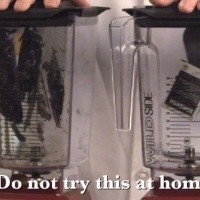 NEWS
iPhone 5 and Galaxy S III face off in a Blendtec blender, which one will come out alive?
Blendtec finally drops an iPhone 5 into its blender, also drops Galaxy S III in for comparison.